SRFACE winter wetsuit review
For the winter it's time to start thinking about what wetsuit you'll need. A lot of surfers have a hard time deciding which suit will be best for them because they are so many options available, each with their own pros and cons. You need a wetsuit to stay warm in the winter. You want one that will be stretchy and comfortable, but not expensive. A wetsuit for surfers who needs warmth and stretch without breaking the bank.
Luckily, there's the Srface Wetsuit. An affordable option that provides warmth without sacrificing stretch or price point.
About SRFACE
In 2018, SRFACE came to market with a no-nonsense design with all the features and high-end materials that functionally contribute to the performance of a wetsuit. The end result of almost two years of designing and testing is a wetsuit with optimal fit.
And they have done that quite successfully.
Below you can read the review of the 5/4 wetsuit of SRFACE. And some good news to go witht this, 10% discount: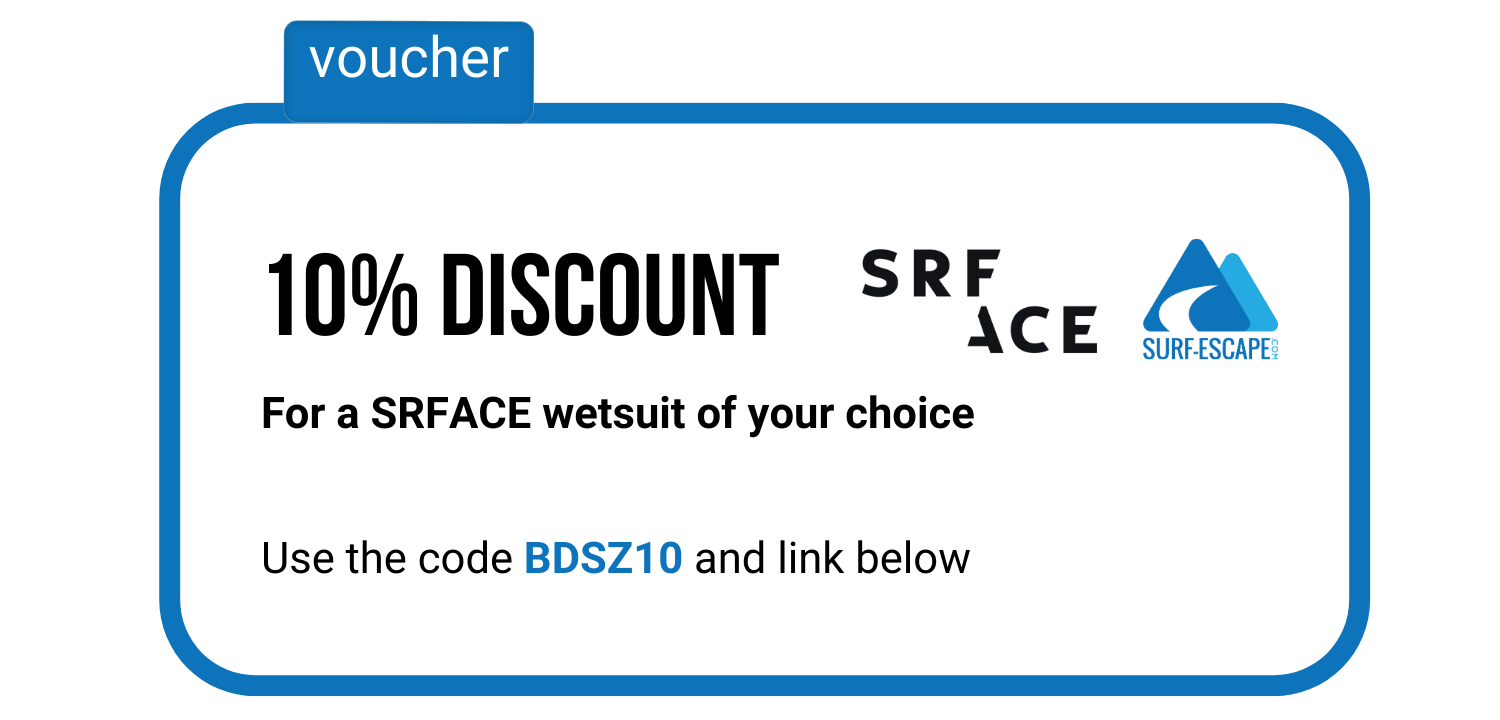 Wetsuit review
SRFACE wetsut is a no-nonsense wetsuit.
You've probably seen the SRFACE wetsuits bobbing around in the sea yourself. Even though they are characterized by the no-nonsense design, they also stand out. Because of the logo, among other things. That minimalistically and yet strikingly stands in a corner of the wetsuit. Small and orange. Quite chicly done.
5/4 SRFACE wetsuit test
During a surf trip to Galicia, we got to test the 5/4 wetsuit from SRFACE. Autumn was ending and the water was starting to get chilly and we had rather cold mornings. Good for testing the SRFACE wetsuit. Although, the water was to warm (14 to 15 degrees) for real testing. The suit was too hot!
Good to know; a 5/4 wetsuit is worn when the water is between 5-13 degrees. In The Netherlands, where we are based, this means between November and May. After the Galicia surf trip we tested the wetsuit all winter long in the Northsea. And we survived, easily.
Quality in your hands
What you notice right away is that you have quality in your hands. It feels sturdy, the seams are tightly finished and the zipper at your chest is super nicely done. You notice the attention to this suit on every piece.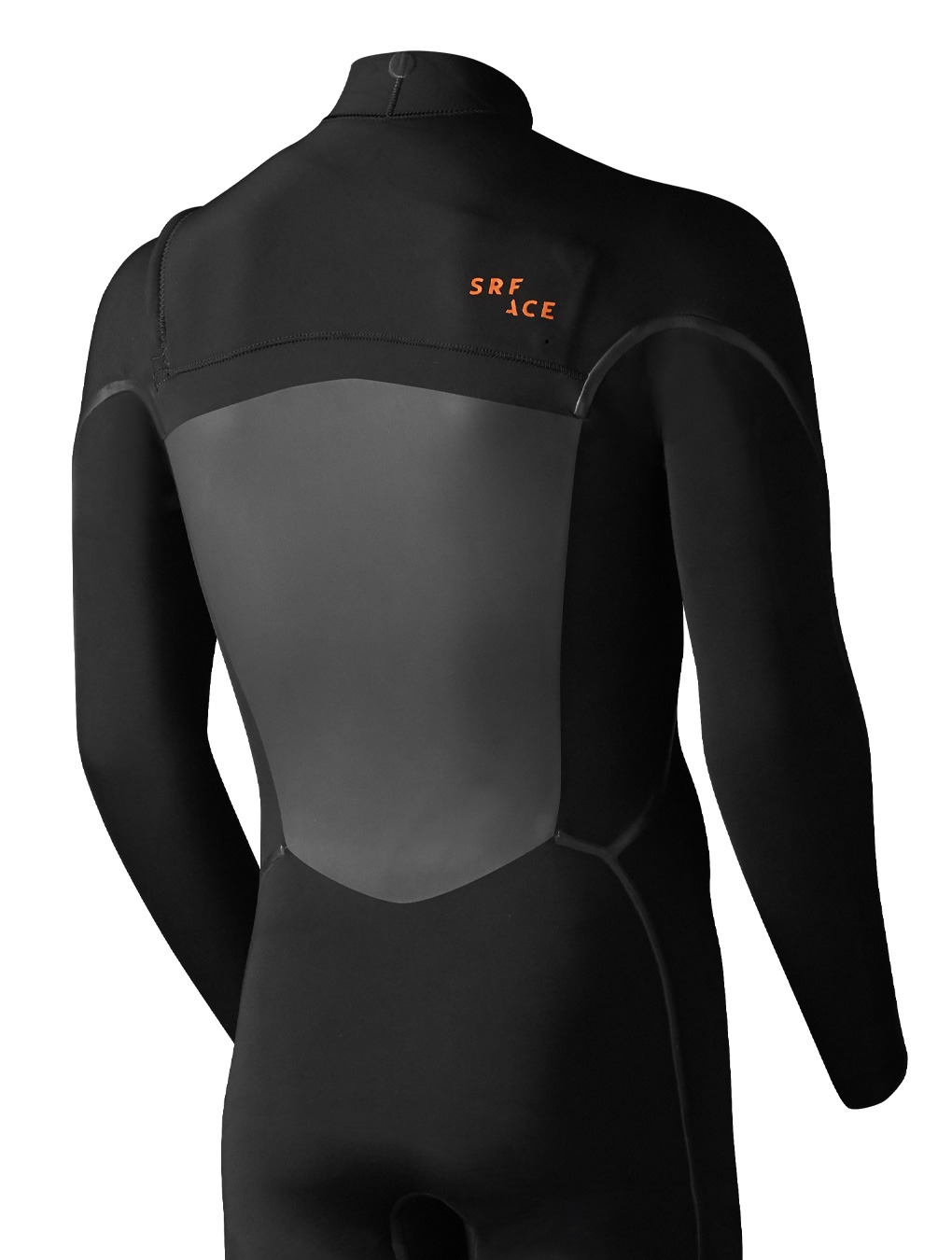 The inside of the suit is also nicely lined.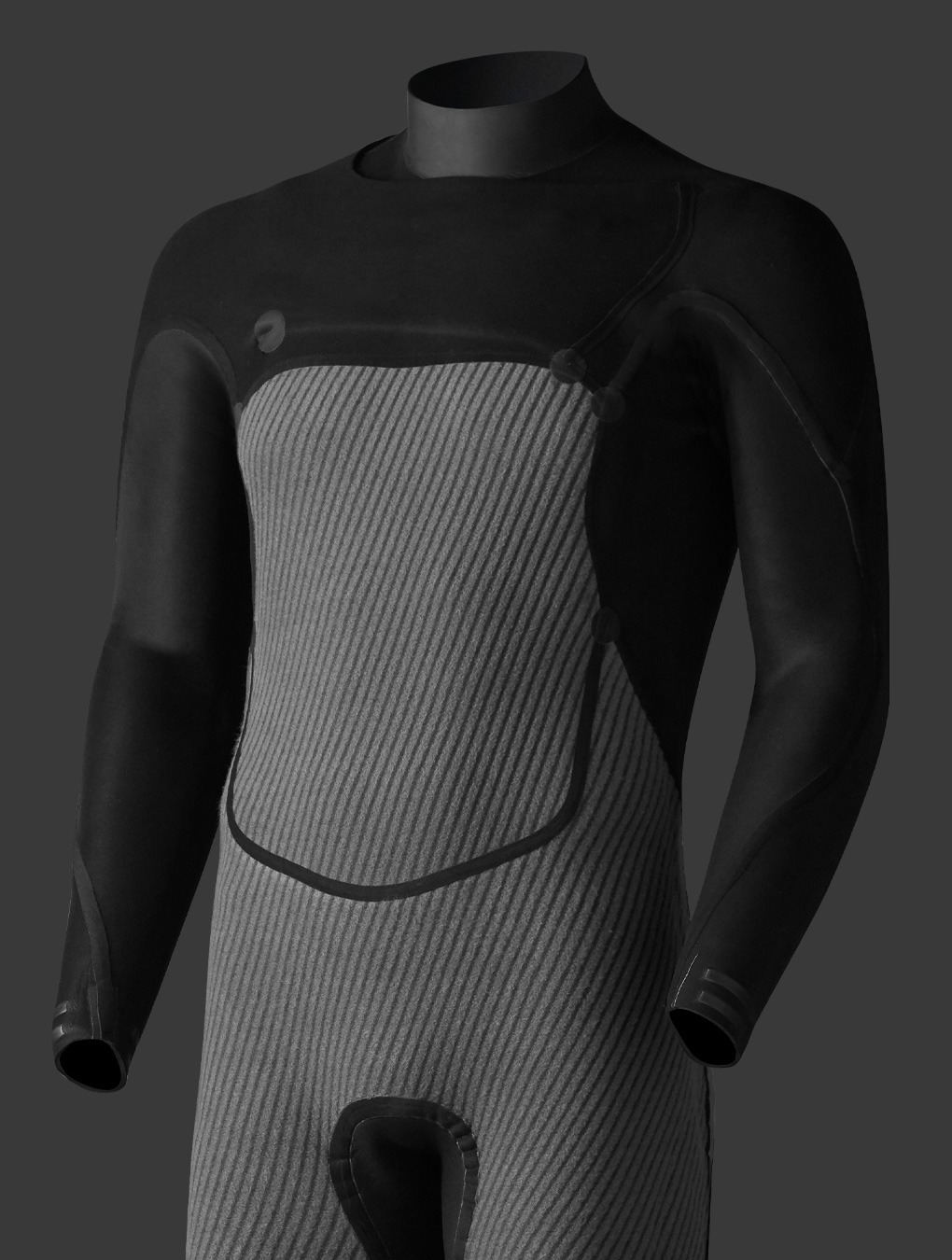 You won't get cold
You know right away, you won't get cold so easily.
The anti wind-chill panels on the chest are also very nice. In the Northsea we have a lot of windy surfing days and you can imagine, that it is very nice when there is wind blowing and when it hardly or not at all gets through your suit. Loved it.
Freedom of movement
What struck me most, besides the sleek finish, is the fit.
The suit fits seamlessly to your body. Not too tight at the neck. Nice fit at your wrists and ankles. And freedom of movement. Although that may be the only area of improvement if you compare it to the Rip Curl flashbomb, for example. There the freedom of movement or stretch is even better. And you pay a lot more for that.
Eco friendly
The good news is, the suit is made of limestone neoprene. This is much more environmentally friendly than petroleum, which is still the standard in the wetsuit market. The seams are also glued together with water-based glue.
SRFACE gives a full and tangible explanation here of how they think about our footprint. That's where they've made a big step in a year.
Price of the 5/4 wetsuit
The 5/4 from SRFACE costs € 260,-. And that is considerably less than for example the Rip Curl 5/4 flashbomb which is seen as one of the most highend suits on the market. You will pay almost 400,- for this.
Try it out for 30 days for free
By the way, at www.srface.com you will be easily helped to choose the right size and thickness. And you can try the wetsuit for 30 days, shipping and returns are free and the customer service is run by surfers and is available 7 days.
SRFACE has really thought this through. And it's great to see that more and more SRFACE suits from the Netherlands are being sold abroad. We should be proud of that.
Overall review conslusion
The SRFACE wetsuit is a high quality, affordable suit for surfers who need warmth and stretch in the winter.