Europe's ultimate surf seasons guide
Updated for 2020
Where will you find the best waves in Europe? We'll show you some surprising countries, surfspots and tips for a great place to stay.
A surfing year in Europe: from Arctic to Tropical conditions.
Check out the most beautiful area's and surfspots in Europe in this graphic. And you'll find full descriptions below. Including tips for specific surf spots.
Surfing in January
Find your waves in the southern parts of Europe.
Morocco
The winter swells are in full swing here. The water temperature is still pretty doable. A 3/2 wetsuit will normally do. Spots to check are Anchor Point at Taghazout, Immesouane (great for intermediates) or Safi. Awesome righthanders surf spots. Discover more about surfing in Morocco.
Fuerteventura
Not so far form Morocco actually. Easy to fly to and catch dream waves in clear blue waters. And if you're just a little but lucky spend your day in boardshorts or bikini. The island is famours for its winds. But during wintertime the winds tend to die significantly. Get a stay near Corralejo and you're near the best surfpots of the Island.
Surfing in February
Still head for the southern parts. The sun is getting stronger. And days longer. More surf!
Morocco and Fuerteventura are still a good pick in February, but the Algarve in Portugal, Andalusia in Spain and the Mediterranean are worth the trip.
Algarve
The Algarve gets it's best waves during the winter months. Especially the southern faced part of the Algarve. Places like Zavial, Mareta and even Meia Praia at Lagos can get really really good. Take your 4/3 wetsuit though. Water can be cold. More about surfing in the Algarve.
Andalusia
Andalusia is a great area in Southern Spain. With places like Sevilla and Cadiz. Lots of culture and really good food. And some excellent surfing possibilities. El Palmar is a well known surf village. Great surfspots nearby.
Mediterranean
Not surfed by many, but even the beaches of Barcelona can get some awesome waves. If your'e not looking for urban surf, keep your eyes open for Sardinia. A beautiful island, with awesome waves mostly during the winter.
Surfing in March
Spring is in the air. Swells are all around. Countries like mentioned for previous months are still very good to go.
Algarve (Portugal)
Still the Algarve is awesome. If the sun shines, which is a chance of 80% you can even feel the first summer vibes. But also check more north. The westcoast of the Algarve with places like Arrifana.
Check out Casa Meranka for a great stay in the sweetspot of the Algarve.
Portugal centre
Portugal centre But even the surfspots near Lissabon. Here you can find some protection when the waves are too big.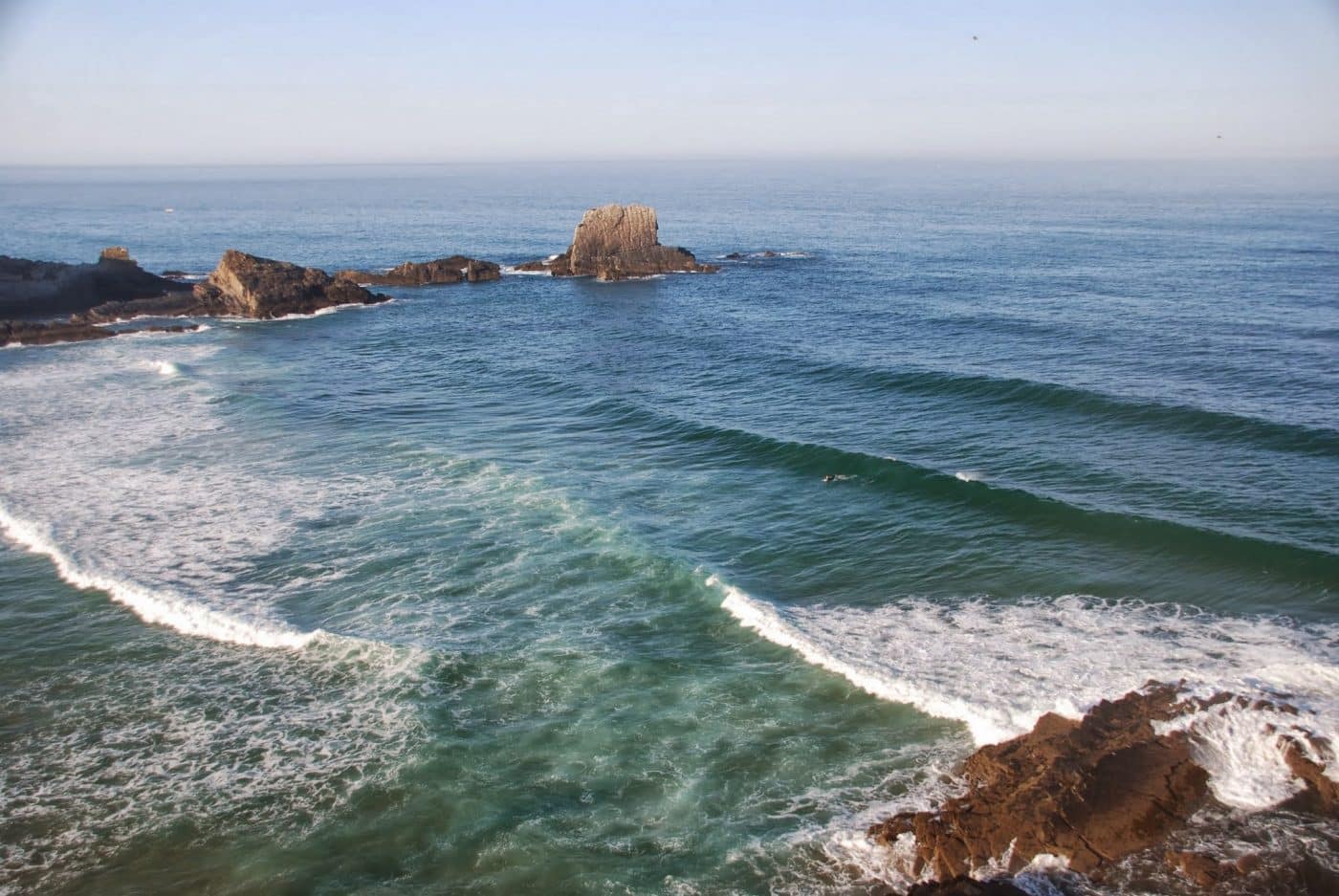 Surfing in April
Spring is taking over Europe. And arctic regions are becoming an easier surf possibility (weather wise).
Portugal
From now check also the middle part of Portugal. Between Lisbon and Porto with places like Ericeira and Peniche. Ericeira has places like Ribeira d'Ilhas (World Surfing Reserve). And at Peniche offshore winds are almost guaranteed. In between Peniche and Ericeira you'll find Nazaré. World famous for big wave surfing. Great fun to watch.
Iceland
And here's our first arctic pick. Iceland. The place where Cris Burkard shot is movie Under an Arctic Sky.
(photo on the right by Chris Burkard)
Norway
And here's oru send arctic pick. Lofoten Islands. And specifically Unstad. One of the most beautiful places in the world. Check out the most Northern Surfschool of Europe. If you're lucky, you can find fresh snow here too.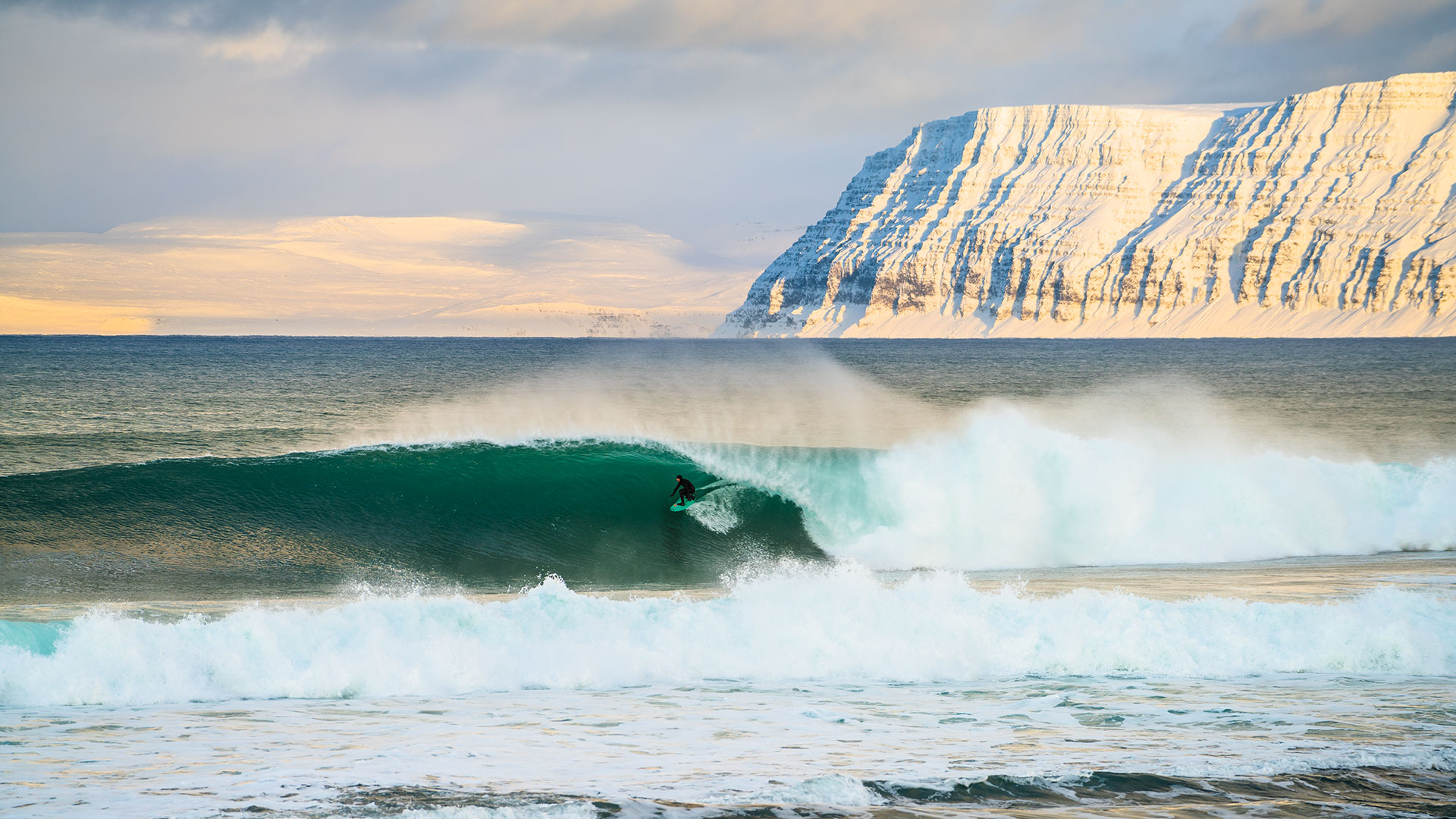 Surfing in May
Europe starts to heat up. The surf too.
The arctic places as mentioned before are still very good to go. But more countries see great waves mixed with good weather.
The Netherlands
Surf in The Netherland? Yes, it's possible. This month you can, occasionally, find some movement in the North Sea. Scheveningen is called Surf City. You can find a great surf scene here. And pretty good waves.
Did you know there's solid surf in Sweden and Denmark too?
France
Check out the Vendee. Between Bordeaux and Bretagne you can find empty beachbreaks and reefbreaks. Check out spots like La Sauzaie (reef), Sauveterre (reef/beach), Les Conches (beach) and Le Phare (point).
Portugal
The Lisbon area is awesome. From Costa di Caparica to Coxos. And many many beautiful beaches and surfpots in between.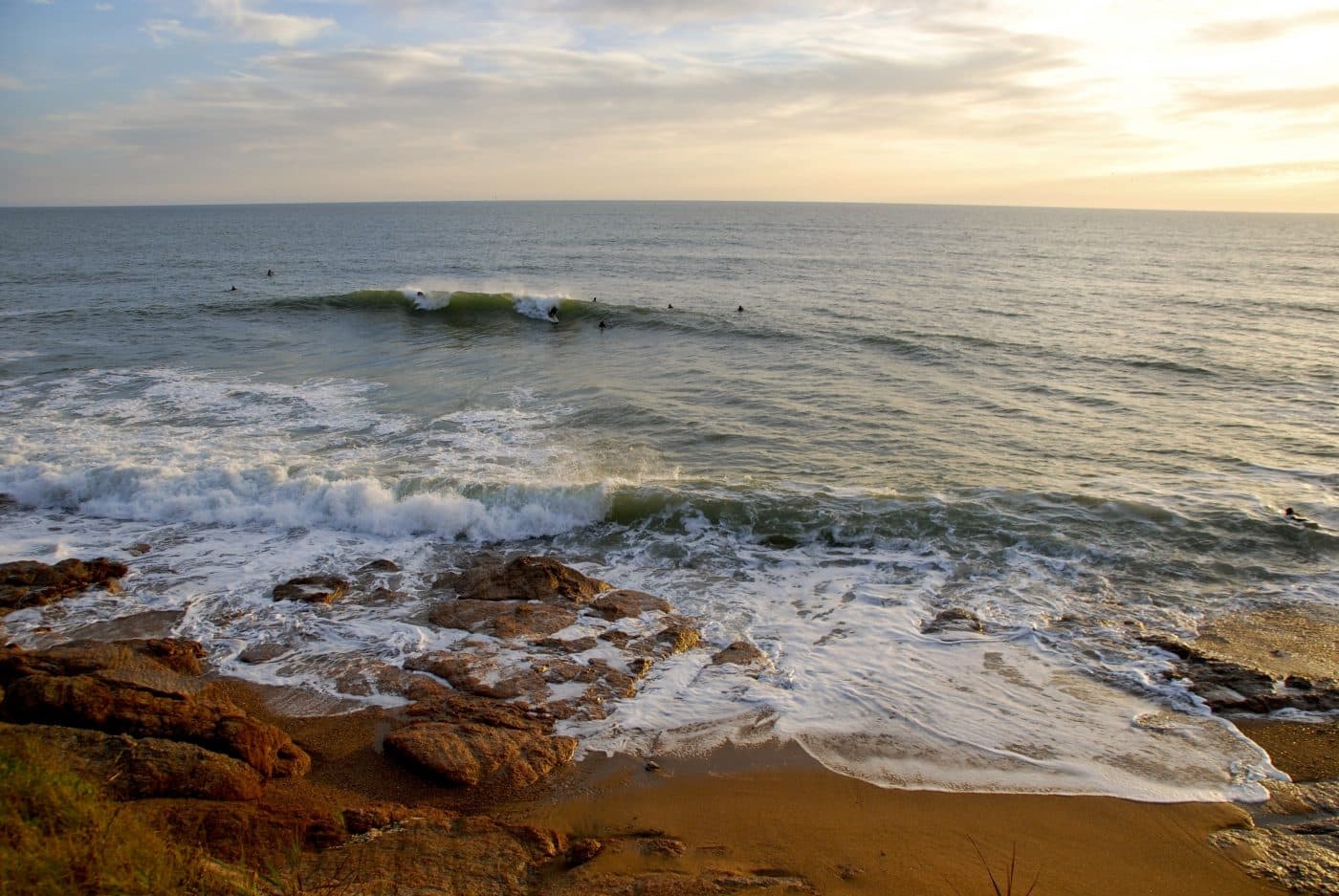 Surfing in June
Summer is calling!
France
The Basque Country is one of our favourite picks this time of your. Still pretty solid swells around in the Atlantic that delivers good waves for places like Lafitenia, a classic righthander.
Check out our Surf Guide to France.
Spain
Northern Spain (Cantabria and the Spanish part of the Basque Country) needs the same swell as the French part of the Basque Country. Especially Cantabria will see more quiet line ups with a beautiful backdrop like the Picos de Europe. Check out St Vincent de la Barquera, a great surfpot.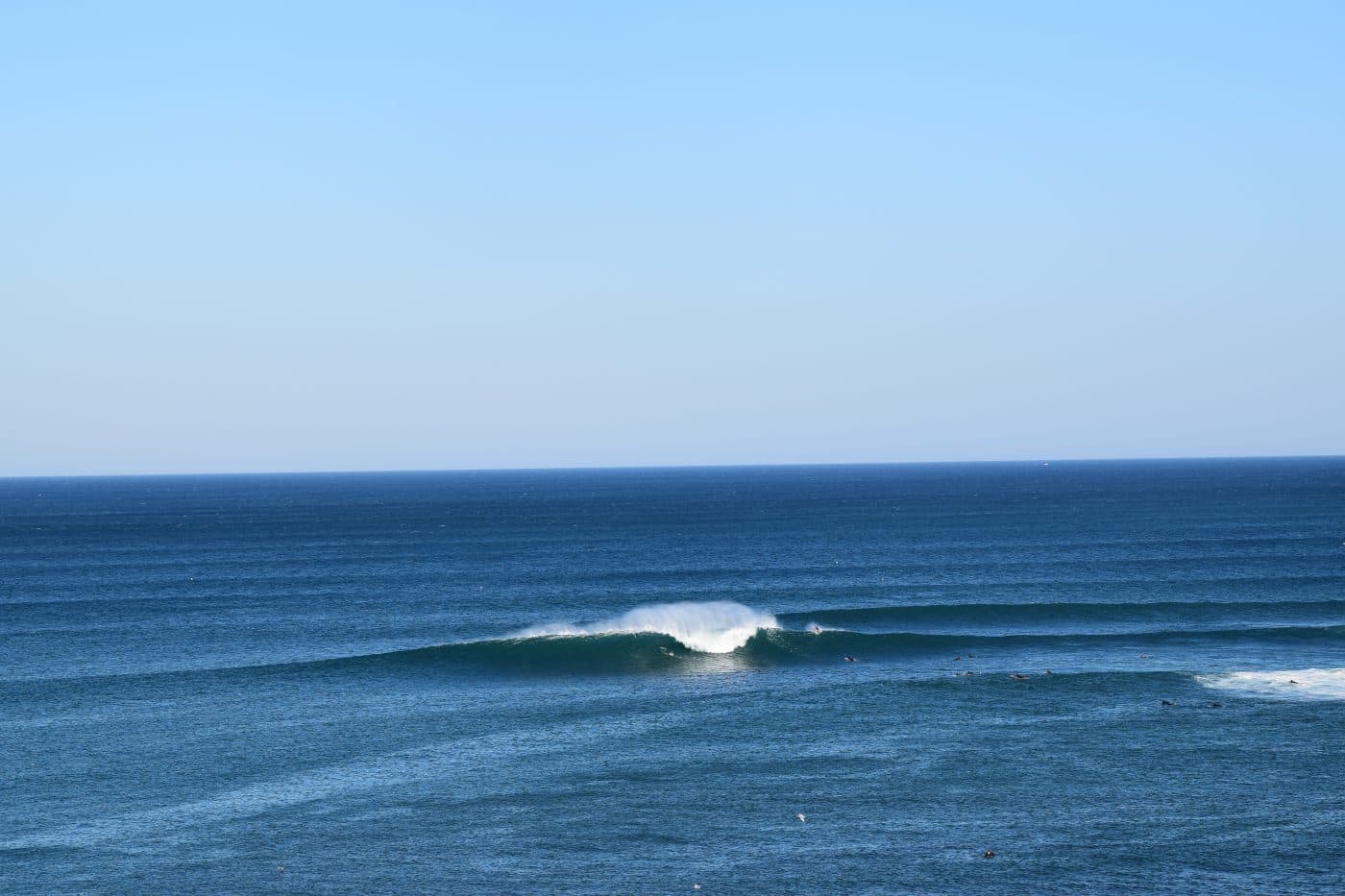 Surfing in July
Summer is here. Waves are gentle.
France
France is heating up or already hot. Beaches get packed. Les Landes offers enough space for every one. Long stretches of empty beaches and line ups are easy to find. Mimizan, Hossegor, Vieux Boucau and everything in between will get you surf good waves.
Spain
Check Galicia if you're looking for a more quiet line up. It's the northwest part of Spain. BEAUTIFUL beaches and surfspots.
Watch the video of a surftrip to Galicia.
UK
Not to forget the UK. And especially Cornwall and Devon. It will pick up swell easily. Surfspots to check are Lands End in Cornwall and Bude in Devon.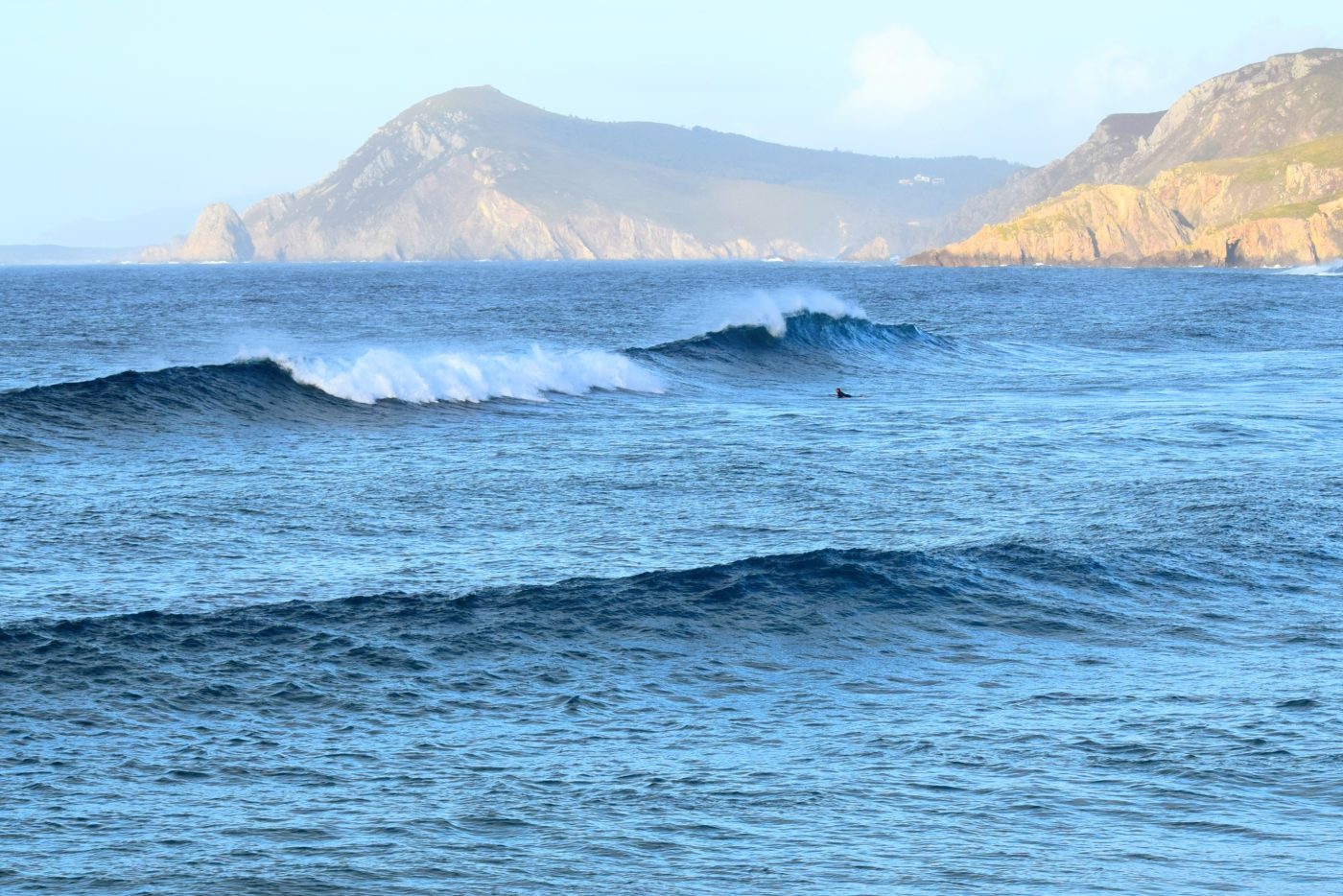 Surfing in August
Busiest month of the year. Respect each other. And find your own spot
France
When the beaches of Les Landes and Gironde get packed, head for Bretagne. Bretagne (Finistere) will see waves every day. For every level. The water is cold though and it can get rainy. But as the Bretons say: it only rains on fools. Surfing in empty line ups is out there. Point breaks, beachs breaks. All you could wish for. Check out Baie de Trepasses, St Tugen, Plovan.
Portugal (North)
As mentioned above for july Galicia is good place to go. But also check out Portugal a bit more south from Galicia. Northern Portugal is still a remote area. Meaning pretty empty line ups.
Surfing in September
Summer vibes around. Swells are developing.
France
Maybe this is the best month to visit France. Summer is still present and swell is building. The Vendee is great to go. Super quite, awesome reefbreaks. But also Basque Country and the beach breaks of Les Landes are so worth it. Of course Bretagne is good to go too, but weatherwise it can be a bad month.
Spain
Spain (Basque County) is perfect in this month. Check surfpots around San Sebastian, like Zarautz, and Bilbao, like Sopalena.
Surfing in October
Between summer and winter. World Surf League visiting Europe.
France
Basque Country and Les Landes are good to go. Check out the Hossegor Pro if you're around. The swell can be pretty strong. Ride safe.
Portugal
October is in our opinion one of the best months for Portugal. Whether it's round Lisbon or the Alentejo (between Lisbon and the Algarve). Swell are almost secured. And the weather is super nice. Extend your summer!
Places to go: Ribeira d'ilhas, Matadouro, Odeceixe, Vila Nova de Milfontes, Zambujeira do Mar.
Or maybe event better: rent a camper.
Surfing in November
Start to move south. Unless you like surfing storms.
Algarve
The Algarve is getting good. West- and Soutcoast. A good place to stay to benefit from both sides is Casa Meranka, in the sweetspot of the Algarve.
Spain
Like the Algarve, Andalusia is starting to her thing. Swells from the Atlantic are reaching the Andalusian coastline.
Surfing in December
First snow flakes on the beaches? Not in Morocco or Canary Islands.
The Algarve, Andalusia are very good to go. But Morocco and Canary Islands are our tip for this month.
Morocco
Surfers looking for the endless summer are moving their campervans to Morocco. They know that the chance of surfing perfect righthanders is pretty high this month. While the weather is holding well, statistically.
Canary Islands
Relatively lots of Europeans (especially from Germany, UK, Netherlands) are flying to the Canaries during the holiday. Looking for sun and surf! Fuerteventura is a perfect pick if you're looking for the surf scene and a great variety of surfspots to choose from.