SURFING IN FRANCE
Discover the French surf spots and surf guides
France is the Europe's nr 1 surfing destination
France scores 5 out of 5 stars as a surfing destination.
And for good reasons too.
Most Europeans are aware that France is a great location to go surfing. During the summer, you can find plenty of surfers at basically every campsite along the coast. You can recognize them by their surfboard on top of their car, or next to their tent.
According to 74 by our visitors, France scores 5 out of 5 stars.
The surf conditions in France are great. The beaches are beautiful. And the weather ­– generally – provides the perfect summer temperature from may to late september.
Check out our
Popular surfing spots in France
Les Landes, the Aquitaine regio and the Basque Country are traditionally popular surfing areas in France. Mimizan, Biscarosse and Lacanau are just a few of the popular spots here.
Check out our Lacanau surf guide.
But there are plenty of lesser-known spots in these areas as well, that definitely have a lot to offer.
These lesser-known spots might even be better and more beautiful than the popular spots – but of course this all depends on what you are looking for.
Lesser-known surfing spots
Lafitenia near Biarritz
One of these spots would be Lafitenia in the Basque Country, just a milestone under Biarritz. Here you will find a long wave. A righthander. This is perfect for intermediate or more advanced surfers. However, even beginners will have loads of fun here. And the location is absolutely stunning! It's even possible to camp out here with a direct view of the bay. You can just walk straight out of your tent and into the ocean.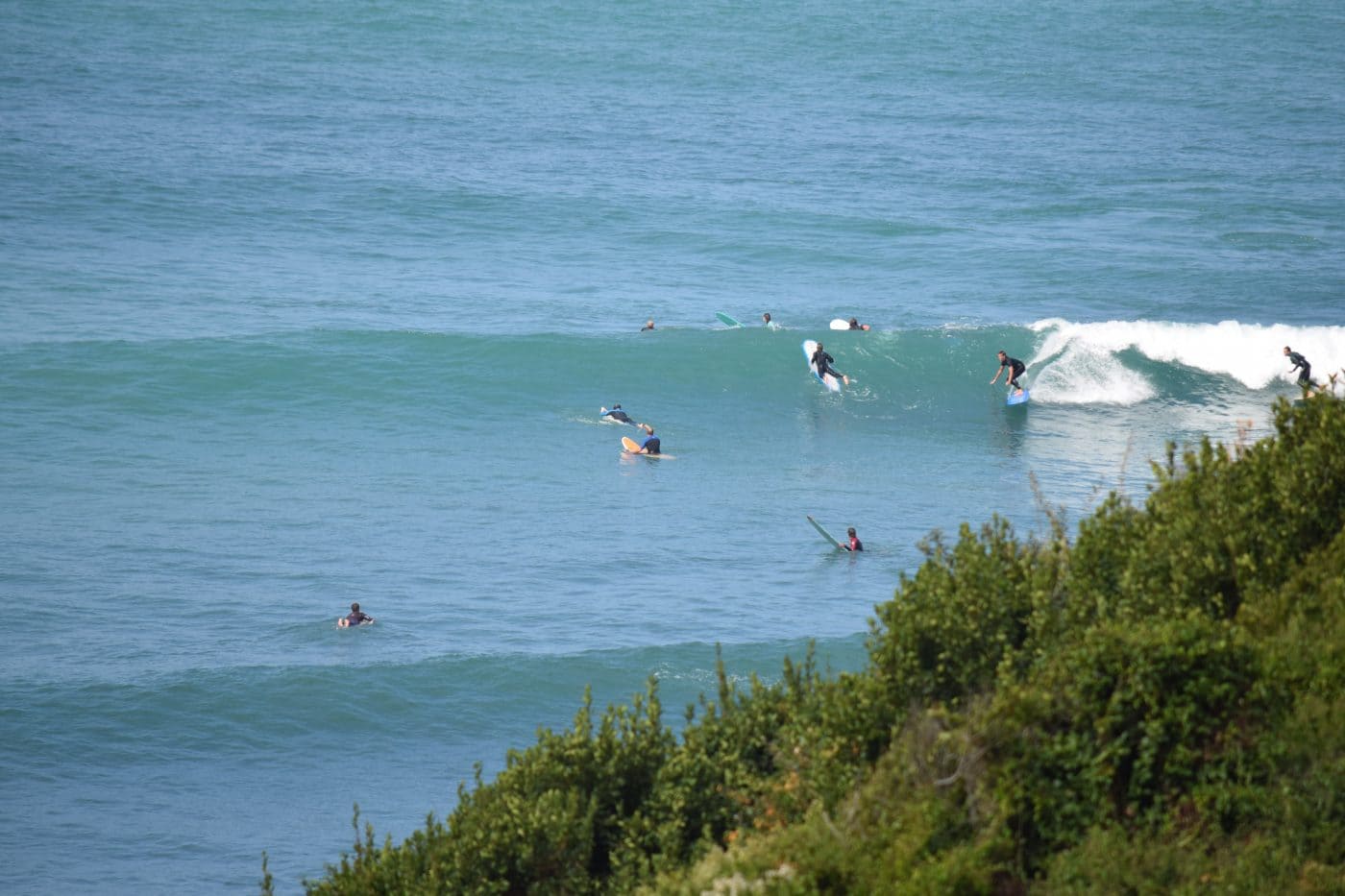 Check out our Lafitenia surf guide.
Hossegor
Are you more like a thrillseeker? And do you like to watch the pro's. Check out Hossegor. Famous for it's fast spitting barrels.
Check out our Hossegor surf guide
Le Porge in the Aquitaine
More towards the north in the Aquitaine region, you will find Hourtin and Le Porge; these villages are much more low-key than, for example, Lacanau – and thus attract fewer surfers. Both of these villages have great campsites. Especially during the spring and during the fall, this is a great surfing spot. Waves are almost guaranteed and there are few people in the water.
Check out our Le Porge surf guide
The Vendee
The Vendee is not too well known, despite there being a great surfing area near Bretignolles sur Mer. For example, you could surf at La Sauzaie, where a number of surfing contests are hosted every year. Not exactly a great location for beginners though, although the same can't be said for Les Dunes.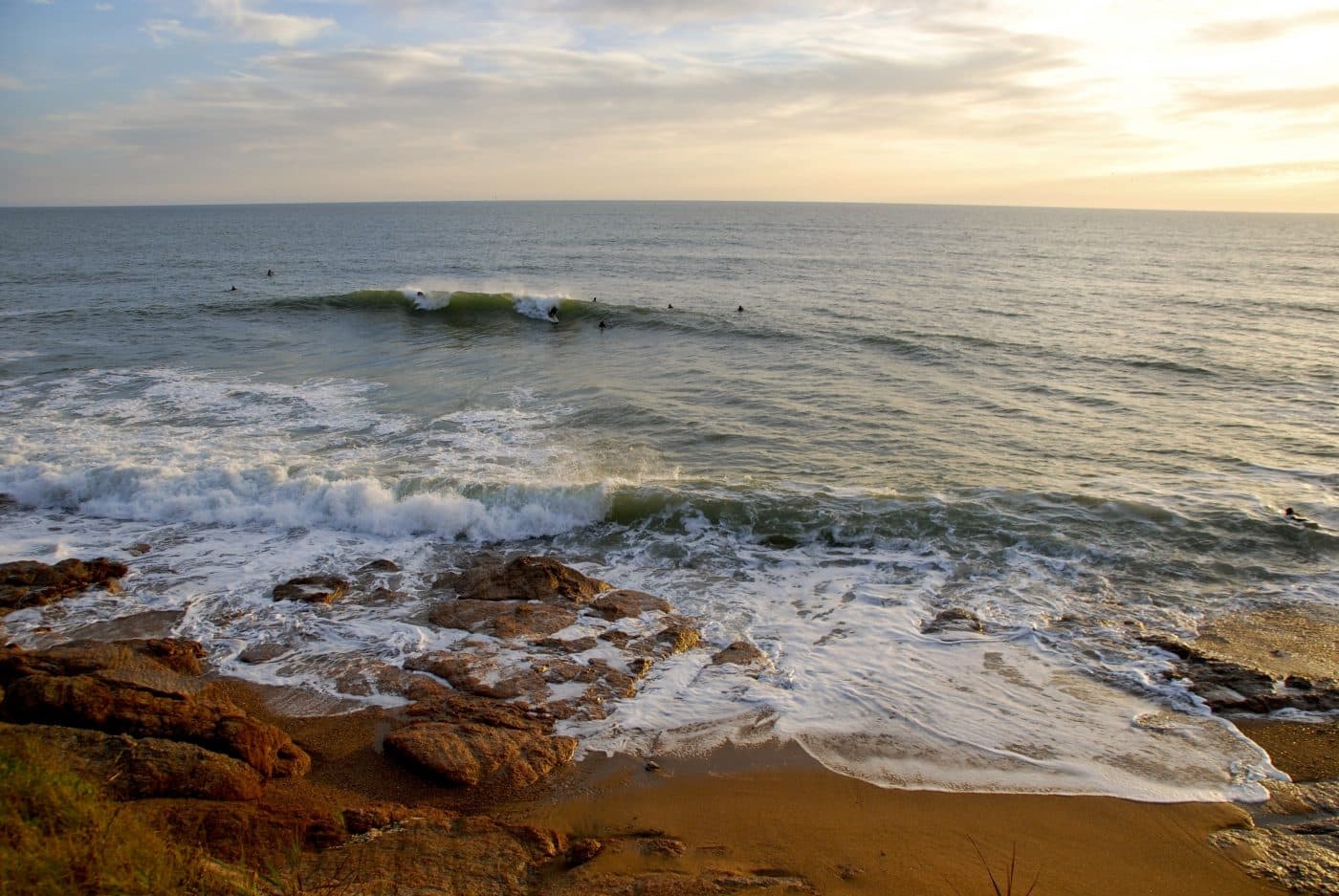 Les Dunes is a few kilometers to the south and the waves break a bit more mellow here. You will mostly run into longboarders and suppers at this spot.
Additionally, Sauveterre and Sables d'Olonne are also great surfing spots. You will have plenty of choice, as each location has the wind blowing from a slightly different direction  and they each have a different type of terrain.
You should usually be able to find some great waves in the Vendee with lesser crowds then the southern regions.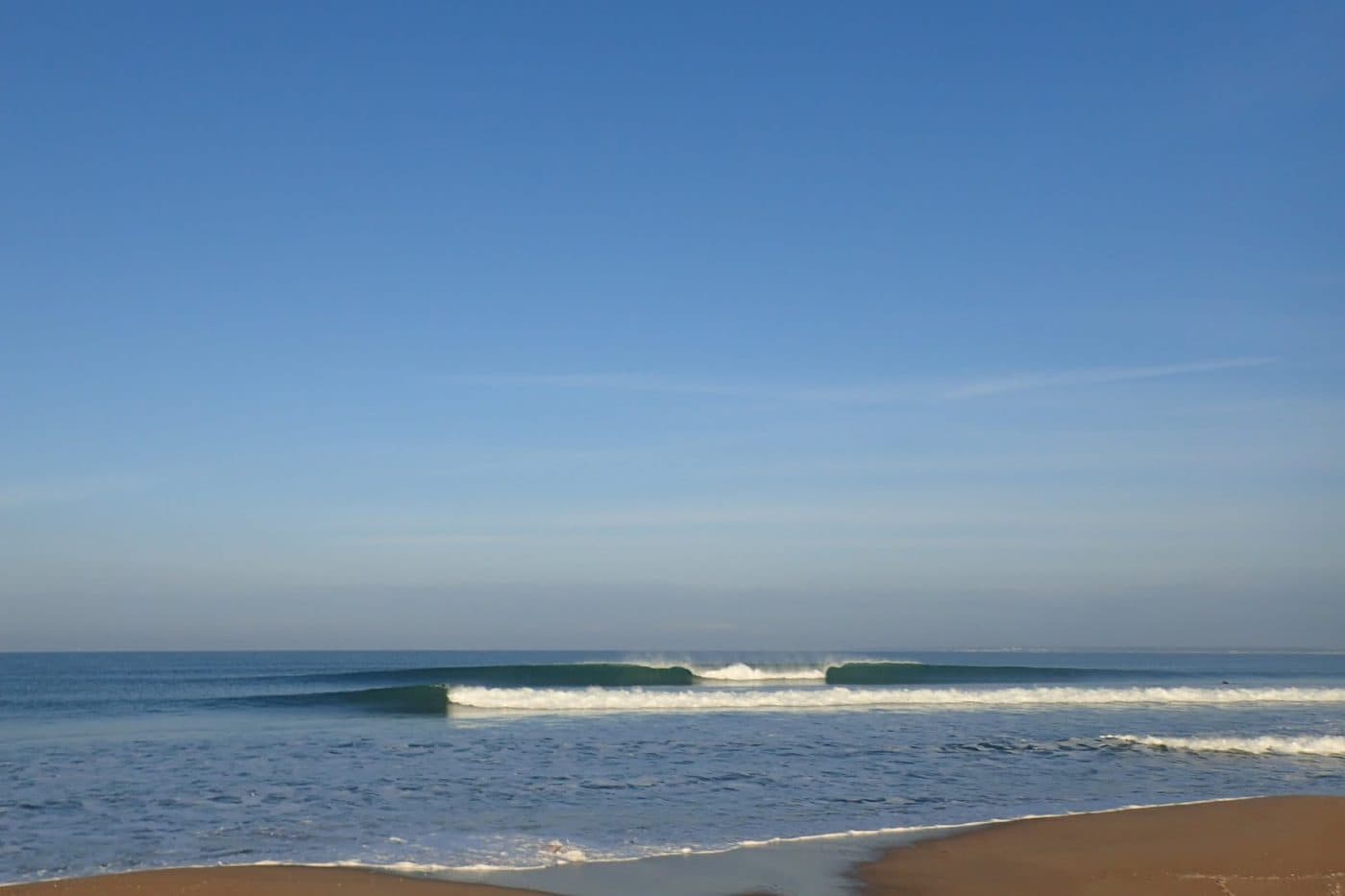 Brittany
The gem of France.
In Brittany , you will mostly find empty line-ups and incredibly clear water.
You will also find plenty of surf spots here – as well as bays, where you will be protected from the wind. For example: Baie de Trepasses.
Surfing in Normandy
Normandy also has a variety of surf spots, and in the north of France, you will find Wimereux.
This surf spot is only a few hours away from The Netherlands and Belgium – a good reason for a road trip for Dutch- and Belgian surfers. From time to time, this location has some really great waves.
If you drive a bit further, you will get to Yport and Etretat, where you can find great lefthanders.
Check out our Etretat surf guide.
France: An abundance of possibilities
France offers a wealth of options when it comes to surfing. And you really don't need to drive all the way to the southwest to find a good surf spot – sure, the water might be a bit warmer down south. But there is no lack of waves along the entire coast of France.
On Surf-report.com, you can see our daily pictures and updates on the French surf spots.
Surfing conditions in France
Catching a flight to France?

It's pretty easy to get to France by Air. Bordeaux and Biarritz are easy to get top. Check out the ticket prices.