How is surfing in the Swiss Alps like?
Exciting. Amazing. Exhausting 😉
It is truly fantastic.
In one hour, you can catch 26 precise waves (in the advanced session). And all this is surrounded by the mountains of the Swiss Alps.
"Surf the Alps" as they say.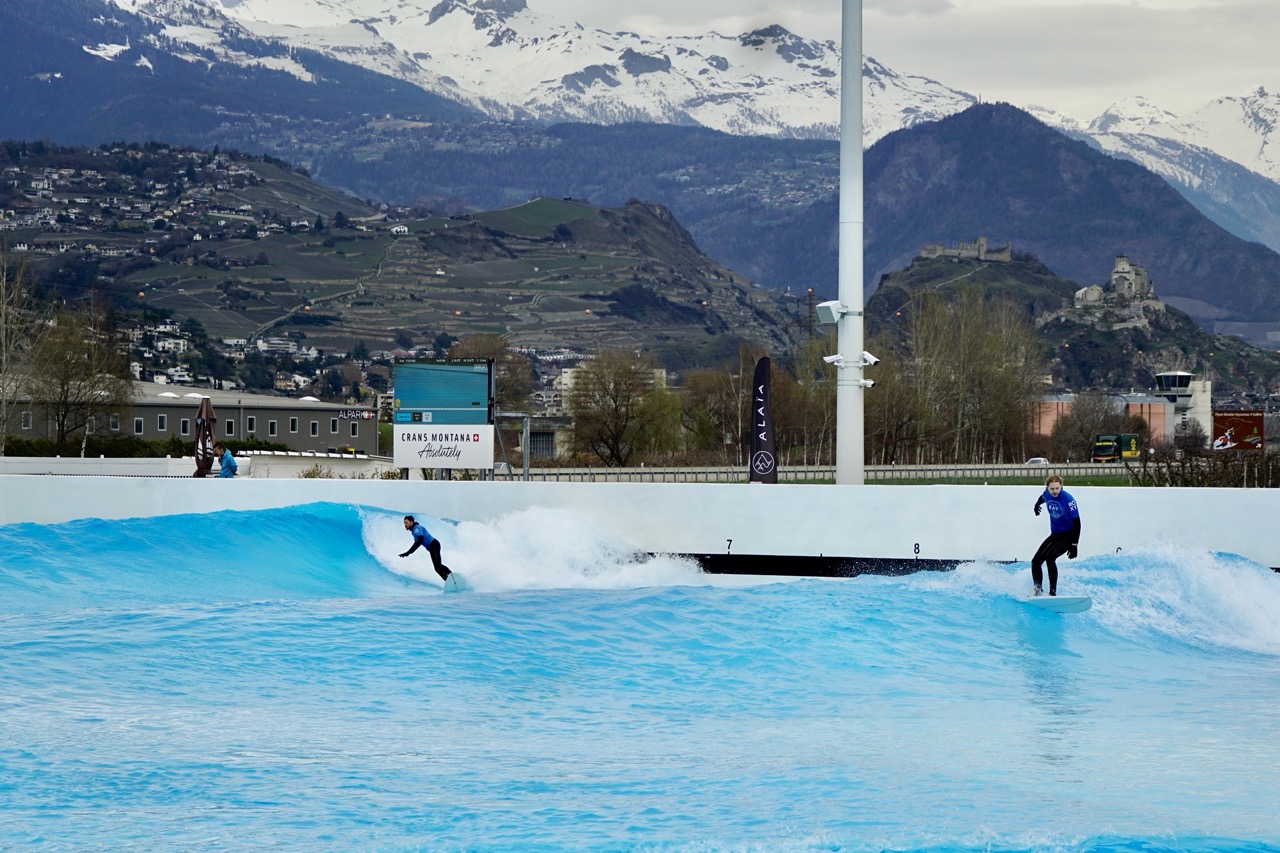 During our annual snow trip, this time to Crans Montana (a trip report to follow), we also got the chance to catch some waves in Alaïa Bay, right in the middle of the massive 3000ers of the Alps.
About Alaïa Bay
In 2015, Alaïa was founded by the Swiss Adam Bonvin, after a surf trip to Hossegor in France. His wish was to bring the atmosphere of surfing to Switzerland. In March 2016, he started a crowdfunding campaign. Around CHF 100,000 was collected within 60 days to kick-start the project and convince investors of his plan.
Now, the Alaïa destination is divided into 5 different areas:
Alaïa Bay – Surfing
Alaïa Chalet – Skateboarding, Scootering, Trampolining, Parkour, Cheerleading
Alaïa Parks – Freestyle snowboarding and skiing + Bike park during the summer months
Alaïa Wakesurf – Nautical base in Le Bouveret on Lake Geneva for practicing wakesurfing
Alaïa Camps – Action sports camps organized for children aged 8 to 17
And let's not forget the Alaïa Lodge, the chill hotel where we stayed.
By the way, the name "alaïa" comes from the first surfboards used by the Hawaiians at the end of the 19th century. Made of wood, very thin, with a rounded nose, a square tail, and without a fin.
Now back to surfing at Alaïa Bay.
26 Waves in an Hour at Alaïa Bay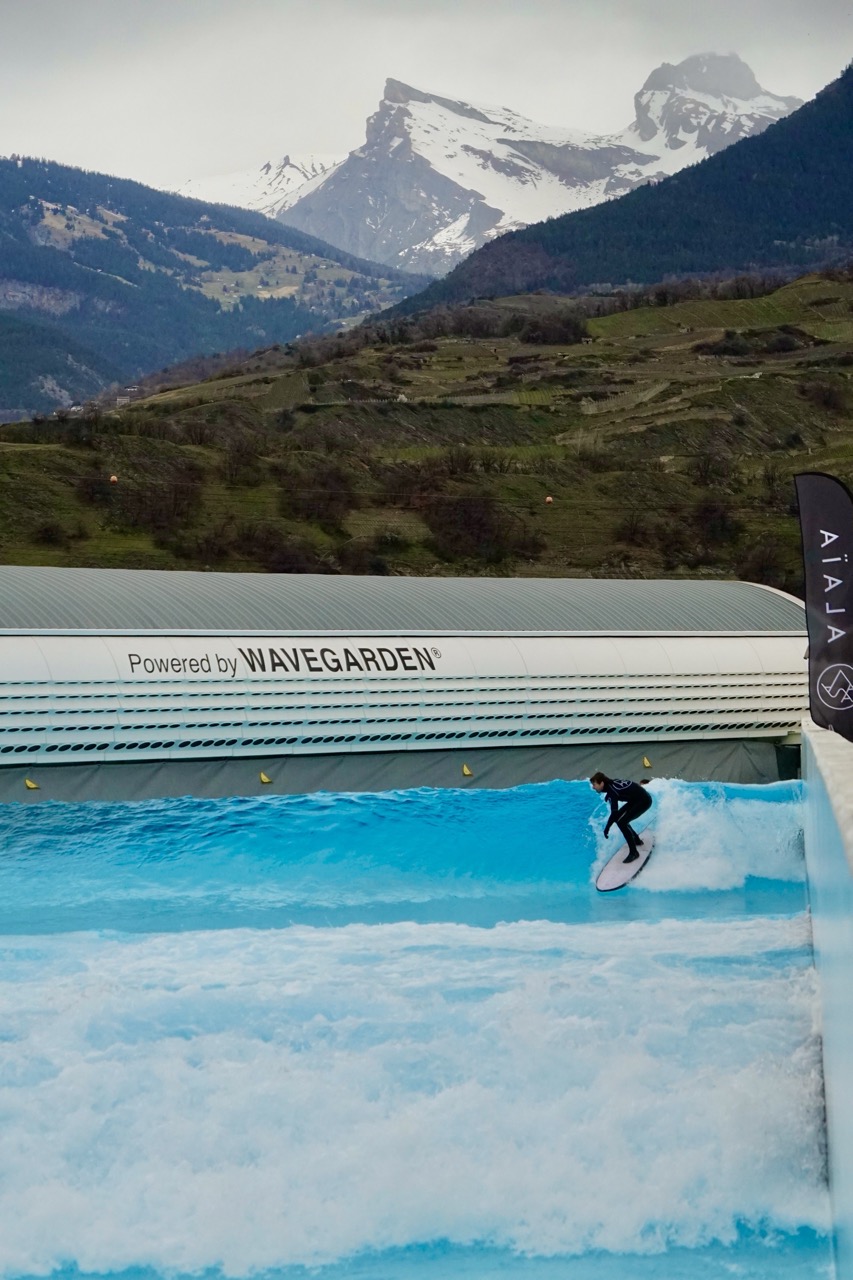 At Alaïa Bay, you get 26 waves in one hour. And that is super cool. And pretty intense. The waves just keep coming, and you want to catch them all. That's why here's a tip: take a break and let one go by, so you don't get too tired and make mistakes. It's a shame to miss a wave.
And another tip: book at least 2 sessions. Yes, it's quite pricey (CHF 130 per session), but you won't regret it after the session. It's worth it. Why 2 sessions? Because after 1 session, you'll have a feel for how the wave rises and runs. Then you can get everything out of the second session. And leave the wave pool with an even bigger smile.
How does a session at Alaïa go?
Here's a chronological view:
Book your session (see also "which surfing level can I choose" below)
Go there. We went by car because we were going skiing and snowboarding in Crans Montana afterwards.
Alaïa is not very noticeable when you drive there, no big billboards or anything. But your directions will take you there.
Check-in at the reception as soon as you enter.
You will receive a wristband so you can go through the gates to the pool. With your wristband, you can rent your board and store your clothes in a locker.
Go through the gates to the surf rental area. Choose your board there. If you are not sure which one, they are happy to help.
You will also receive your wetsuit there. And they will request that you check in at the pool 20 minutes before your scheduled time to
If you have some extra time, you could head to the relaxed restaurant with a terrace and watch the surfers from there. It's really cool to see how they're doing. You can also watch from the edge of the pool, which is useful because you can see how the waves are breaking and how other surfers are riding them.
Once you've changed into your surfing gear, you'll need to arrive at the edge of the pool at least 20 minutes before your session begins. Here, you'll learn how to enter the water, where to paddle out, where and how to catch the waves, and what to do if you wipe out.
Then it's time to get in the water. You'll lie down at a numbered marker along the wall, which they'll tell you about beforehand.
The waves come in sets. After each set, there's a brief pause of about thirty seconds, so everyone can paddle back out before the next set begins. This goes on continuously.
One really helpful feature is that you can watch a replay of your session on a large screen by the pool. This allows you to see what's working well and where you can improve, making it perfect for making progress.
Practical information about Alaia Bay
What surf levels can you choose from?
Alaia Bay is for everyone, from beginners to pros, from kids (aged 8 and up) to grandparents. There are eight levels in total:
Beginner, up to 0.8m in height.
Waikiki, up to 1.0m in height.
Malibu, up to 1.2m in height.
Intermediate, up to 1.4m in height.
Advanced, up to 1.6m in height.
Expert, up to 1.6m in height.
Pro, up to 1.6m in height.
Beast, up to 1.6m in height.
Megaturn, up to 1.8m in height.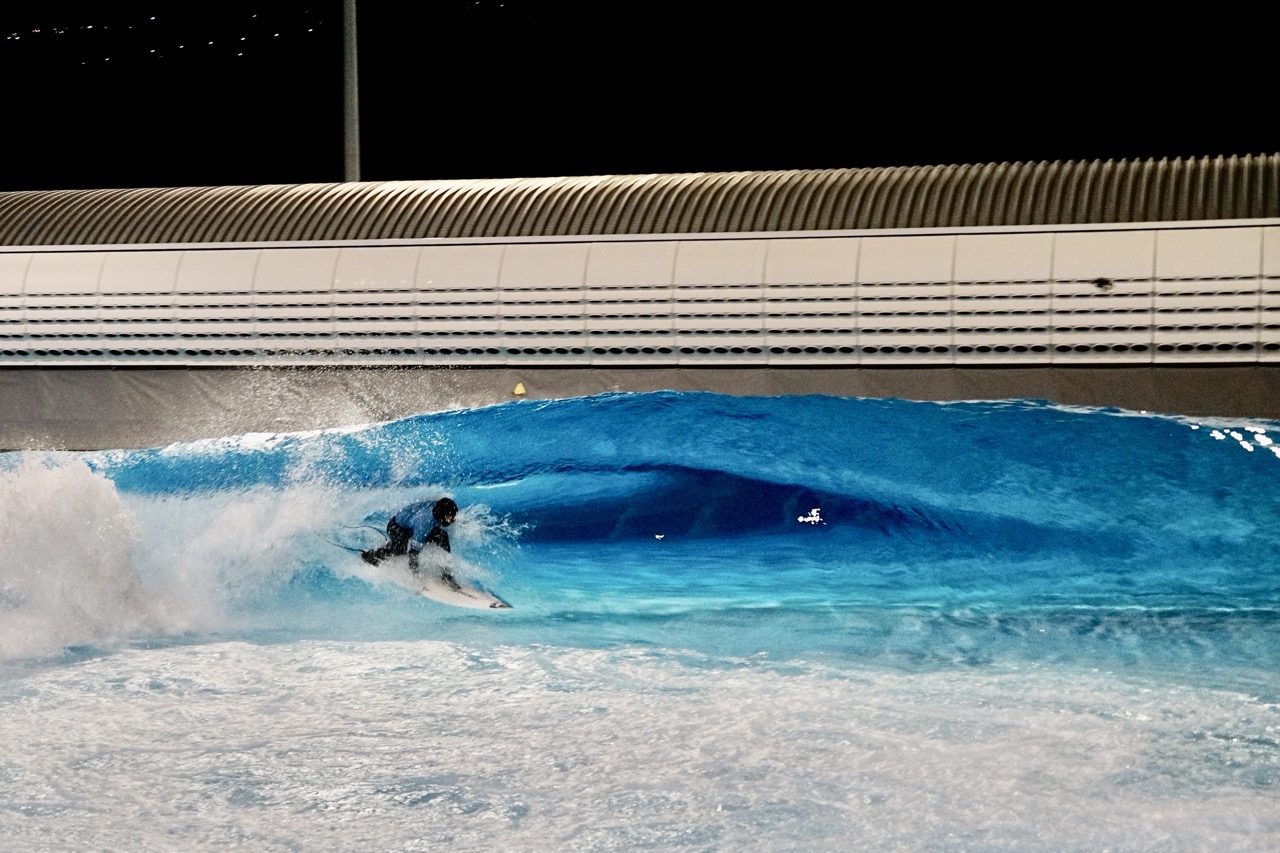 For the average "intermediate" surfer, it's best to choose "advanced." It looks like this: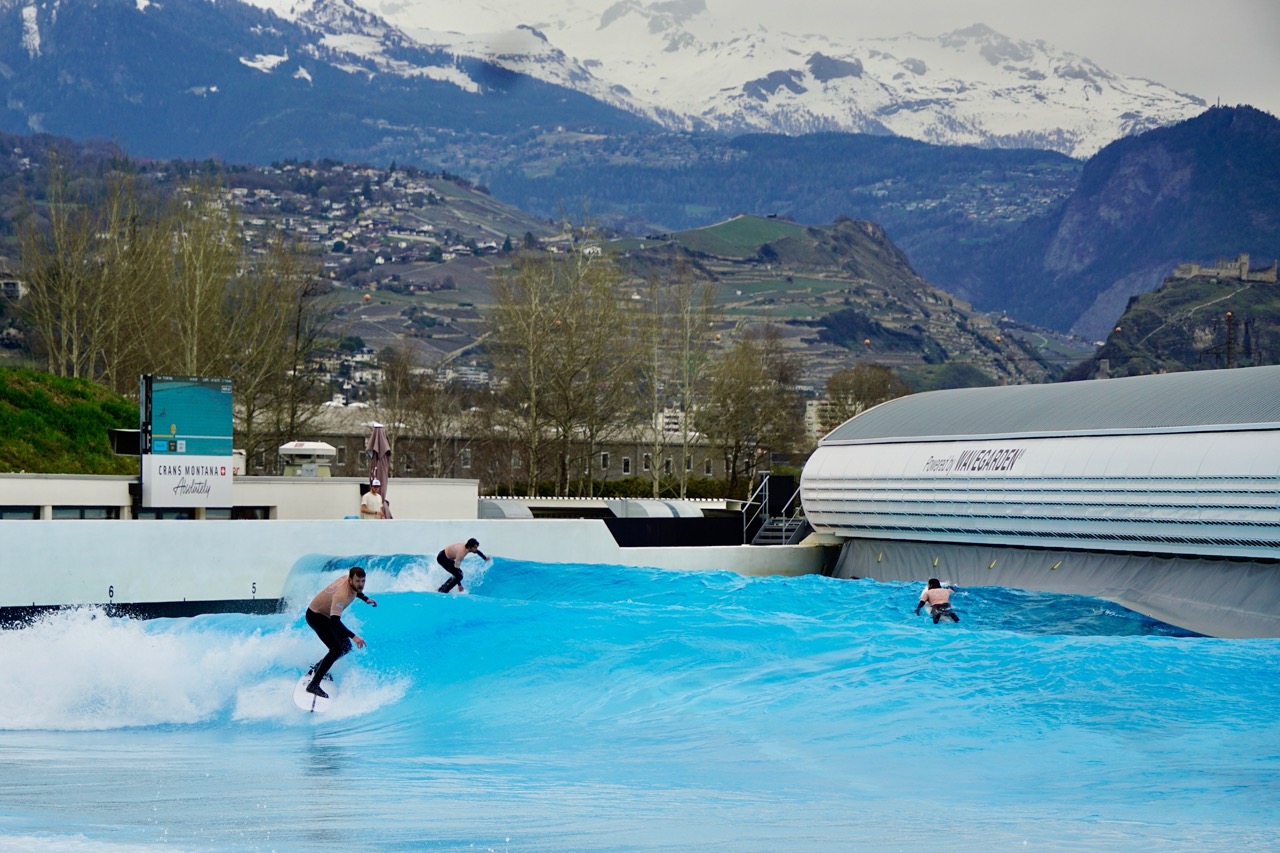 Even though it can be quite intimidating, once you make the take-off, the wave is fantastic. The take-off is relatively steep on the side, but if you move half a meter towards the inside, it becomes much easier. Once you catch the wave, everyone will agree that it's a sick ride.
If you're unsure about which level to choose, they have a "level selector" tool on their website that can help you determine your surfing level. Alternatively, you can send a video of yourself popping up and catching a wave.
Check out this video to get a good idea of the waves:
Do you need to bring your own board?
No, you don't have to. Although, of course, you're welcome to bring your own board.
They have dozens of boards for every level, so you can rent a board. You can always bring your own board if you prefer. However, given the range of choices available, we wouldn't recommend it. They have long soft-top boards and shortboards in all sizes.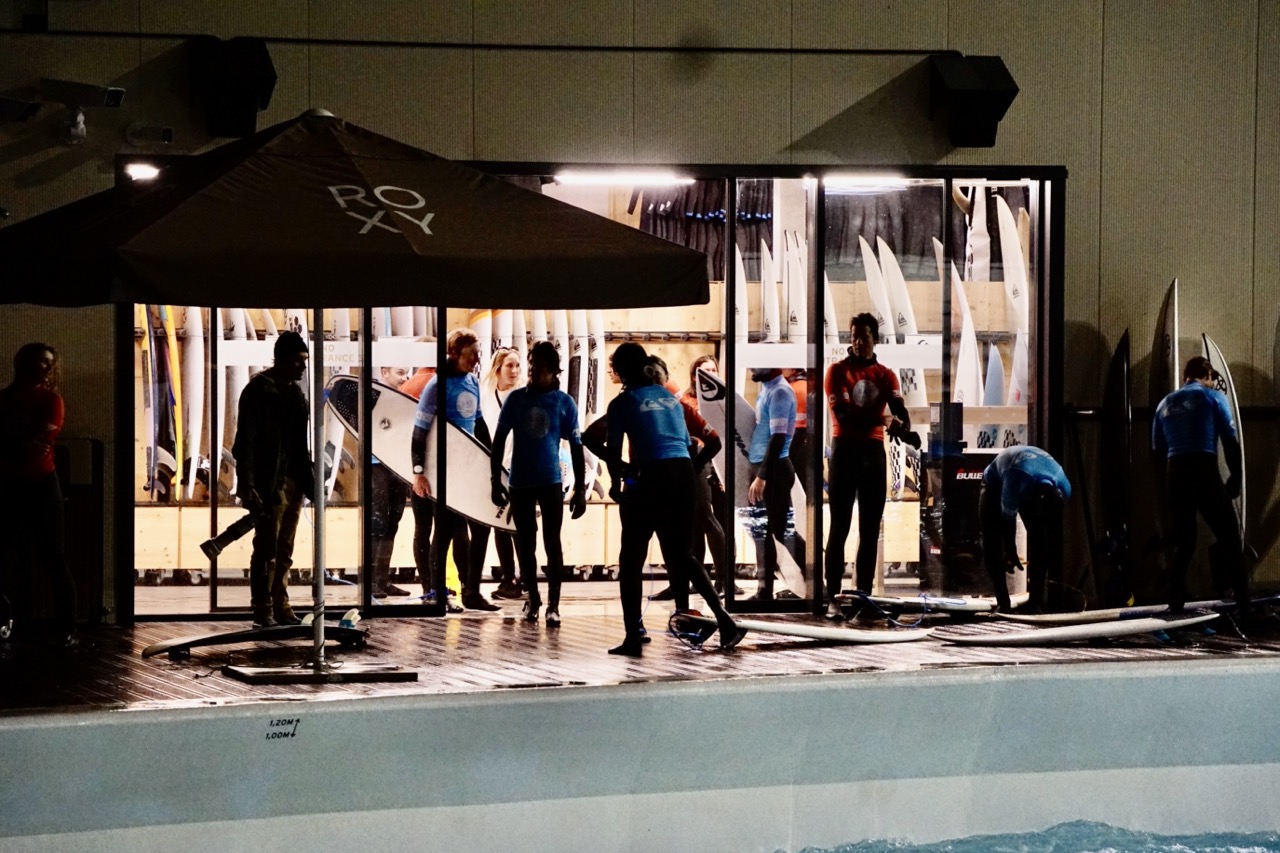 What is the water temperature?
The water is not heated. When we were there in late March, the temperature was 11 degrees Celsius, which is quite comfortable compared to Dutch winter temperatures. The water temperature changes with the outside temperature, so you can surf in your boardshorts during the summer.
How much does surfing in Alaïa Bay cost?
The prices vary by season and time. Weekdays are cheaper than weekends during the summer holidays. However, expect to pay at least €130 per session. It's more expensive in the summer, so add around €20 per session.
The rental prices are as follows:
Surfboard: 25 euros per day
Wetsuit: 10 euros per day
How do you get to Alaia Bay?
There are several options:
Take the train from the Netherlands to Sion.
Fly to Geneva and then take the train or drive to Sion.
Drive directly to Sion.
Having a car is convenient once you are there.
Check out the location of Alaïa Bay (the surf icon) here:

Need a location to stay? Check it now.