Surfing in Ericeira
Ericeira is an hour's drive north of Lisbon.
It is a beautiful coastal town. A fishing village too. The white houses really make it a picture perfect Portuguese town. You'll find several small beaches in the town itself. Never really good for surfing. But there are many beaches just outside of Ericeira where you can find some good swaves. But the main attraction is Ribeira d'Ilhas. A righthander.
Anyway. Ericeira is an ideal holiday destination.
The best conditions? When the swell is coming from the west (southwest and northwest is also excellent) and the wind has someting of a eastern direction.
Your guide to the perfect surf holiday to Ericeira

For anyone who loves surfing, Ericeira is the perfect holiday destination in Portugal. Especially in autumn. The weather is still lovely and there are always waves; with every wind and swell direction you can surf somewhere.
For both beginners and advanced surfers there are several surf spots to choose from, with reef surface or sand. But in addition to surfing, other things are important, such as eating and accommodation to stay.
So what exactly does that perfect surf trip to Ericeira look like?
This is the ultimate guide for everything you want to know. (thanks to Jasper and Darcie from Ola Onda Ericeira)
The road to Ericeira
To begin with, you book a ticket to Lisbon. Outside the high season you will soon find cheap return tickets. Renting a car at the airport is a must, especially if you want to drive around a lot.
Unfortunately, you do not always find the best waves in one place. If you have tied the boards on the roof you drive in Ericeira, where you arrive 30 minutes later.
If you have never surfed before and would like to take lessons, a car is not necessary, because the surf school can always pick you up and bring you to the surf spots.
In addition, there is also the Ericeira Beach Bus in peak season, which takes you to all the beaches of Ericeira for € 1.
Surfing Ericeira is for everyone
There are suitable waves for every surf level in Ericeira. For beginners or intermediate surfers, spots such as Ribeira D'Ilhas, Foz do Lizandro and São Julião are recommended.
Ribeira D'Ilhas because it is often not too difficult a wave, and Foz do Lizandro and São Julião because they are sandy beaches.
The advanced surfers can go to spots such as Coxos and Pedra Branca where you"ll find challengng waves (and barrels).
With every swell size and direction there are always good waves to be found. If there is a lot of (north) swell and thus high waves, you can surf at Praia dos Pescadores or Praia do Sul. If the waves are small then the sandy beaches of Foz do Lizandro and especially São Julião are recommended, because they always pick up something.

Video's of surfing in Ericeira
[vc_video link="https://youtu.be/5PrGSDknfwc" title="Video met de surf spots in de buurt"]
[vc_video link="https://youtu.be/kB70zBV8erA" title="Video: Surfen in Ericeira "]
[vc_images_carousel images="679,678″ img_size="full" onclick="link_no"]
Surfing in the Ericeira area
Sometimes the waves are too high or there are strong winds in Ericeira. Fortunately, there are many surf spots in the area where you can go, all easily accessible by car.
Peniche is located one hour north of Ericeira. Because of the excellent location (literally and figuratively), there are countless possibilities with every wind and swell direction. With northern winds you go to Molhe Leste, with southern winds to Cantinho da Baia. In this bay between Peniche and Baleal you will always find a sheltered spot with a large south / west swell.
With strong northern winds and / or high waves you can always move to the south. At a 40-minute drive from Ericeira you will find Estoril. A little further away is Carcavelos. Both surf spots of high quality and offshore with northern winds. 
The weather in Ericeira
A perfect surf trip needs sunshine as well. The good thing about Portugal is that in the summer months the sun is guaranteed and it almost never rains. But autumn is also really nice. The wind generally doesn't blow and the sun is still shining almost every day.
Temperatures of 25 degrees are very common.
Do not forget your waterproof sun lotion

Weersverwachting voor de komende dagen
Eat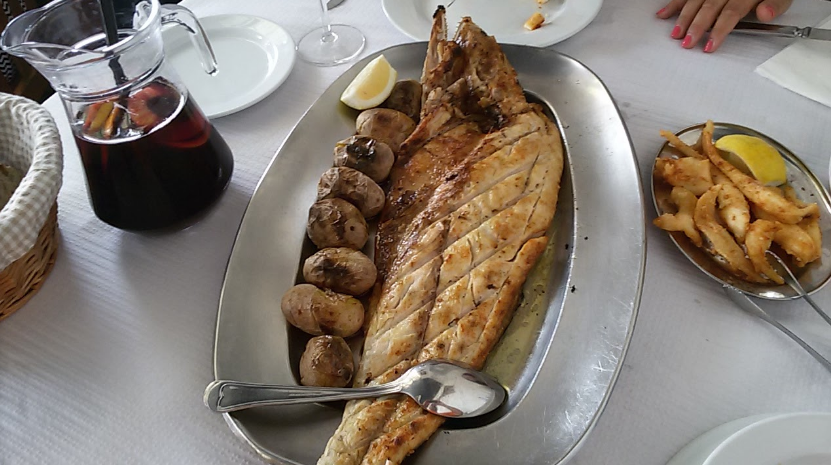 If you are in Ericeira you eat fish. In a restaurant or your own barbecue, it does not matter, as long as it is fresh. And that's it.
Especially the 'polvo' (octopus) you have to try, which is caught between the rocks. In addition, the 'plot berry' is a local delicacy. A kind of crustacean that also grows on the rocks.
There are many seafood restaurants in Ericeira and the prices are good. The best restaurants in Ericeira are often the ones where white fluorescent tubes hang from the ceiling, the tablecloths are made of paper and where a TV with football is on.
Good to know: Beforehand you always get a basket with bread, olives and butter. You only pay this if you eat from it.

Our favorites restaurants in Ericeira:
Mar D'areia – Rua da Fonte do Cabo 49, Ericeira

Clube Naval – Rua do Facho 22, São Pedro da Cadeira


Boca Santa – Esplanada Antero de Quental 3, Santa Cruz
Sleep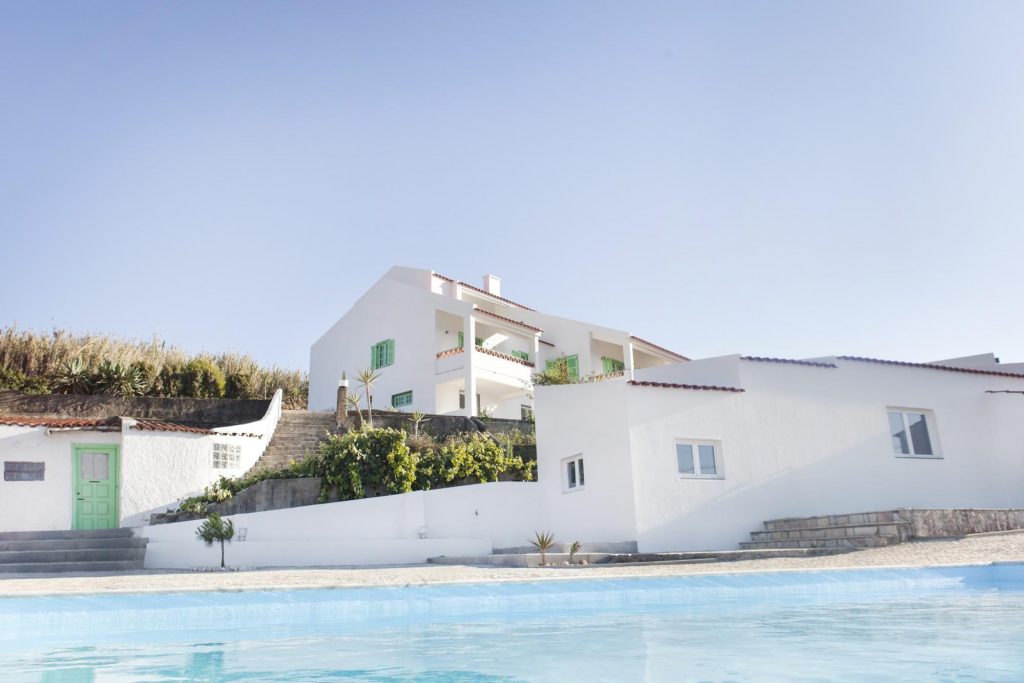 There are many hostels and surf camps in Ericeira where you can stay for a good price. If you go on vacation alone, a hostel is a good option because of the low price and you quickly get to know people.
We advise to contact Olá Onda Guesthouse, which opened in 2016, within walking distance of the center and surf spots such as Matadouro and Ribeira D'Ilhas.
Here you will find peace, spacious rooms with private bathrooms and sea view, a large garden with swimming pool and a nice breakfast.
Party
For many, the perfect holiday also includes cocktails. In Ericeira you can find them in various places, often for half the price of what you are used to.
In the summer there is often live music in the center, and there is always a Portuguese folk party going on.
In addition, you can drink beers at Tubo, a bar in the center. At Ericeira Boardriders you listen to tapes and watch the sunset from the terrace.
Yoga
We no longer have to tell you that surfing and yoga is a good combination. During your surf vacation a yoga session in between can keep your tired muscles supple and strong.
There are several yoga studios in Ericeira, and there is also a regular yoga session at Olá Onda Guesthouse, including healthy brunch. Also a nice way to get to know new people.
In short: rent a car, surf as much as you can in Ericeira and surroundings, enjoy the sun, eat fish, party, do yoga and find a nice place to sleep. Then it can not go wrong and that should be a perfect surf trip.