Surfing in Peru
7 surf spots you need to know
Peru, with its stunning coastline along the Pacific Ocean, offers a surfer's paradise that is still relatively undiscovered. With some of the longest waves in the world, a pleasant climate, and reliable swells, Peru attracts surfers from around the globe. In this article, we will explore the surfing scene in Peru, highlighting its unique features, challenges, and incredible opportunities for surfers of all levels.
But, Peru is still one of the most underrated surfing countries in the world. Remarkable, because along its 3000 km long coastline it is teeming with epic surf spots.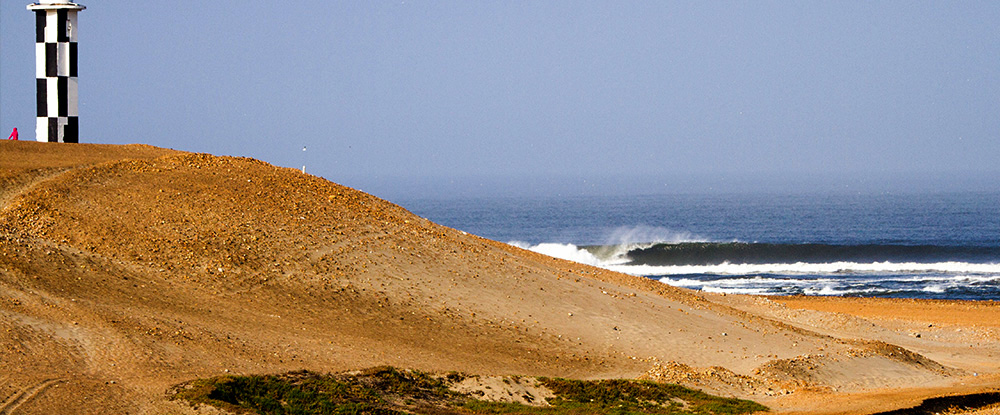 Walhalla for the goovy rider.
Peru is the walhalla for the goovy rider. Because of the south-west Antarctic swell (Humboldt current) there are a lot of left-handed pointbreaks to be found along the dry coast. Peru has a rich surfing history. Scientists think that surfing was done here hundreds, maybe thousands of years ago. The story even goes that in Huanchaco the first waves were ever ridden. We travelled to Peru to check out the surf and to discover the Inca culture.
Conditions in Peru
Long Waves and Ideal Climate
The best time to surf in Peru is in the summer, which runs from October to March. During this period, both the outside temperature and the water temperature are warmer. In the northern part of the country (above Lima) you can enter the water without a wetsuit, but in the south you will have to wear a wetsuit regardless of the season. The wind comes 50% of the time from the south, in the morning about 20% from the south-east and in the afternoon from south-west. Moreover, Peru's coastal region doesn't experience heavy rainfall, creating a dry and pleasant environment for surfers.
The surf spots in Peru experience a consistent and reliable swell, providing ideal conditions for catching those perfect waves.
How to travel in Peru
Public transport is well organised. The distances are long, but buses run everywhere and are also very comfortable. The seats fold back in no time and look a bit like an armchair that makes the average old person's mouth water. Sleeping is therefore no problem and you save an overnight stay. Of course you can also rent a car in Peru, but at European prices.
Staying in Peru
On most surf spots you will find cheap surf hostels. Prices vary from a dorm for under 10 euro, to a private room for 20 euro. Peru has a rich gastronomy, think of ceviche and lomo saltado. In the surf villages you can eat these traditional dishes for about 3.5 euros. Some caution is advised: most tourists get sick at least once in Peru. Probably because the food is cleaned with polluted water.
Lima
Landing the plane in Lima. The city has a bad reputation, but the districts Miraflores and Barranco are very nice to stay a few days. Book your stay near the sea, because you will find some good beachbreaks here. Via the 'Costa Verde' you can walk straight to the beach. Our favorites: Punta Roquitas – steady left & right-hander with paddle-out for the strong arm Best conditions: south north-west swell, north-east wind, all tides. Waikiki – right-hander can be found behind the surf schools Best conditions: south-west swell, north-east wind, low-mid tide. Redondo – Relatively calm left-hander Best conditions: south north-west swell, north-east wind, all tides. Barranquito – left-hander, easy to reach from Barranco Best conditions: south south-west swell, north-east wind, all tides. On weekends the surf spots are crowded with surfers and SUP'ers. Luckily the beaches are a lot quieter during the week.
Huanchaco
According to historians, the first waves in the world were surfed by the Moche and Chimu tribes before the Inca era in Huanchaco. On a kind of wicker canoe and with the help of a paddle, local fishermen are said to have braved the first waves. As a reminder of this time, the thatched canoes are exhibited along the beach. The town has 5 consistent sections, one of which is right-hander. The 3 left-hand pointbreak main sections almost never link up, but are easy to ride one after the other when you let yourself drift. Best conditions: south-west swell, east wind, all tides.
Chicama
One of the longest left-handed pointbreaks in the world springs to mind in Puerto Malabrigo, or Chicama. This sleeping village lives on fishing and surf tourism. On a good day you will catch a wave of hundreds of meters long.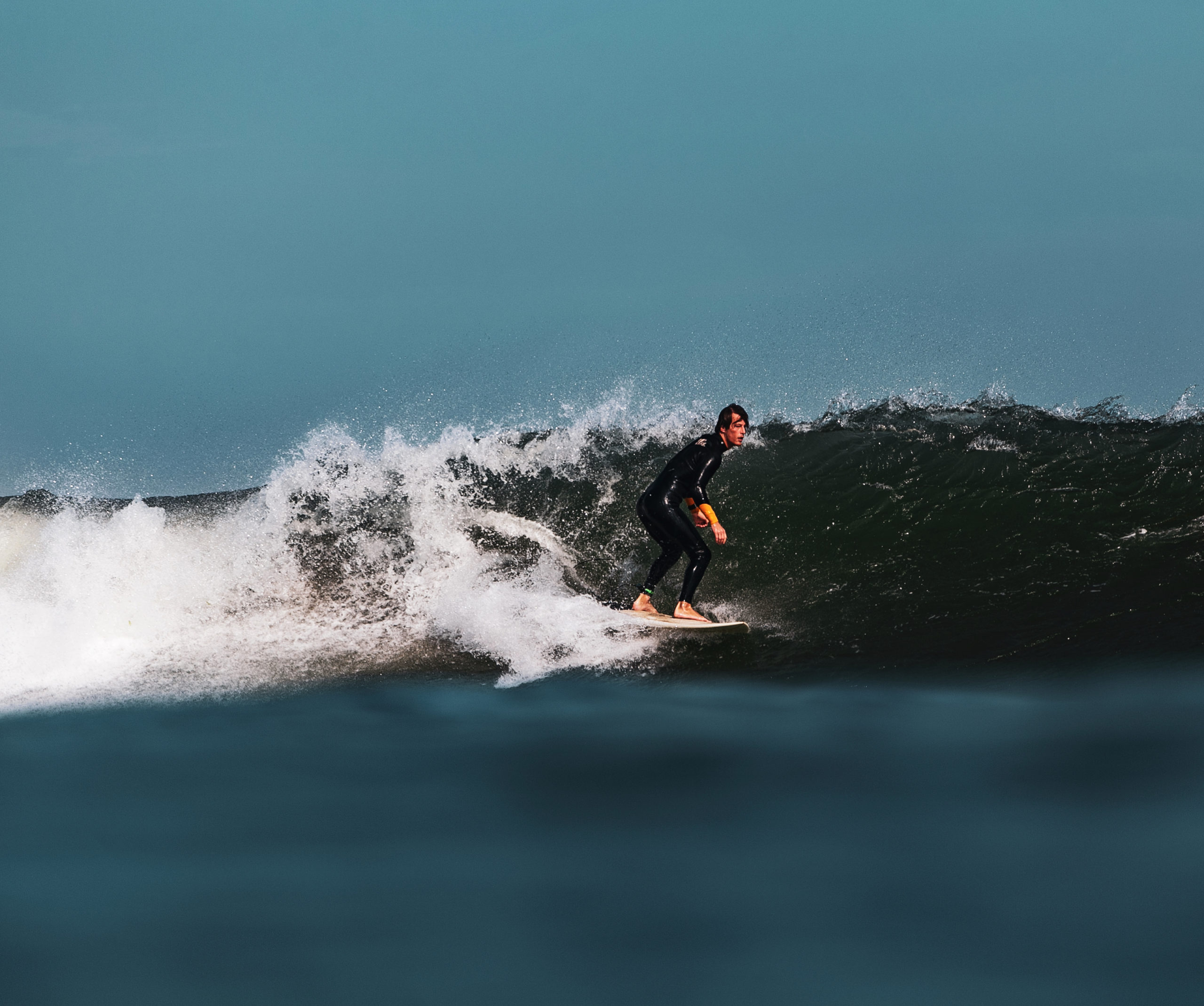 On an exceptional day, where the 3 sections are knotted together, even kilometers. Then you start a long walk back because paddling back is heavy. Don't you feel like walking? Hire a local with a zodiac for a few hours. This will cost you about 20 euros. On a day with a lot of swell it can sometimes get crowded, but because the area is vast you won't notice much of it. Chicama is loved by all the famous surfers in the world. One day we came across Laird Hamilton, who apparently regularly tests his foils here. Best conditions: south-west swell, south-east wind, all tides. Check our Chicama Surf Guide
Mancora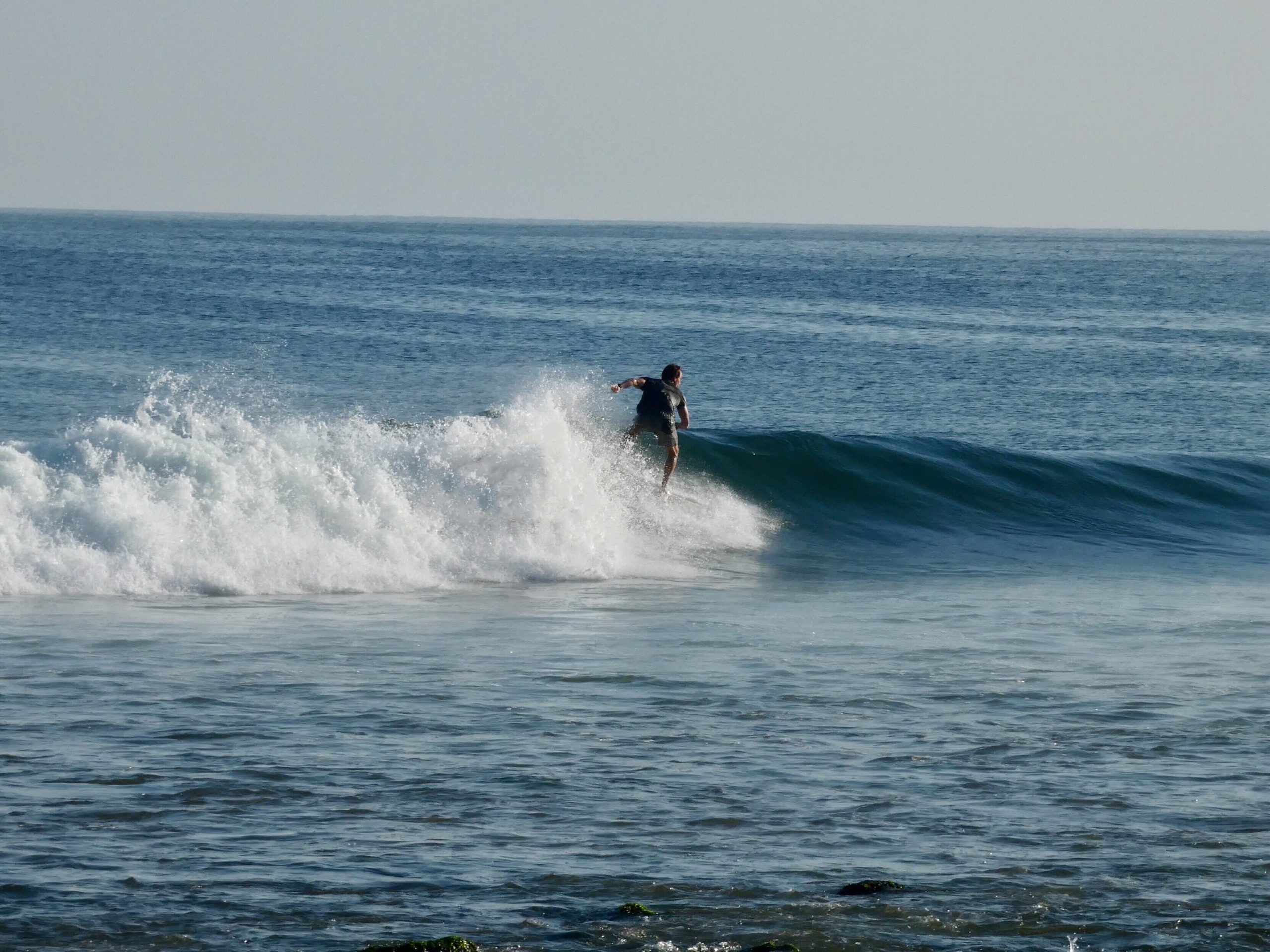 Do you need an evening out after a surfing session? Then Mancora is the place to be. This tropical village in the north of Peru is a haven for many holidaying Peruvians. So besides tourists, you will also find many locals here. The left-hand pointbreak is entertaining on a good day, but at the same time very busy. In the morning you have excellent glassy conditions, in the afternoon the wind pops in and there are also many kiters trying to catch the wave. Best conditions: south-west north-west swell, south-east wind, all tides.
Lobitos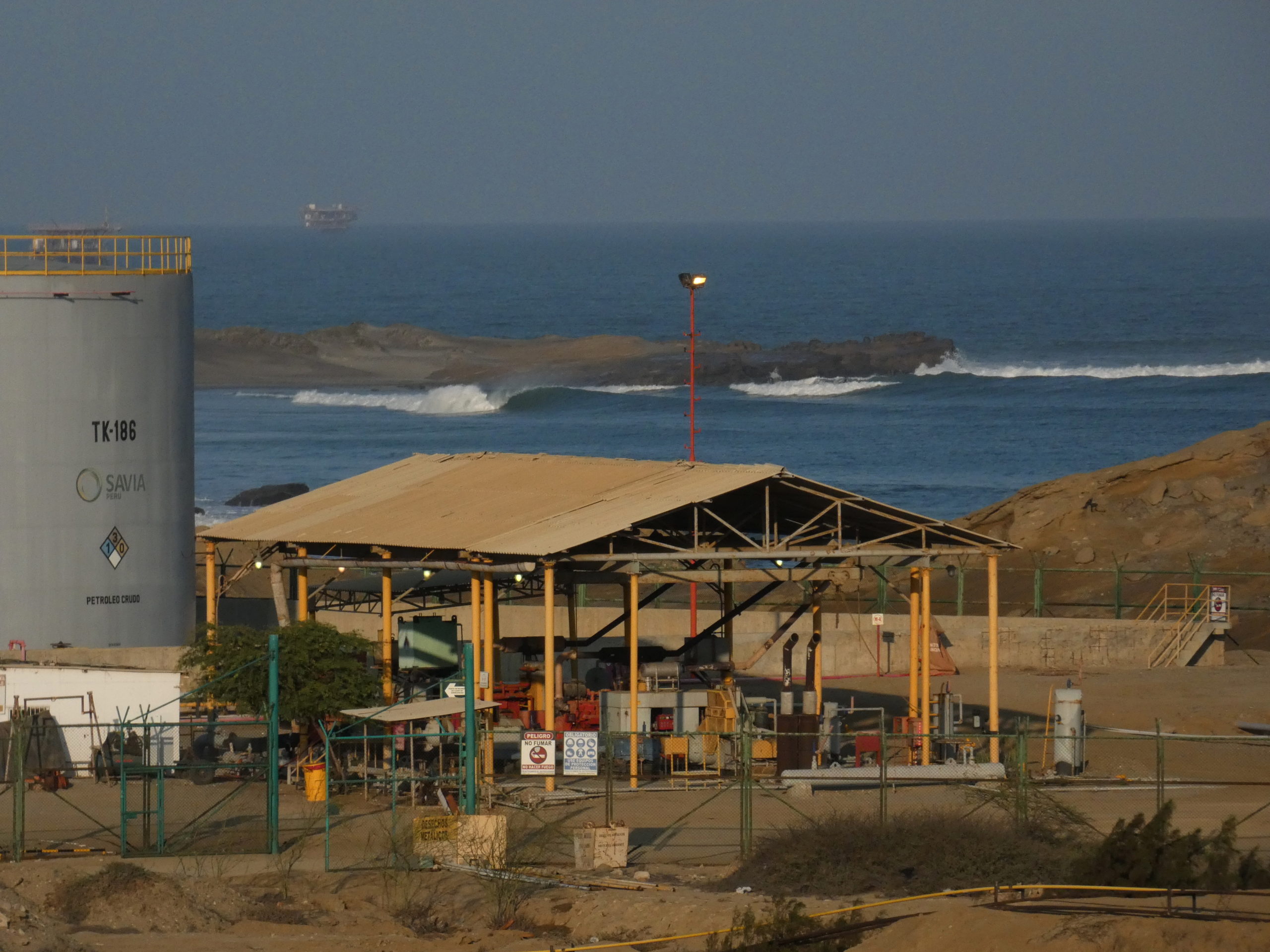 Lobitos is in an old military territory. In the old part you can still see some excesses of it in the form of collapsed barracks and no-go areas. In addition, oil is still actively extracted from the sea via various oil platforms. The village has the appearance of a blown down garden fence, but is also popular because of this. In the 90's some surfers took the village into use and since then it has become a popular place for surfers from all over the world. And not without reason. Lobitos is home to 3 great points:
Lobitos, left-handed pointbreak and world class wave, barreling on a good day
Piscinas, left-hand pointbreak where everyone fights for the spot next to the stone
Baterias, left-hand pointbreak and the best in the morning
Best conditions Lobitos: south-northwest swell, south-east wind, all tides.
Pacasmayo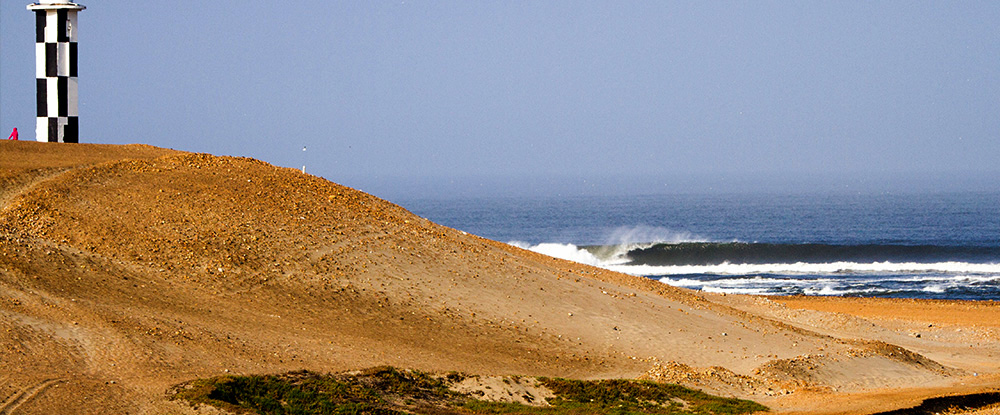 According to the Peruvians, Pacasmayo is Chicama's bigger brother. This left-handed pointbreak also has several sections and when they connect you can have fun. What violence! The paddle-out can be tricky through the rocks, but the wave indeed looks higher and more powerful than Chicama. The place is also popular among windsurfers, but remains relatively quiet nonetheless. On a typical day you'll find at most a handful of surfers here. This allows you to surf the waves quickly. With cramps in your legs you'll eventually jump off your board. Best conditions: south south-west swell, north-east wind, low-mid tide.
Punta Rocas
South of Lima you will find several spots of which Punta Rocas is the most consistent. This point-break is therefore your best option for a wave in this region. Punta Rocas delivers a right- and a daredevil and is very popular among surfers from Lima, read: crowded. If it's flat here you can forget about surfing for the rest of the day. Because of its consistency Punta Rocas has been the scene of WSL competitions several times. Is there a monsterswell? Then take a look a little further down the road at Pico Alto. Here you can see bigwave surfers taking waves up to 12 meters high. Best conditions: south-west swell, east wind, all tides.
Challenges and Considerations
While Peru's surfing scene has much to offer, there are a few challenges and considerations to keep in mind.
Foggy conditions can sometimes reduce visibility, making it essential to take proper precautions and be mindful of your surroundings.
Access to some surf spots might present challenges, and safety should always be a priority. It's advisable to research and plan your routes carefully, especially if you're exploring lesser-known areas.
Additionally, water temperatures in Peru can be on the cooler side, especially outside the summer months. Wearing a suitable wetsuit is crucial to stay comfortable and enjoy extended surf sessions. 
Need a new wetsuit? Check our SRFACE wetsuit reviews; super affordable and great quality.
Crowds
Although many surf spots in Peru offer uncrowded waves, Lima, as the capital city, tends to attract more people, resulting in crowded surf breaks. It's important to be aware of this if you plan to surf around Lima. However, with proper timing and exploring lesser-known spots, it's still possible to find uncrowded waves even near the city.
Conclusion and FAQ's
Peru's surfing scene is a hidden gem waiting to be discovered by surfers seeking adventure, long rides, and a unique cultural experience. With its lengthy waves, reliable swells, and a variety of surf spots suitable for all levels, Peru offers an unforgettable surfing journey. While there are challenges to consider, such as foggy conditions and cooler water temperatures, the rewards of surfing in Peru outweigh them.
So grab your board, explore the coastlines, and get ready for the long waves!
Peru surfing FAQ's
What is the best time to surf in Peru?
The best time to surf in Peru is during the summer season, which runs from October to March. These months offer warmer outside and water temperatures, making it more comfortable for surfers. In the northern part of the country, you can surf without a wetsuit, but in the south, regardless of the season, a wetsuit is necessary.
What are the conditions like for surfing in Peru?
eru offers long waves and an ideal climate for surfing. The coastal region experiences consistent and reliable swells, providing surfers with excellent wave conditions. The wind in Peru comes mostly from the south, with about 20% coming from the southeast in the morning and from the southwest in the afternoon. The coastal area also has a dry climate, with minimal rainfall, creating a pleasant environment for surfers.
How is the transportation system in Peru for surfers?
Public transport in Peru is well organized, and buses are available to travel to various surf spots. While the distances between destinations can be long, buses are comfortable and offer convenient travel options. They often have seats that can be reclined, providing a comfortable journey. Renting a car is also possible but can be relatively expensive compared to European prices.
Which are some recommended surf spots in Peru?
Peru has several notable surf spots. Here are a few recommendations:Punta Roquitas, Waikiki, Redondo, and Barranquito are popular surf spots near Lima. But also check Huanchaco, Chicama, Mancora and Lobitos