Home » Surfing in Portugal »
Surfing with your family in Portugal
Where are the best places to surf with your children?
Surfing vacation in Portugal with your family
Enjoying the sun and the waves with your family
[photo arrifana]
Isn't it lovely when your children surf too? And that you can go on a surfing vacation together?
Paddling out with your daughter or son. And watching him or her take on an awesome wave.
Portugal is a wonderful holiday for families.
We would like to give you a few tips.
Which beaches you shouldn't miss.
7 nice places to stay
Where to rent boards
Let's start out with a few nice spots in combination with a good and nice holiday home.
Ola Onda Ericeira
Jasper and Darcie started Ola Onda in 2016. A Guesthouse in Ericeira. Ericeira is a hotspot among surfers. It is a beautiful place with wonderful surfing spots nearby.
But it is not just a good place for surfers. Also for weekend tourists. And culture seekers. And families looking for diversity.
For example, Lisbon is a half hour drive. And Sintra and Mafra are just around the corner.
More about Ola Onda.
Aldeia da Pedralva
Once tipped by a surfing friend, who organized family holidays. Aldeia da Pedralva (in short Pedralva) is a small and old Portuguese village that has been refurbished between 2006 and 2010 and made suitable for family holidays.
Pedralva is close to Vila do Bispo. Pretty much the central spot to surf both the west coast and the south coast of Portugal (Algarve).
This cozy village has everything it takes for a relaxing holiday. Authentic cottages, swimming pool, restaurant, car-free and children can ride on a donkey.
What else could you wish for?
More about this accommodation
Well, surfing, right?
Good news. Praia do Amado is around the corner. Coincidentally one of our favorite surfing beaches. A relaxed atmosphere. Surfing school available. And just very beautiful.

And if the waves are too high here, Praia Zavial and Praia Mareta on the south coast are close by. All nice beaches for playing and surfing.
Go directly to Aldeia da Pedralva
Odeceixe
Actually, a place where we've liked going for years. Odeceixe is just in the Algarve. On the west coast, in the North. Bordering the Alentejo. And that makes this village easy to reach both from Faro and from Lisbon.
What you will especially like here is the beach.
Is this perhaps one of the most beautiful beaches in Portugal?
It certainly makes the top 5 of Portugal.
And especially with smaller children this beach is nice. There is a small river flowing behind the beach. Ideal for children to play with sand and water. And if you prefer not to surf, you can go on very nice walks here.
Look how beautiful this looks;
Surfing lessons are also available here. There is a surfing school directly on the beach. And the owner speaks a little bit of Dutch (his wife comes from the Netherlands).
Casa do Moinho
Casa do Moinho is our tip for Odeceixe. You will sleep in refurbished mill houses. Right next to the typical mill of Odeceixe. It is within walking distance of the small center.
[photo casa moinho]
View the possibilities here
Casa Meranka
Casa Meranka is a haven of peace in this 200-year-old former farm. A bit further away from Odeceixe, but close to the beautiful and child-friendly beaches such as Furnas and Zavial.
Casa Meranka is run by a family; Josh (UK) and Margo (NL) with their son and daughter.
A super friendly couple with a heart for what they do. Focused on nature and the ocean. And on surfing families.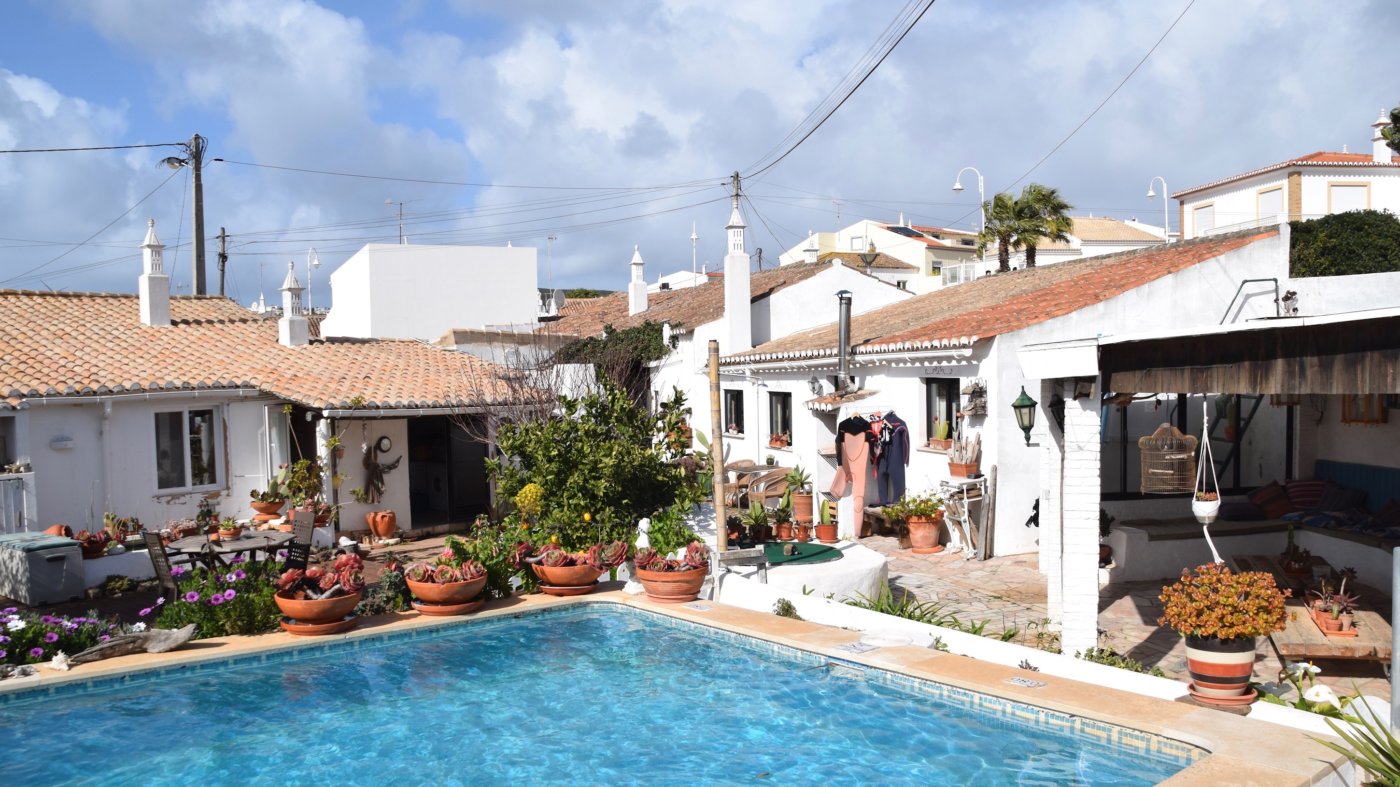 More about Casa Meranka.
Bougan Villas in Burgau
An accommodation that you cannot (yet) find on booking.com. But conveniently located between Lagos and Sagres. So on the south coast. Beautiful surroundings if the waves on the west coast are too high. And you have nice beaches in the area. Cabanas for example, at 5 minutes away. Very relaxed and nice place to chill.
View from the apartment: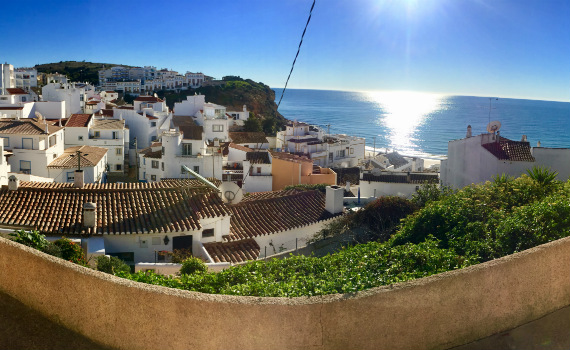 Renting a camper in Portugal
The ultimate flexibility. With the camper through Portugal. And a unique experience to wake up at your favorite beach.
You can rent nice and good campers through Siesta Campers. From vintage (the VW t2 for example) to the newest motorhomes.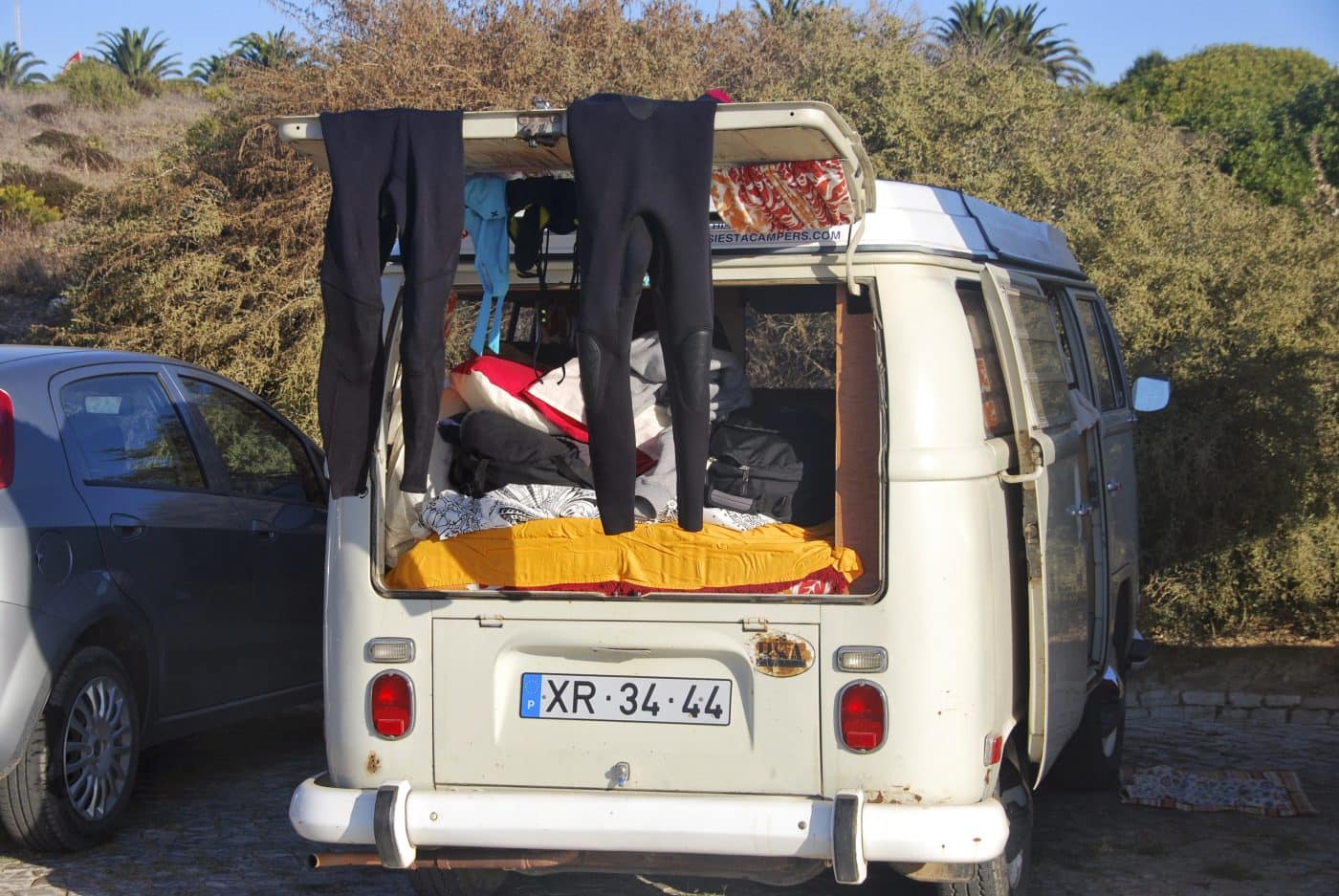 Super cozy and tough to drive with your family through Portugal along the coast. Find a spot on a surfing beach and surf together. And to go on the next day.
Discover the possibilities of Siesta Campers
And read more about renting a camper in Portugal.
Renting a Surfboard
Our recommendation for the Algarve is Magic Board Center and Jah Shaka Surf Shop in Lagos for really good surfboards. At Magic Board Center you can even ask if they want to deliver the board(s) to your apartment.
How easy!
More about renting surfboards in the Algarve.
More info about Magic Board Center.
More tips about Portugal