Welcome to Biarritz, a captivating coastal town located in the Basque Country of France. Known for its stunning beaches and world-class surf, Biarritz has become a popular destination for wave enthusiasts from around the globe. Whether you're a seasoned pro or a beginner looking to catch your first wave, Biarritz offers an unforgettable surfing experience for all skill levels.
Biarritz is a surf region known worldwide with at least 9 surf spots in and outside Biarritz are waiting to be discovered by you. Below you'll find thse surfspots for every level. We'll also give you a great tip for a campsite.
So, Biarritz boasts an array of surf spots, each with its own unique characteristics and waves to cater to surfers of all levels. Here below we will describe the best ones.
Beginners to advanced surfers are welcome in Biarritz
There are always waves around Biarritz. And the water is warm. Even in winter. And there are bays that protect you from winds or waves that are too high, like the bay of Hendaye south of Biarritz. Not for nothing a surf spot where many surf schools are located. And therefore also a good place if you want to learn to surf around Biarritz.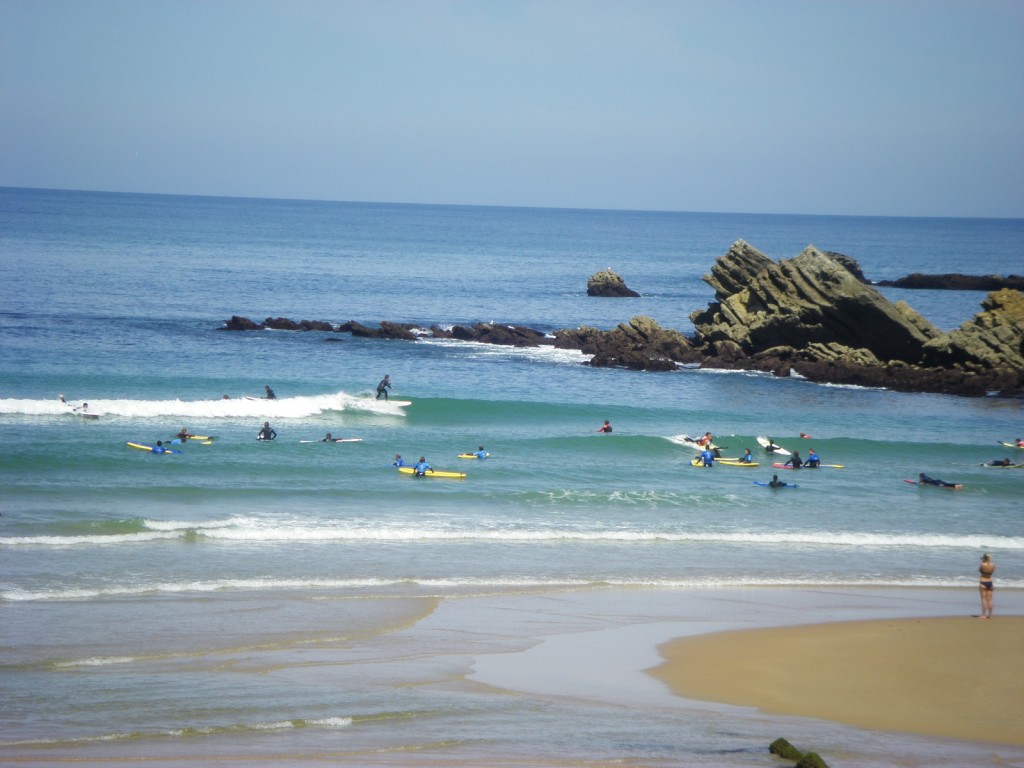 Surf spots in Biarritz
Here you can see the map with the various surf spots around Biarritz.
Spot types
BB = beach break
PB = Point break
RB = Reef break
Tide
L = lowtide
M = midtide
| Nr | Spot | Spot type | Surface | Wind | Tide | Level |
| --- | --- | --- | --- | --- | --- | --- |
| 1 | Tarnos Plage | BB | Sand | E | All | All |
| 2 | Anglet – Cavaliers | BB | Sand | E | L-M | All |
| 3 | Anglet – VVF | BB | Sand | E | All | Advanced |
| 4 | Biarritz – Grande Plage | BB | Sand & rocks | E | L-M | All |
| 5 | Biarritz – Cote des Basques | BB | Sand & rocks | SE | L-M | All |
| 6 | Bidart | BB | Sand & rocks | SE | All | All |
| 7 | Guethary | RB | rocks | NE | All | Advanced |
| 8 | Lafitenia | PB | rocks | SE | L-M | Advanced |
| 9 | Hendaye Plage | BB | Sand | SE | All | All |
The area around Biarritz is great for camping. You can find beautiful campsites in this region. Our tip: Camping Pavillon Royal, south of Biarritz.
Featured Surfspot in Biarritz: Plage de Marbella
One of the standout locations is Plage de Marbella, situated in the heart of Biarritz. With its consistent waves and sandy bottom, Plage de Marbella provides an ideal setting for surfers. The beach offers both left and right breaks, guaranteeing exhilarating rides. Its central location within the city makes it easily accessible, drawing in locals and visitors alike. Whether you prefer to surf at sunrise or catch a sunset session, Plage de Marbella offers a convenient and rewarding experience.
The surf conditions at Plage de Marbella are highly consistent, providing approximately 150 surfable days per year. This means you can expect to find waves on most days, ensuring an excellent surfing experience. The wave quality varies from normal to extraordinary, offering a range of options for surfers. The average wave length spans from 50 to 150 meters, but on good days, it can extend up to an impressive 300 meters.
To make the most of your surf session at Plage de Marbella, it's important to consider factors such as tides, swells, and winds. The beach shines during low and mid tide, enhancing the quality of the waves. A southwest swell direction and a north wind direction are favorable for optimal surfing conditions. Swell sizes can start as low as 1 meter and reach over 2.5 meters, accommodating various wave preferences.
While enjoying the waves at Plage de Marbella, it's crucial to be aware of potential hazards. Rips and undertows can occur, requiring vigilance and knowledge of the water conditions. Some areas have rocks, necessitating caution to avoid injuries. It's also important to respect the local surfers, as there may be an established hierarchy and localism present. By maintaining a courteous attitude in the lineup and refraining from dropping in on others' waves, you can contribute to the vibrant and welcoming surf community in Biarritz.
Aside from its incredible surf, Biarritz offers a range of amenities and attractions that make it a perfect destination for surfers. The town boasts a picturesque coastline, stunning cliffs, and a vibrant nightlife. From stylish beachfront cafes to trendy surf shops, Biarritz has everything you need for a memorable surf trip.
Grande Plage & La Cote des Basques
The famous Grande Plage, in front of the town, attracts surfers of all levels with its consistent waves, while La Cote des Basques provides a mellow beach break suitable for beginners and experienced loggers. Marbella, at the far end of La Cote des Basques, offers
a more exposed beach break experience, catering to intermediate surfers, but be mindful of potential closeouts due to the lack of coastal headland protection. For beginners or those seeking a spot unaffected by onshore winds or large swells, Hendaye near the Spanish border is a popular choice.
Biarritz: The Good
Biarritz offers a multitude of advantages for surfers of all levels. Here are the highlights:
Suitable for all levels: Biarritz provides breaks that cater to surfers of all skill levels, from beginners to advanced riders. Whether you're just starting out or looking to hone your skills, there's a wave for you in Biarritz.
Hedonistic after-surf: After a day in the water, Biarritz offers plenty of opportunities for relaxation, entertainment, and indulgence. From upscale hotels and beachfront cafes to vibrant nightlife, you can enjoy the town's luxurious amenities and immerse yourself in the local lifestyle.
Family-friendly surf schools: Biarritz is home to numerous surf schools that cater to families and individuals of all ages. Whether you're traveling with children or looking for a group lesson, these surf schools provide a safe and fun environment to learn or improve your surfing skills.
Biarritz: The bad
Despite its many advantages, there are a few considerations to keep in mind when surfing in Biarritz. Here are some potential downsides:
Occasional flat days in summer: While the surf in Biarritz is generally reliable, there can be occasional periods of smaller or flat waves during the summer months. It's advisable to check swell forecasts and plan your trip accordingly to maximize your chances of catching waves.
Busy line-ups: Biarritz is a popular surf destination, attracting surfers from all over the world. Consequently, you can expect crowded line-ups, especially during peak seasons. Patience and surf etiquette are key to ensuring an enjoyable experience in the water.
Higher cost of living: Biarritz is known for its upscale lifestyle, which can translate to higher prices for accommodations, dining, and other amenities. If you're traveling on a budget, it's advisable to plan and research affordable options in advance.
In conclusion
Surfing in Biarritz is an unforgettable experience that combines world-class waves with a vibrant town atmosphere. From its diverse surf spots, including Plage de Marbella, to its luxurious accommodations, exquisite dining options, and surf-friendly amenities, Biarritz truly lives up to its reputation as a paradise for wave enthusiasts. Whether you're a beginner looking to catch your first wave or an experienced surfer seeking new challenges, Biarritz offers something for everyone. Immerse yourself in the beauty of this coastal gem, explore the rich surf culture, and create unforgettable memories in the Basque Country's surfing haven.