Surfing in Portugal
Perfect for sun overloaded surf holiday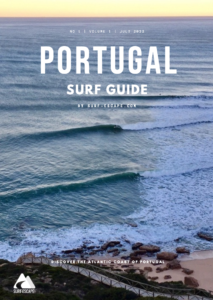 Surfing in Portugal means surfing in the sun, enjoying the bluest water that the  Atlantic Ocean has to offer, and surfing at a myriad of amazing locations.
Alongside France and Spain, Portugal is one of the most beautiful destinations for a surf vacation that you could possibly find in Europe.
Download the Portugal Surf Guide (for free, 4MB)
Best surfspots Portugal
●      Peniche?
●      Ericeira?
●      Carrapateira?
●      Sagres?
You'll find a full list of 32 surf spots in Portugal below on this page.
The surf regions in Portugal
Let's divide the surf regions into Northern Portugal, Western Portugal (Alentejo and Northern Algarve), and the Algarve region.
Have you decided on Portugal as the destination of your surf vacation? Click here to have a look at accommodation you could stay at in Portugal. If you book long enough in advance, you will be able to find a good deal.
Surfing Northern Portugal
Northern Portugal is a bit less touristic. The temperature is also slightly lower there, and the touristic hotspots are simply a bit more to the south. However, surfing in and near Porto (a wonderful city!) is great. Additionally, near Porto, you will find Matosinhos. This is the perfect place to catch some waves before you go sightseeing in Porto.
In this chart, you can see the monthly average of the build-up of the waves (a combination of wind and ground swell), as well as which type of wind is dominant in this area. Credit goes to Magicseaweed.com!
The winter provides the most amazing waves in Portugal. From November until February, there is a continuous supply of high-quality waves. In fact, the entire coast of Portugal has plenty of waves to offer during the winter.
On average, the wind also comes from the right direction more often during this period. November and December offer stronger wind and, occasionally, even some rain. But as soon as the days start getting longer again, the sun will come out of hiding more often as well. Sooner rather than later, it will already feel like spring again. And you will definitely feel the strength of the winter swell!
Nazaré – offers bigger, stronger waves
South of Porto, you will find one of the better big wave surf spots. Like Nazaré.
Nazare is the sleeping giant, under the radar for years as a beachy to hit when everywhere else in Portugal was flat its potential for the biggest rideable surf on the planet is now well known.
Nazaré where the world record was broken in 2011 for riding the highest wave ever – a wave that was 27 meters high!
Nazaré is an authentic fishing village. Since the coast of Nazaré is situated in a deep trench though, the waves gain extra momentum before they reach the coast. That makes for high and powerful waves!
Peniche – surf spots within walking distance
Peniche lies a bit more to the south of Porto. It's one of the most well-known and popular places to go surfing in Portugal. There are a large number of surf camps in this area. Various Dutch and German surf vacations visit this destination because it offers great waves, as well as a wide selection of choices as to where you would like to surf. Peniche is a small peninsula that extends into the ocean. There are a number of well-known and really good breaks there that aren't too far away from each other.
To the north of Peniche, you can find the surfing hotspot Baleal. The waves in this area mostly come from western and northern directions, and the wind blows from the south.
Right under Peniche, there's Molho Leste, with its waves coming from a southern and western direction but the wind coming from the north. A few steps to the south of Molho Leste, you will find Subertubos. As the name suggests, you will find barrel waves here – fast, hollow waves. It's also a popular spot for surfing contests.