A family surf holiday is a fantastic way to combine adventure, relaxation, and quality time with your loved ones. Whether you are a seasoned surfer or a complete beginner, surfing can be a thrilling and rewarding activity that brings families together and creates lasting memories.
By exploring new destinations, learning a new skill, and experiencing local culture, a family surf holiday offers a unique opportunity to bond with your family while enjoying a fun and active vacation.
In this article, you'll find three of the best surf destinations in Europe
And we'll provide practical tips, recommendations for family-friendly accommodation, and reasons why you should consider a surf holiday for your next family vacation.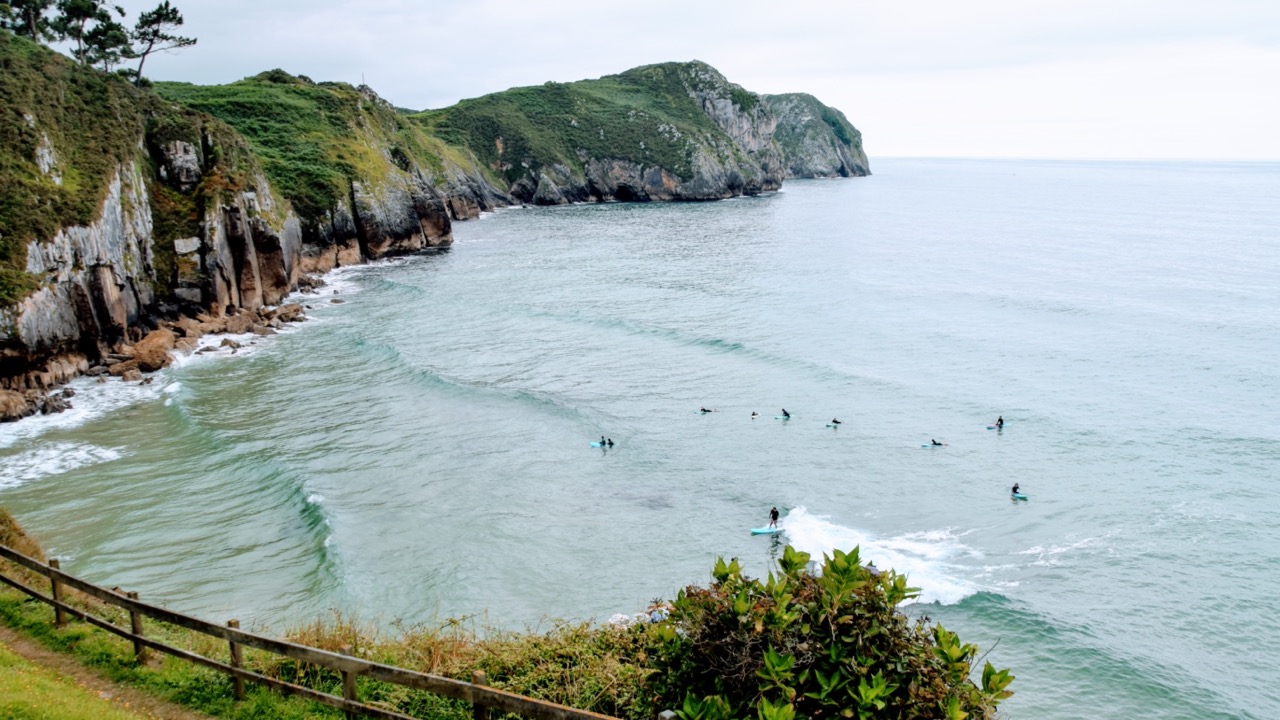 Family surf holiday in France
France is the most popular holiday country for families wanting to surf. The region between Bordeaux and Biarritz is particularly popular. In summer, you can enjoy camping here.
There are quite a few surf camps for families in south-west France. If you want an organised surfcamp, check at Ripstar.nl, Surftribe.org or Surfblend.com, for example. Run by Dutch people and aimed at families, among others. They even offer Glamping. So a bit of luxury at the campsite during your surf holiday.
If you prefer to arrange and camp yourself, we have 2 tips for campsites, which have always received good reviews and we can agree.
Camping Pavillon Royal
Close to Biarritz you will find a very pleasant campsite, right on the beach: Pavillon Royal. A very nice campsite for surfers and families. Without swimming pool. That is the only downside.
La Grigne in Le Porge
An absolute top surf campsite is La Grigne in Le Porge. An hour's drive from Bordeaux. A large campsite with almost always space. Within easy reach of the beach and a good surf spot. For all levels. It is close to the well-known Lacanau. Just under half an hour by bike. And you can hire bikes at the campsite. Kind of nice on days when it's flat. Otherwise it looks like this.
Check Our Surf Guide for France
Surfing holiday family in northern Spain
Northern Spain, or the Costa Verde (green coast) is becoming increasingly popular. And for good reason. You'll find beautiful villages, beaches and great food at reasonable prices. An absolute must to visit is San Sebastian. A very beautiful city with two beaches. A quiet beach on the west side of the centre and a surf beach on the east side of the centre. And especially check out the old town and the pinchos in the bars at the end of the day.
The surf hotspot is Zarautz. Super fun, but not necessarily our favourite for families. Tee crowded. Fun for teenagers, though.
Still, we prefer to drive on towards San Vicente de la Barquera. It's calmer here and the waves more relaxed. On this road you soon find a very nice campsite, with a fantastically located swimming pool. And that's Camping Itxaspe.
And near Oyambre is a great apartment complex: Villa Sofia.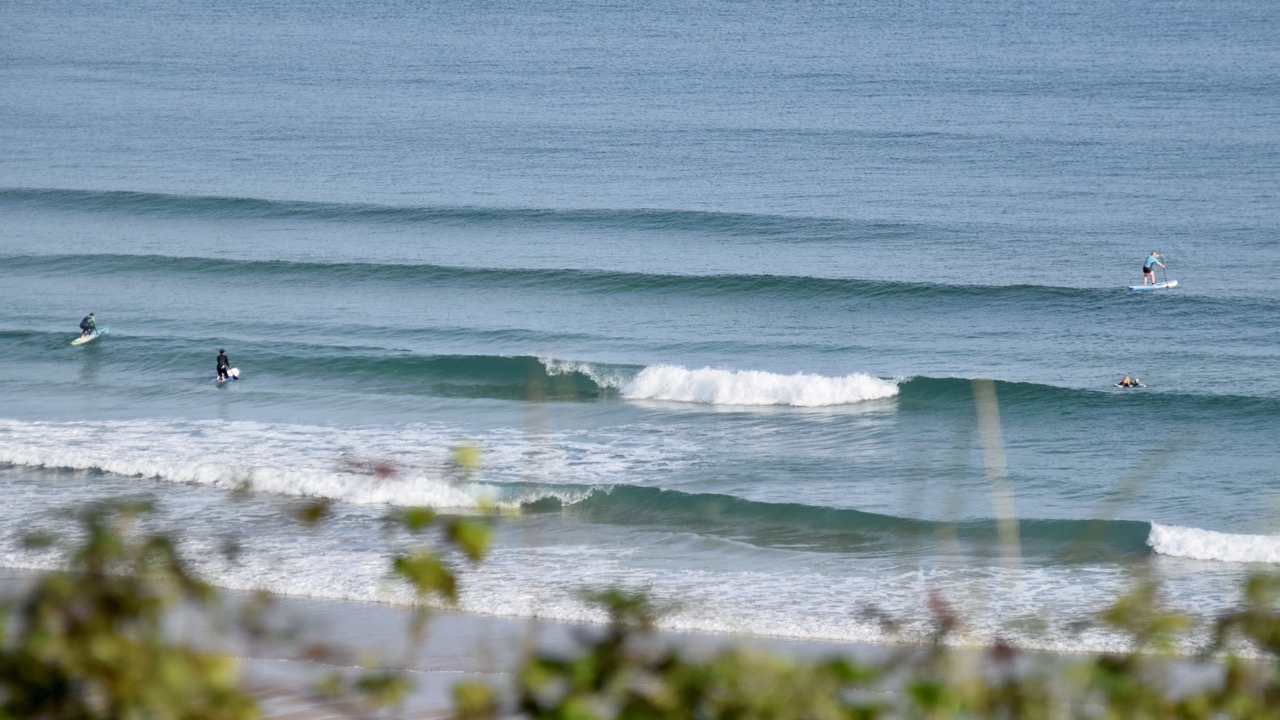 Check our Surf Guide for Spain
Surfing holidays Portugal for families
Portugal is great for surfing holidays with families/families. The weather on the coast is great in summer. Always sunshine. And how about sardines from the BBQ. Portugal is also rich in several super beautiful beaches.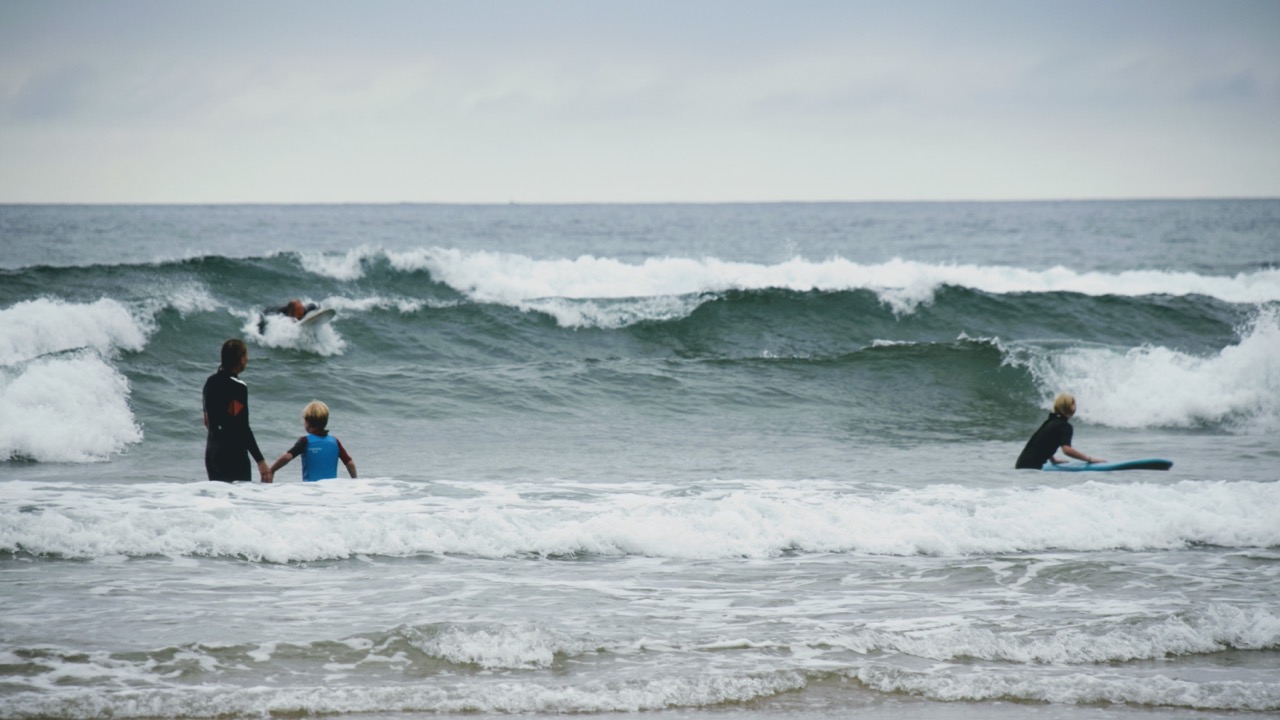 We give you a few tips.
Lisbon and surroundings
Lisbon is fairly easy to reach. Especially by plane. Early bookers can find a plane ticket for a good price. There are numerous surf spots around Lisbon. In our opinion, Ericeice stands out for families. Ericeira is an old fishing village. And meanwhile well equipped for tourists and surfers. Here you really find the surf vibe. But you can also do a day in Lisbon (half an hour's drive). Or visit other attractions. Sintra and Mafra are just around the corner. In addition, you have several surf schools here. With whom you can book a lesson yourself.
Accommodation tip: Ola Onda
A perfect base is Ola Onda. Near the centre of Ericeira. Two Dutchmen, Jasper and Darcie started Ola Onda in 2016. It is a beautiful place with great surf spots nearby. But not only for surfers a good place. Also for weekend trippers. And families looking for diversity.
Algarve
Families love the Algarve. And here you have the luxury of being able to surf both the west coast and the south coast. That's handy, because sometimes the waves on the west coast are too violent and then you're on the south coast in no time. Fine for everyone.
We have two tips for where to stay.
Aldeia da Pedralva
Once tipped off by a surfing friend who organised family holidays. Aldeia da Pedralva is a small and old Portuguese village that was refurbished and made suitable for family holidays between 2006 and 2010. It is close to Vila do Bispo. Just about the central spot to surf both the west coast and the south coast of Portugal (Algarve). Surf tips and lessons can be booked from Aldeia da Pedralva.
Go to Aldeia da Pedralva
Casa Moinho in Odeceixe
Odeceixe has actually been a place we have loved coming to as a family for years. Odeceixe is just in the Algarve. Bordering the Alentejo. And that makes this village easy to reach from Faro as well as from Lisbon.
Casa do Moinho is our tip for Odeceixe. You'll sleep in refurbished mill houses. Right next to Odeceixe's typical mill. It is within walking distance of the small town centre.
Go to Casa do Moinho
Check out Surf Guide for Portugal
8 Practical tips for a family surf holiday
Choose the right destination: Consider the skill level of all family members and choose a destination with suitable surf breaks. Look for beginner-friendly breaks or spots with surf schools that offer lessons for kids and adults. Check beginner
Plan ahead: Book accommodation close to the surf spots you plan to visit, and rent a car if necessary to explore the surrounding area. Check the weather and surf conditions before you go, and make sure to pack appropriate gear and equipment.
Get the right equipment: Rent or purchase equipment in advance, including surfboards, wetsuits, and accessories such as leashes and wax. Consider the age and size of each family member when choosing equipment, and opt for soft-top or foam boards for beginners.
Stay safe in the water: Familiarize yourself with local surf rules and etiquette, and make sure to follow them. Wear appropriate safety gear, such as a leash and a rash guard, and keep an eye on each other in the water.
Take lessons: Consider signing up for surf lessons for the whole family, even if you have some experience. Lessons can be a great way to improve your skills and get familiar with the local surf culture.
Explore the local area: Take breaks from surfing to explore the local area and experience the culture. Visit nearby attractions, try local cuisine, and learn about the history and traditions of the region.
Pack appropriately: In addition to surf gear, make sure to pack appropriate clothing and footwear for the local weather and culture. Bring sunscreen, hats, and sunglasses to protect yourself from the sun, and insect repellent if necessary. Check also this article: Surfers 6 times more likely to develop skin cancer
Have fun! Remember that a family surf holiday is a unique opportunity to bond with your loved ones while experiencing new adventures together. Focus on having fun and creating lasting memories, and don't worry too much about perfecting your surfing skills.
To conclude on surf holidays for families
In this article you discovered offers tips and recommendations for families planning a surf holiday in France, Portugal, and Spain.
We've discussed various surf campsites, beaches, and surf schools suitable for families in these countries.
In France, the region between Bordeaux and Biarritz is the most popular holiday destination for families wanting to surf. In northern Spain, San Vicente de la Barquera is recommended for families as it's calmer, and the waves are more relaxed. Portugal is highlighted as a great destination for surfing holidays with families, with Ericeira and Algarve as recommended locations. Accommodation tips, such as Ola Onda in Ericeira and Aldeia da Pedralva in Algarve, are provided for families.