Surf holiday on the moon?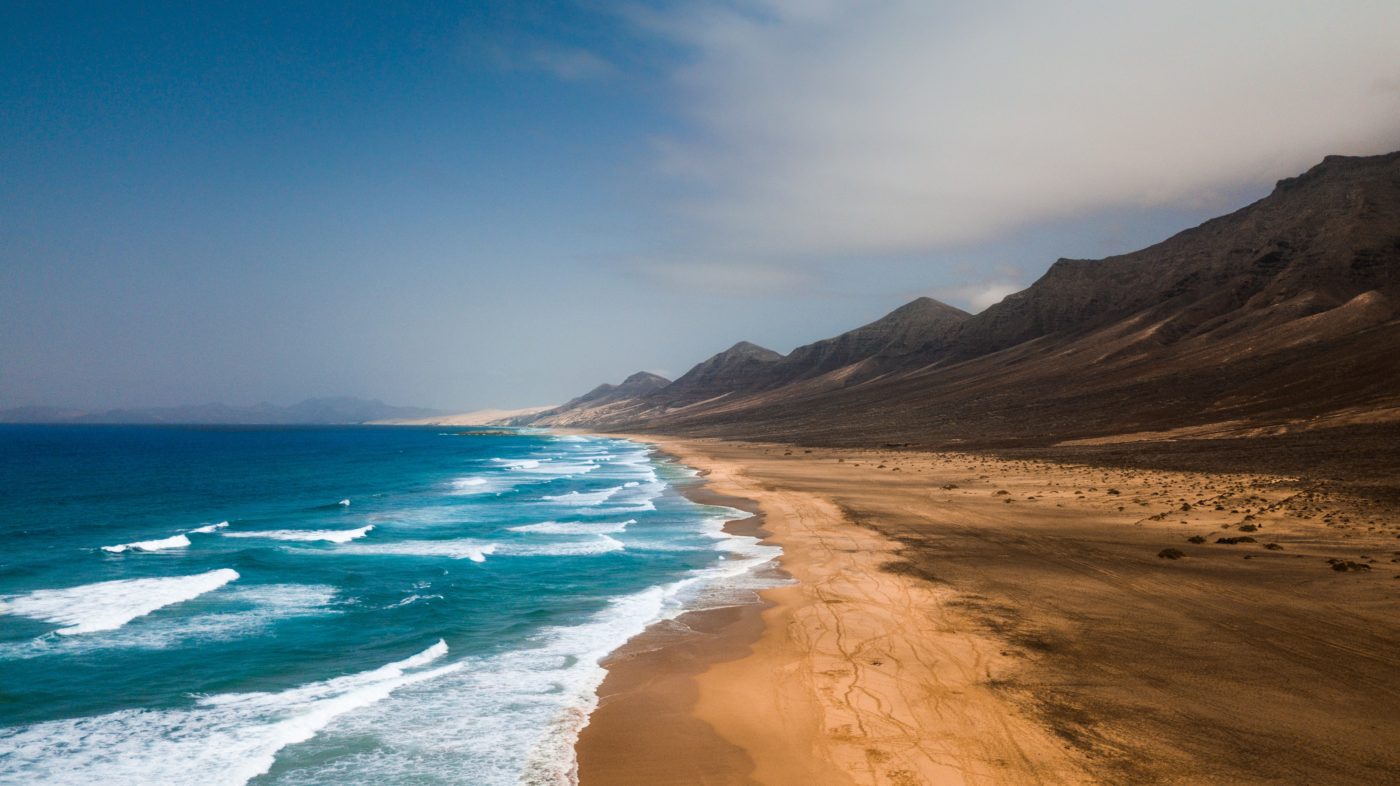 Yes. That's how you could see it. Fuerteventura is dry and has volcanoes.
Fuerteventura has many more sandy beaches than the other Canary Islands. The water is above 18 degrees all year round. And the air temperature is also summery.
The waves come from many directions. So you can always surf at this Island.
But the wind….
There is. Plenty. Especially in the warmer months. You will then see good wave surfing conditions, especially in the mornings. Or in the winter, when the wind slows down a bit.
Below you will find our surf guide to surfing in Fuerteventura.
Surfing in Fuerteventura for all levels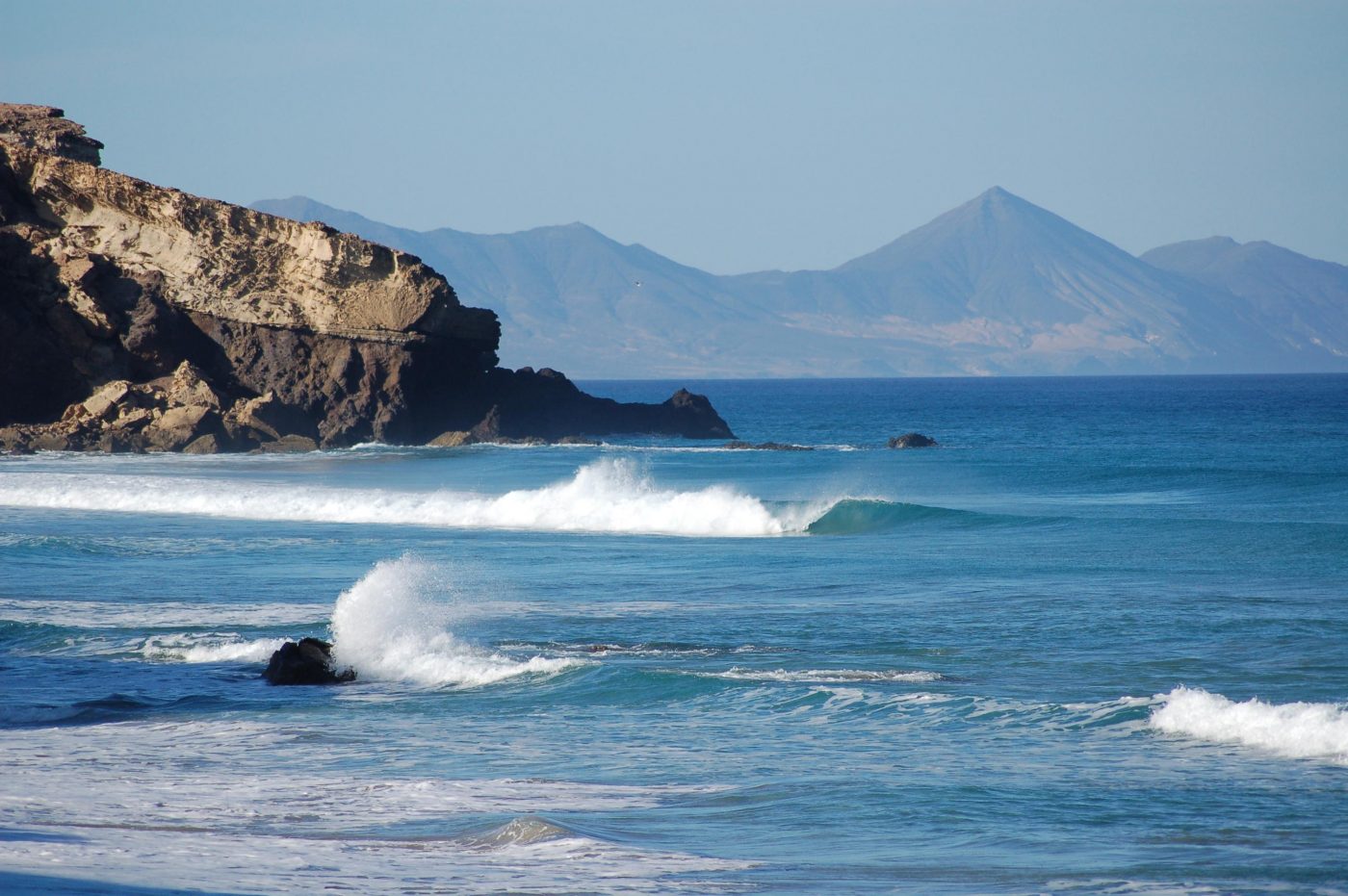 Due to the many possibilities in Fuerteventura, all levels can surf there. And it can be magically beautiful. Similar even to Costa Rica and Bali. Many surfers are bound to go there again once they have been there once and for all.
Some call this island the Hawaii of Europe, but Fuerteventura needs no such comparisons. Probably because it is volcanic and an island. But also for the surfing potential.
Fuerteventura in brief
The crystal clear waters of Fuerteventura offer a very varied range of waves. From the friendliest to the most ruthless.
The north coast of Fuerteventura has world class waves. The beaches of the east coast are perfect for learning to surf. The south of the island can withstand a lot of wind and is full of secret surf spots that are worth visiting.
Surf spots in Fuerteventura
Lobos
Isla de Lobos can be reached by ferry from the Natural Park of the Dunes of Corralejo. Lobos is the longest wave in the Canary Islands and one of the longest in the world. It is without doubt one of the great jewels of Fuerteventura, with three well sections and barrel time.
When Lobos works, it's busy on the spot. So respect each other and especially the locals. Also bring reef shoes.
El Bristol, Corralejo
Located on the side of the windmills you find as you leave Corralejo, El Bristol is a powerful links wave with quite difficult sections and a strong start. This spot is usually only surfed by the locals.
Punta Elena, Corralejo
Also known as Rocky Point. This surf spot is mainly surfed by surfers from Corralejo, because it is very close to the city. Punta Elena has two waves;
A smaller one that breaks near the shore
and a larger one that breaks that some five hundred yards from land.
The first is a fast, hollow and powerful wave, suitable for all levels; the second is a much bigger and more intense wave where your start has to be good; only for experienced surfers.
It is often busy here with beginners local surf schools.
El Cotillo
El Cotillo is an old fishing village built around the harbor. The beach is one of the most spectacular in Fuerteventura. The waves – left and right – break on a sandy bottom and, together with the landscape, form an ideal set to start surfing. In short, perfect for a surf holiday for beginners.
Majanicho
A surf spot where you will find waves left and right (especially the long right one is nice), a good refuge for those days when there is a north wind. Suitable for all levels. Here too it can get quite busy with both SUPpers and longboarders, because it is a relaxed big wave that is relatively easy to ride.
Resume surfspots Fuerteventura
| Surfspot | Best tide | Swell direction | Wind direction | Spot type | Niveau |
| --- | --- | --- | --- | --- | --- |
| Lobos | Mid | W, NW, N | E, NE, N | Reef | Advanced |
| El Bristol | Mid | W, NW, N | S, SW | Reef | All |
| Punta Elena | All | NW, N | SW, S, SE | Reef | All |
| El Cotillo | All | W, NW | N, NE, SE | Sand, Rocks | All |
| Majanicho | All | NW, N | E, SE, S, SW | Reef | All |