Surfing Paradise: Arugam Bay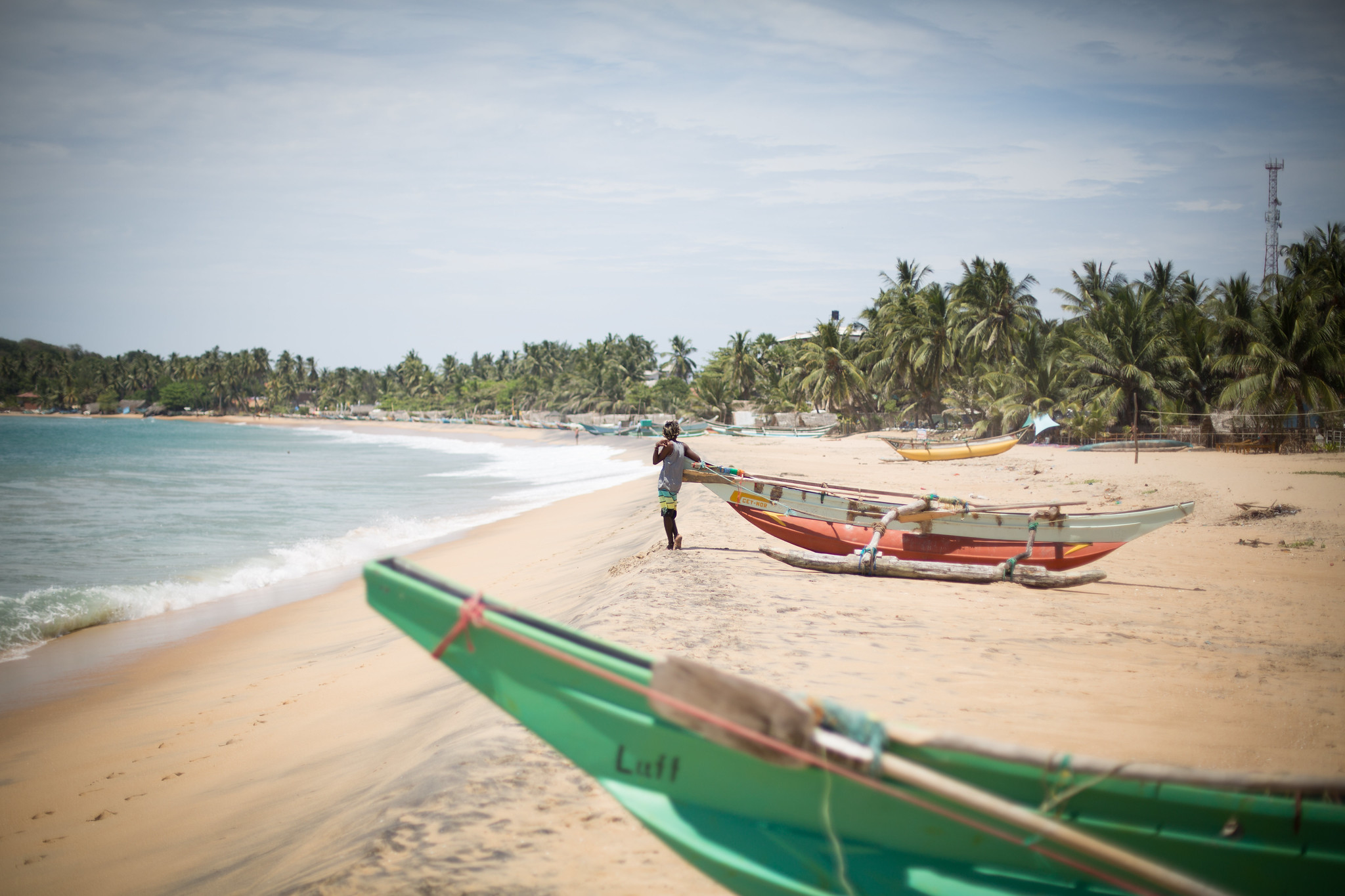 Arugam Bay offers an exceptional surfing experience for surfers of all levels. The wave quality is considered regional classic, making it ideal for both beginners and experienced surfers. The point-break waves roll in from the right, creating powerful and thrilling rides. The sandy bottom, combined with occasional rocks, adds a unique element to the surfing environment.
Arugam Bay Surf – A Quick Overview
The Positive:
Encounter beautiful, lengthy, and smooth right-hand waves
Discover stunning beaches adorned with palm trees
Indulge in a lively nightlife scene
The Negative:
Keep in mind the possibility of crowded conditions, particularly from June to August
Take note of low tide periods, as they can affect wave quality
Be prepared for the extended monsoon season, spanning from October to March
Where is Arugam Bay
Arugam Bay is located on the eastern coast of Sri Lanka, near the town of Pottuvil. It can be reached easily via the main west-east highway that connects the southern part of Sri Lanka. If you're traveling from Colombo, the capital city, it takes about 6.5 hours by car to reach Arugam Bay, crossing the southern part of the island. Unlike popular surf spots such as Hikkaduwa and Hiriketiya on the west coast, which have their peak surf season from December to March, Arugam Bay offers a different surfing experience on the opposite side of the island.
Unmatched Beauty and Easy Access
Arugam Bay boasts not only incredible waves but also breathtaking natural beauty. The spot is easily accessible, with a short walk of 5-15 minutes from the center of town. Although it may not be visible from town, a pleasant walk south around the point reveals this hidden gem. The public access makes it convenient for surfers to reach the surf spot without any hassle.
Ideal Conditions for Surfing
The best swell directions for Arugam Bay are from the Southwest, South, and Southeast, while the preferred wind directions are East and Northeast. The waves typically start working at less than 1 meter (3 feet) and can hold up to 2.5 meters (8 feet) or more. With such favorable conditions, surfers can enjoy long rides ranging from 150 to 300 meters, and even up to 500 meters on exceptionally good days.
Versatile Tides and Minimal Crowds
Arugam Bay offers great surfing opportunities throughout the year, as it works well with all tides. Whether it's high tide, low tide, or anything in between, you can expect to catch some exciting waves. One of the remarkable aspects of this surf spot is the relatively low crowd factor. Even on weekends, you'll find only a few surfers enjoying the waves, providing ample space to ride and explore.
Beyond Surfing: Local Hospitality and Exploration
While Arugam Bay is primarily known for its exceptional surfing conditions, there's more to discover in this beautiful region. The locals are friendly and welcoming, and making friends with them can enhance your overall experience. They can guide you to other nearby surf spots and ensure you make the most of your visit. Additionally, the region offers opportunities for adventure and exploration, allowing you to venture into unexplored areas with minimal crowds.
A Melting Pot of Cultures and Scenic Beauty
Arugam Bay has gained popularity as an international surf destination, attracting visitors from various parts of the world. The presence of Australian surfers has particularly made a mark in this region. Alongside the surf bungalows and western surf influence, you'll find a mix of cultures that add to the vibrant atmosphere. Despite being a relatively poor region in Sri Lanka, the beauty of Arugam Bay and its incredible surf have transformed it into a must-visit destination.
Surf forecast Arugam bay
A Guide to other Surf Spots near Arugam Bay
Arugam Bay is home to some of the finest surf spots on the east coast of Sri Lanka. While some breaks are located right in front of the town, others require a short drive to the south or north. Here's an overview of the various surf spots you can explore in short. Long form after that.
Lighthouse: Arugam Bay's Northern Gem for Surfing Enthusiasts
Whisky Point: A Surfer's Paradise for Gentle Waves in Arugam Bay
Main Point: Discovering Long Rides and Barrel Opportunities in Arugam Bay
Peanut Farm: Accessible Waves and Beach Break Bliss in Arugam Bay
Elephant Rock/Crocodile Rock: Catching Uncrowded Right-Hand Waves in Arugam Bay
Okanda: Unveiling the Farthest Point Breaks of Arugam Bay
Lighthouse
Lighthouse, the northernmost surf spot in Arugam Bay, extends along the shoreline just outside the charming village and lagoon of Komari. It is adorned with the remnants of a World War II lighthouse, lending it a unique character. Although the consistency of the waves here can be unpredictable, they offer excellent shape when conditions align. Lighthouse features two rippable right-handers suitable for surfers of all skill levels. One break is ideal for beginners, while the other, characterized by a boulder-sand bottom, provides a more thrilling experience for advanced riders. Notably, the waves at Lighthouse gain speed as the season progresses, as the sandbanks build up during the dry season swells.
Whisky Point
Whisky Point is a true haven for beginners, known for its incredibly gentle waves. This spot offers soft and mellow right-handers that break off a boulder point. While heavy ocean storms can occasionally generate swells of up to 4 meters, such conditions are rare during the main Arugam Bay surf season. Typically, the waves at Whisky Point range from chest-high to shoulder-high, providing ample time for novice surfers to practice their skills. For utmost convenience, consider staying at the Whisky Point Resort, situated right in front of the break, allowing you to be the first to catch the morning sets. This fantastic hotel adds to the overall experience.
Main Point
Main Point is likely the wave that has caught your attention while researching Arugam Bay surf spots. It is a classic point break in the region, known for offering the potential for long rides spanning 50-150 meters. The break is shaped by a series of boulders, and the ocean floor is a combination of sand and reef. On the other side, there is a smaller point break that caters to beginners. On bigger days, Main Point can produce barrels, although it can be influenced by gusty winds.
Peanut Farm
Situated on a picturesque, expansive beach adorned with sea vines and scattered boulders, Peanut Farm is a popular spot for accessible waves. From May to August, it becomes lively with surf schools, but don't let that discourage you. Peanut Farm is an excellent place to learn and enjoy the waves. It features a beach break with a sandy bottom, deriving its power from a low headland. The only challenge is reaching the spot, as it is tucked behind a lagoon approximately 7 kilometers south of the town.
Elephant Rock/Crocodile Rock
This prominent jutting point break is referred to as both Elephant Rock and Crocodile Rock. While reaching the shore requires a 20-minute walk with your surfboards, the effort is rewarded with uncrowded right-hand crumblers compared to other popular spots in central Arugam Bay. However, do keep an eye out for crocodiles!
Okanda
Although Okanda is the farthest spot from Arugam Bay town, the journey of approximately 23 kilometers is well worth it. Okanda boasts three distinct point breaks that cater to various skill levels, with most of them being ideal for strong intermediate to advanced surfers. While the area can get windy due to its exposure, the waves at Okanda hold up well even on swell days, reaching an impressive height of 8-10 feet. However, exercise caution near the headland as strong rips can occur.
Conclusion
Arugam Bay's outstanding surfing conditions, natural beauty, and welcoming atmosphere make it a dream destination for surfers. Whether you're a beginner or an experienced rider, this surf spot offers a regional classic wave experience. With easy access, versatile tides, and minimal crowds, you'll have the perfect environment to improve your skills and enjoy the thrill of riding the waves. So pack your bags, embrace the warm hospitality of the locals, and get ready for an incredible surfing adventure in Arugam Bay!
Best Accommodations for Surfing in Arugam Bay
Arugam Bay offers a diverse range of accommodations to cater to surfers seeking the perfect stay. Here are some noteworthy options:
Babar Point ($$) Experience a serene getaway at Babar Point, surrounded by lush gardens and palm trees. This luxury retreat features bungalows with outdoor showers and relaxing al fresco seating areas. Its prime location allows for easy access to the waves, ensuring you make the most of your surfing adventure.
Arugambay Roccos ($) Situated on Main Street, Arugambay Roccos is a stylish beach resort that provides a modern twist on traditional cabana living. With its Bauhaus-inspired design, whitewashed villas, and stunning ocean views, this resort offers a memorable experience. Enjoy immediate proximity to Main Point's legendary right-hand breaks.
Jetwing Surf ($) Located in Pottuvil, just a short distance from Whisky Point, Jetwing Surf offers beachfront accommodations with a delightful tropical ambiance. Relax by the inviting pool or indulge in charming cabana rooms, all while enjoying direct access to the beach. Jetwing Surf provides a comfortable and convenient base for your Arugam Bay surf adventure.
Other world classic surf spots