Did you know that regular sun cream is harmful to the environment? The chemicals contained in sun cream destroy plankton and are toxic to fish. In addition, the coral is dying in various parts of the world. Fortunately, there is more and more sustainable sun cream available nowadays. This way you can lie on your board in the waves and feel a lot better.
Moving to a cleaner sea
Good sun block of course is very important to protect your skin from the sun. Fortunately, more and more brands introduce sun cream that contains natural products and do no harm. Using a sustainable sunscreen as a surfer is at least a first step towards a cleaner sea.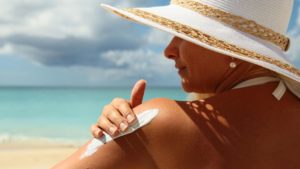 Every year, more than 14,000 tons of sun cream ends up in the oceans. In addition to non-degradable substances, sunscreen also contains microplastics. And we all know that plastic is a major problem. The other culprits are two chemical substances in sunscreen: octinoxate or oxybenzone.
Natural and plastic-free sun cream
Lovea
This sun cream is water resistant and certified by Ecocert. The cream remains a little on the skin and acts as an invisible shield. Lovea contains no chemicals and is also vegan. In addition to being organic, it is free of the 'forbidden' ingredients.
"Protect yourself and at the same time our ocean by using sustainable sunscreen".
Naïf
Naïf skincare is made of natural ingredients and is suitable for all skin types, and especially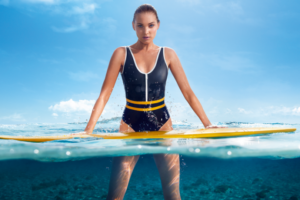 for small children. Naïf products contain no mineral oils, chemical preservatives or hard chemicals. Instead, natural ingredients such as flaxseed oil, avocado oil and lycosol (tomato extract) form the basis. They have set the goal of being zero waste by 2021 by using 100% recycled packaging and refill packs.  They are developing a clear raw materials plan.
Lavera
Lavera is certified with NaTrue, an international quality mark for natural cosmetics with very strict guidelines. This means that Lavera meets the highest standards for natural and organic products and ingredients. Lavera's products are therefore completely free of harmful substances. Nice fact: The products are made in Hanover and the production is based on green electricity!
Lush
Sustainable and animal-friendly production and sale of cosmetic products, including sun cream, is characteristic of Lush. They have a number of types of sun cream: powdered, a lotion and a sunblock. The Sesame Suntan Lotion smells like sesame but protects the skin well. Unfortunately still contains some harmful substances.
Sun Safe
This is a natural sun cream from Dutch soil, made by the Dutch brand The Ohm Collection. This brand offers natural care products that are good for people and the environment. Sun Safe lotion does not contain any chemical ingredients such as alcohol and perfume and does not leave a white haze. The packaging can also be recycled. There is a Sun Safe sun cream with a sun protection factor of 15 (SPF15) and a cream with a sun protection factor of 30 (SPF30).
Where to buy them?
Many of these products can be found in online shops for ecological health care products. For example www.shopnaturally.com.au or www.amazon.com.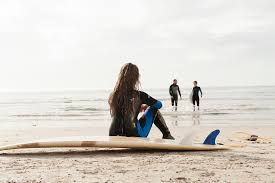 как найти правильную ссылку на гидру, официальное зеркало и официальные ссылки на hydraruzxpnew4af гидра hydraruzxpnew4af onion