Sri Lanka, a teardrop-shaped gem in the Indian Ocean, seamlessly blends thrilling adventures with unforgettable family moments.
Picture this: golden beaches lined with swaying palm trees, mischievous monkeys at play, fishermen silhouetted against the dawn, delectable rice curries that dance on the tongue, elephants gracing the lush rice fields, and world-class surfing beckoning the adventurous.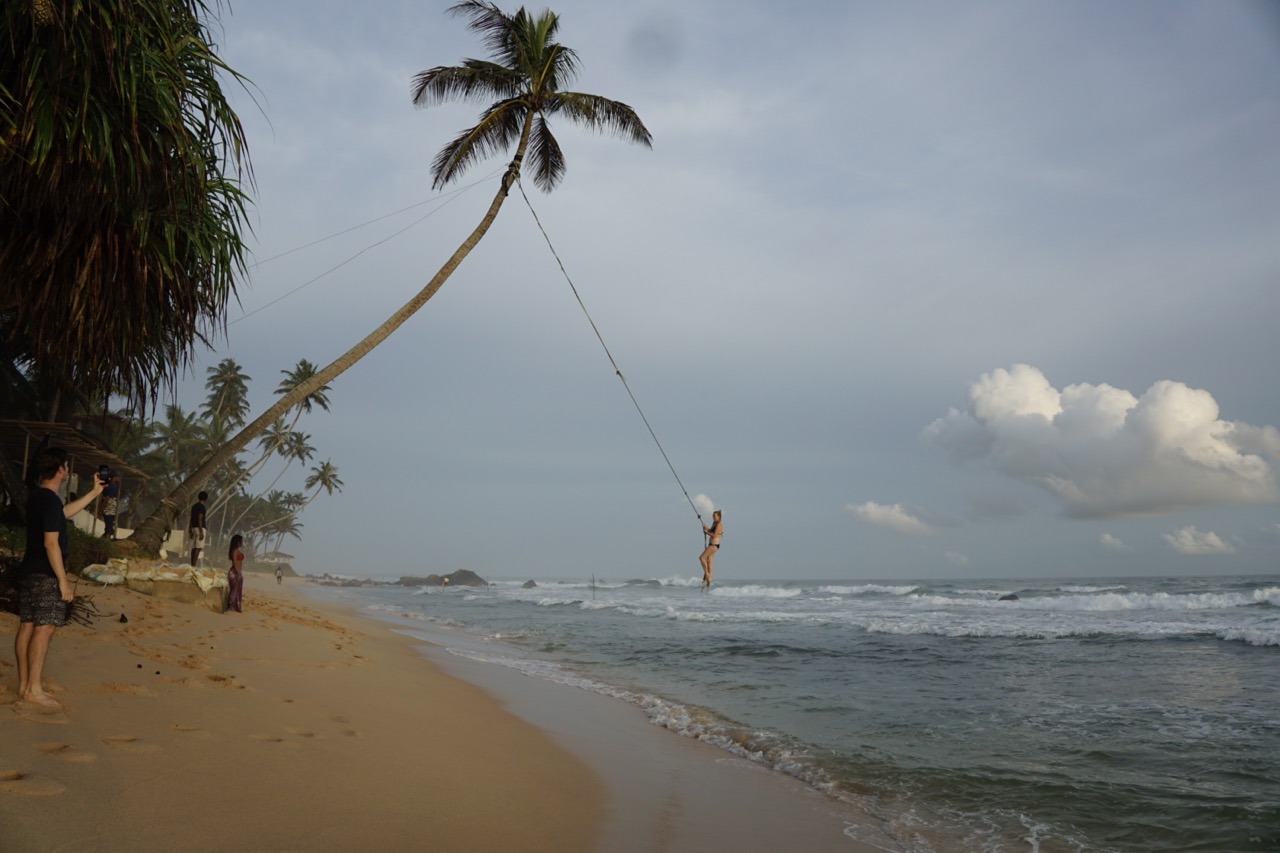 The spirited and warm-hearted Sri Lankan locals ensure every visitor feels right at home. Immerse yourself in the heady aroma of exotic spices and vibrant flowers that permeate the air, all while the rhythmic lull of crashing waves promises a night of serene slumber.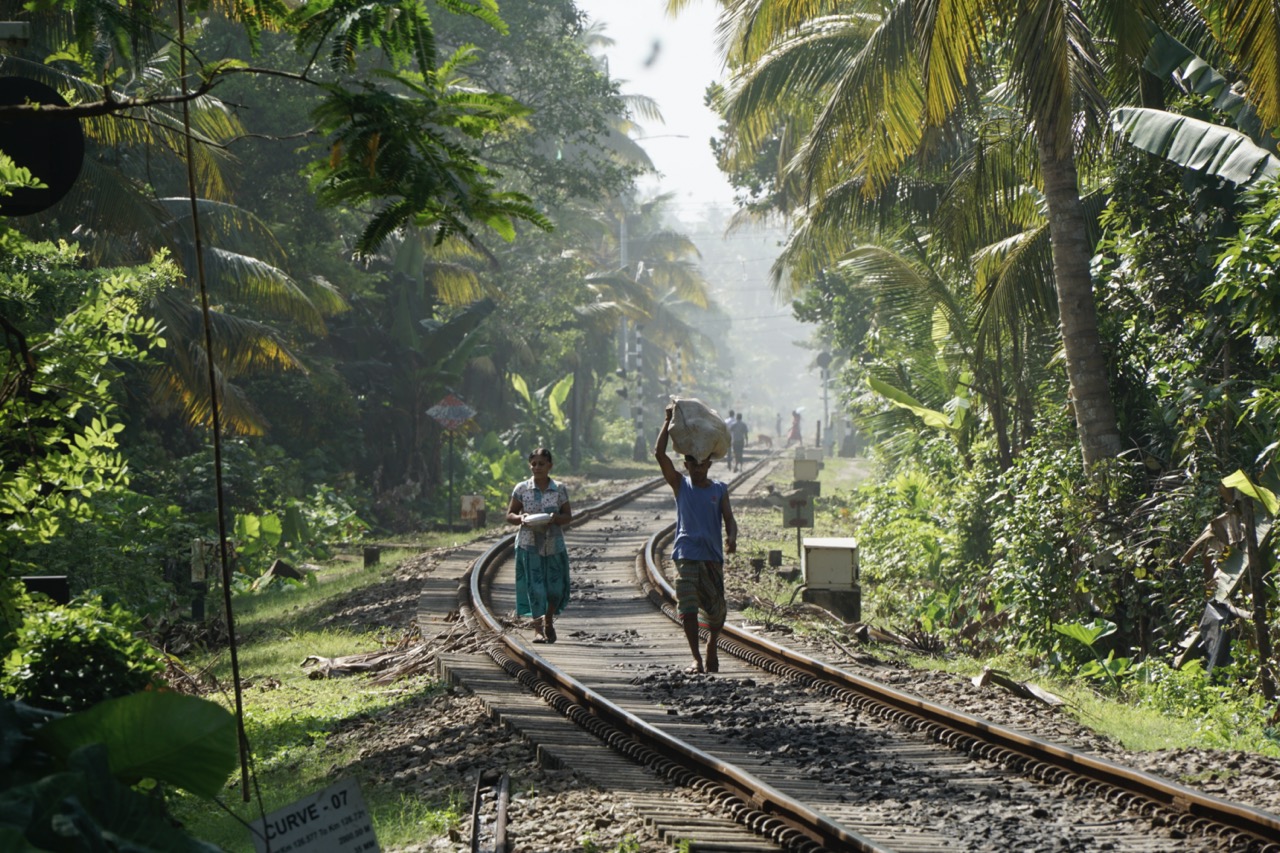 This island nation is a dream destination for families with a penchant for outdoor adventures and the thrill of surfing.
During our sojourn in July and August, we unearthed numerous treasures of this tropical paradise. In this article, we'll share insights on prime surf spots, adrenaline-pumping activities, and the most scenic locales to anchor down, both on the south and east coasts.
For those keen on surfing in Sri Lanka, it's crucial to note that the prime season during these months favors the east coast, especially areas like Arugam Bay and its surroundings. However, the south coast, while more tempestuous, does offer its share of exciting surf days.
Embark on an Odyssey with us!
A pro tip from our journey: upon landing at Colombo airport, we instantly secured a sim card, providing unlimited data for 30 days at a mere 20 dollars. This small investment simplified our travels immensely, enabling easy liaisons with locals, whether for arranging taxis or delightful tuk-tuk rides.
First stop; Tropical Unawatuna
Nestled in a bay to the east of Galle, Unawatuna offers a swimmable ocean throughout the European summer months. On our visit, we encountered surfable waves that beckoned the daring. This paradise features sandy crescent beaches, turquoise waters (crystal clear during the high season), and an ambiance that welcomes families with open arms.
Unawatuna's main artery is a bustling street brimming with quaint shops and delightful eateries. During the off-season, the mood mellows, and while some establishments shut their doors in anticipation of the tourist surge, all beachside restaurants remain lively.
Our dining recommendation? The Villa. Picture dining with your feet nestled in the sand, diving into the ocean between courses, and watching local surfers master the waves.
Surfing in Unawatuna
Our quest for the perfect wave began at Unawatuna. We witnessed two skilled locals navigating the waters near the bay's westernmost point, where waves gracefully arc into the cove.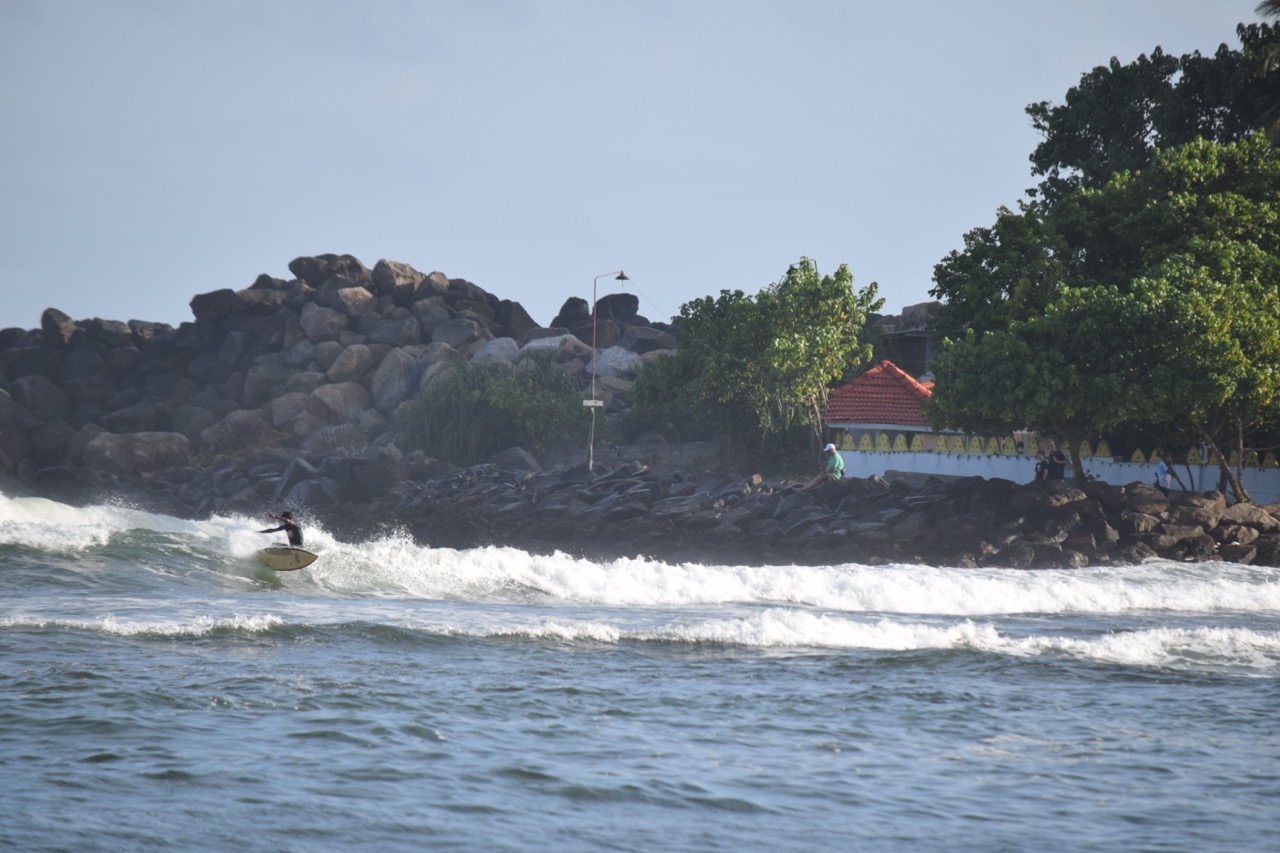 Unfortunately, without our boards and limited surf rentals available during the low season, we remained spectators. Do exercise caution, as the waters conceal rocks and reef beds. In peak season (November to April), surfing aficionados will find abundant surf schools and rental shops at their service.
Family Activities in Unawatuna
High-season visitors can indulge in snorkeling amidst the coral reefs or embark on boat trips to further explore. Jungle Beach, situated opposite Unawatuna Bay, is another must-visit. While undeniably beautiful, it didn't top our list of Sri Lankan beaches due to occasional water pollution (lots of plastic in the water). However, this can vary, influenced by changing currents.
As dusk descends, venture to Galle Fort.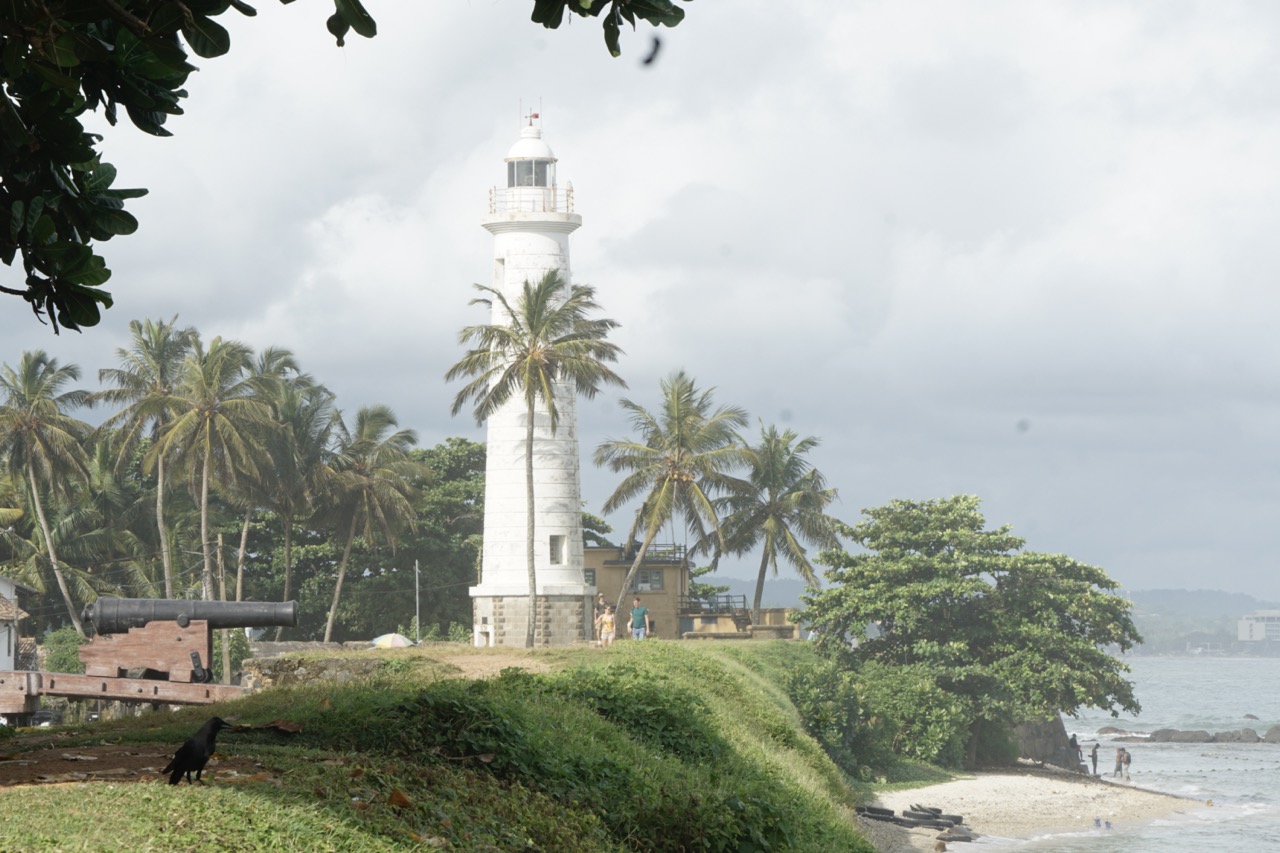 Admire the iconic lighthouse, meander through the narrow lanes, and relish the colonial architecture, testimonies to Dutch and Portuguese legacies.
Accommodation Highlight; Serenity Boutique Hotel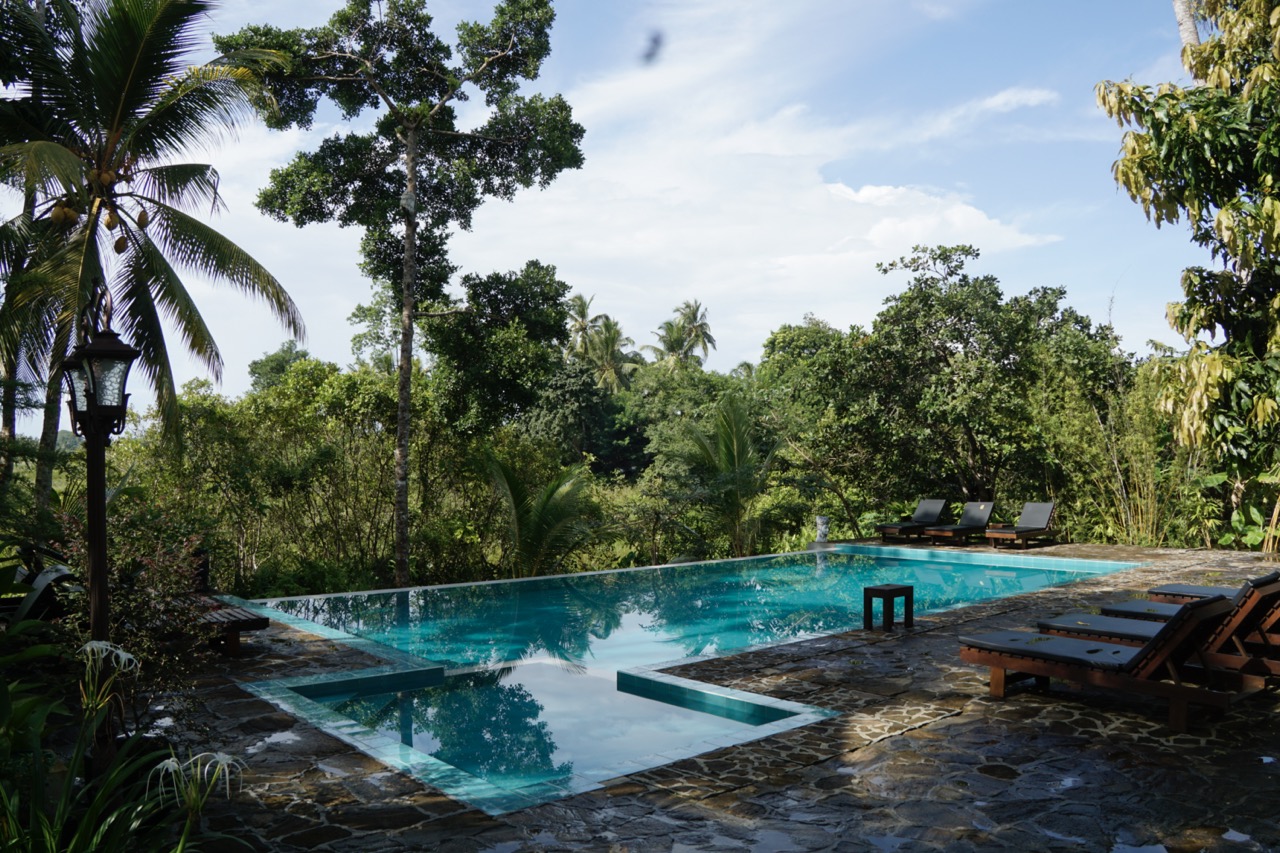 Our stay at Serenity Boutique Hotel was nothing short of splendid. True to its name, this intimate establishment offers an ambiance reminiscent of a lush jungle.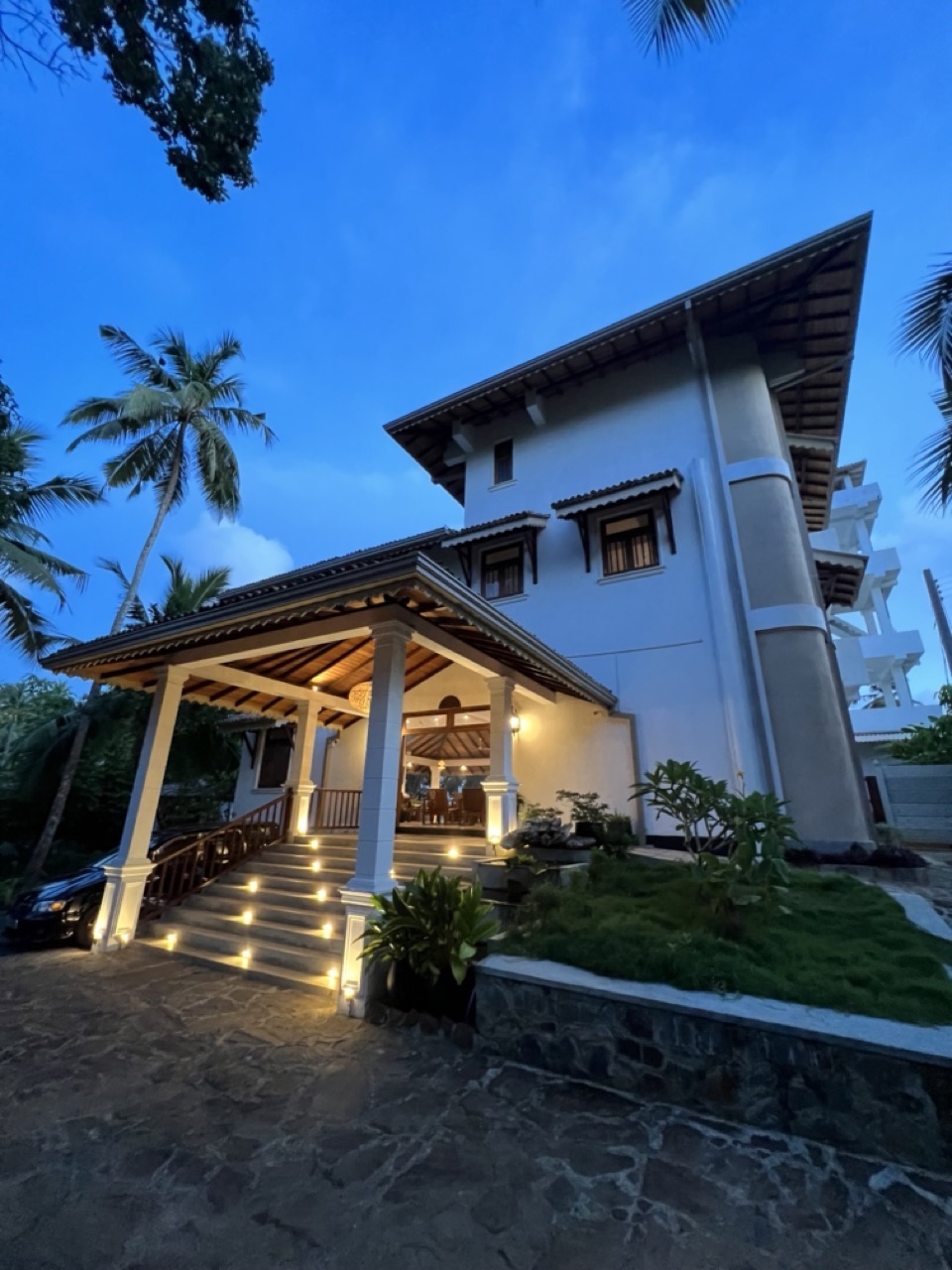 Enjoy panoramic views from the dining terrace and infinity pool, retreat to immaculately maintained rooms, and savor mouth-watering cuisine. Its location, just over a kilometer from the main thoroughfare, ensures you're serenaded by jungle melodies.
A 15-minute tuk-tuk ride, which the hotel can assist in arranging, whisks you to Unawatuna. The round trip will set you back about 2500 rupees, approximately 7.5 euros.
With the TukTuk to Weligama: A Surfer's Haven and Historic Retreat
From our base, a short jaunt leads to the surfing mecca of Weligama. The expansive bay, particularly its western side, is an ideal playground for novice surfers. Nestled close by is an intriguing islet, home to an intimate hotel with a storied past – it's whispered that even presidents have stayed on this island hotel. For a little touch of adventure, take a leisurely walk to this island during low tide; it's almost like strolling on the ocean floor.
Mirissa: Beach Bliss and Coastal Culinary Delights
Fancy a shark for diner? With a journey a mere 40 minutes to the east from Unawatuna, and you'll find yourself in the picturesque embrace of Mirissa.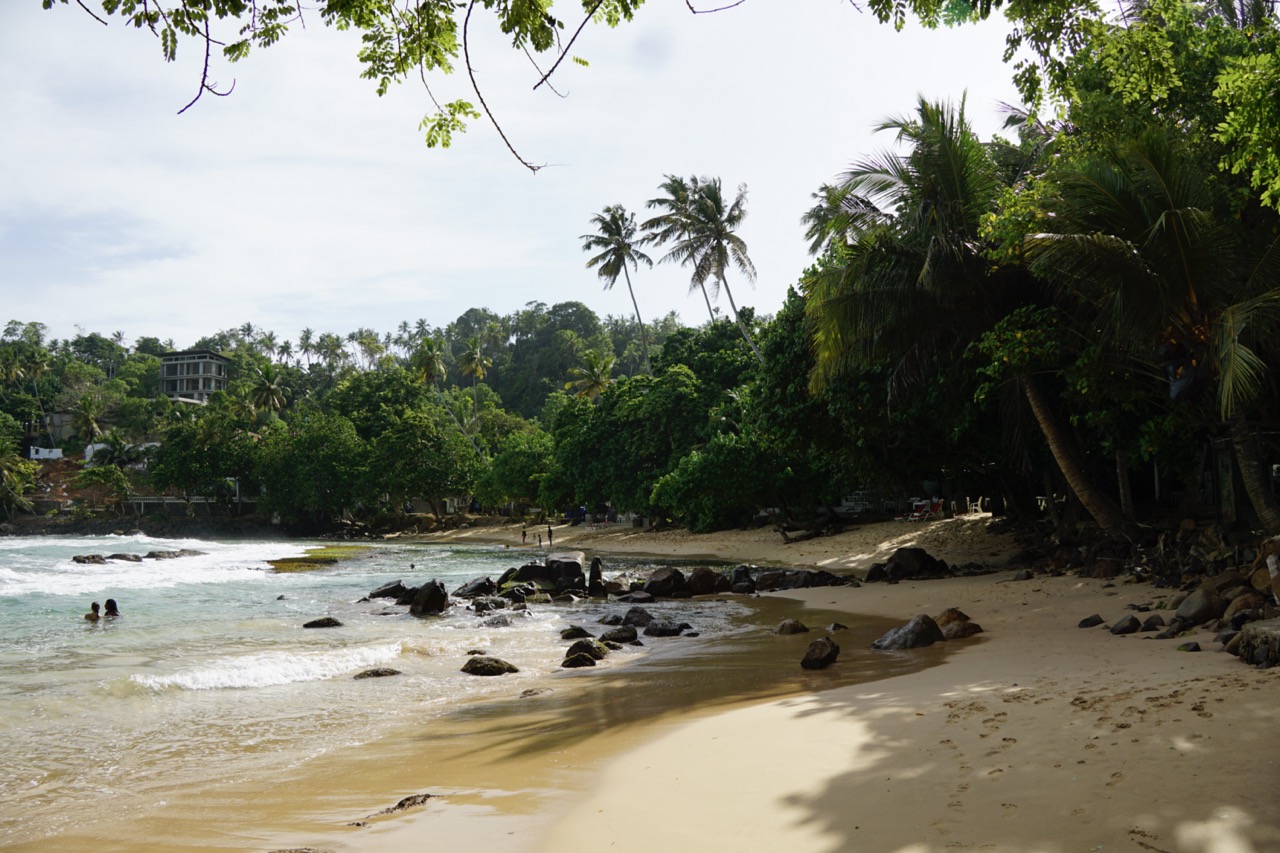 While it's no secret among tourists, Mirissa still retains its charm at some places. Its shoreline is dotted with delightful dining spots where you can relish gourmet meals with sand tickling your toes and the sound of waves serenading you.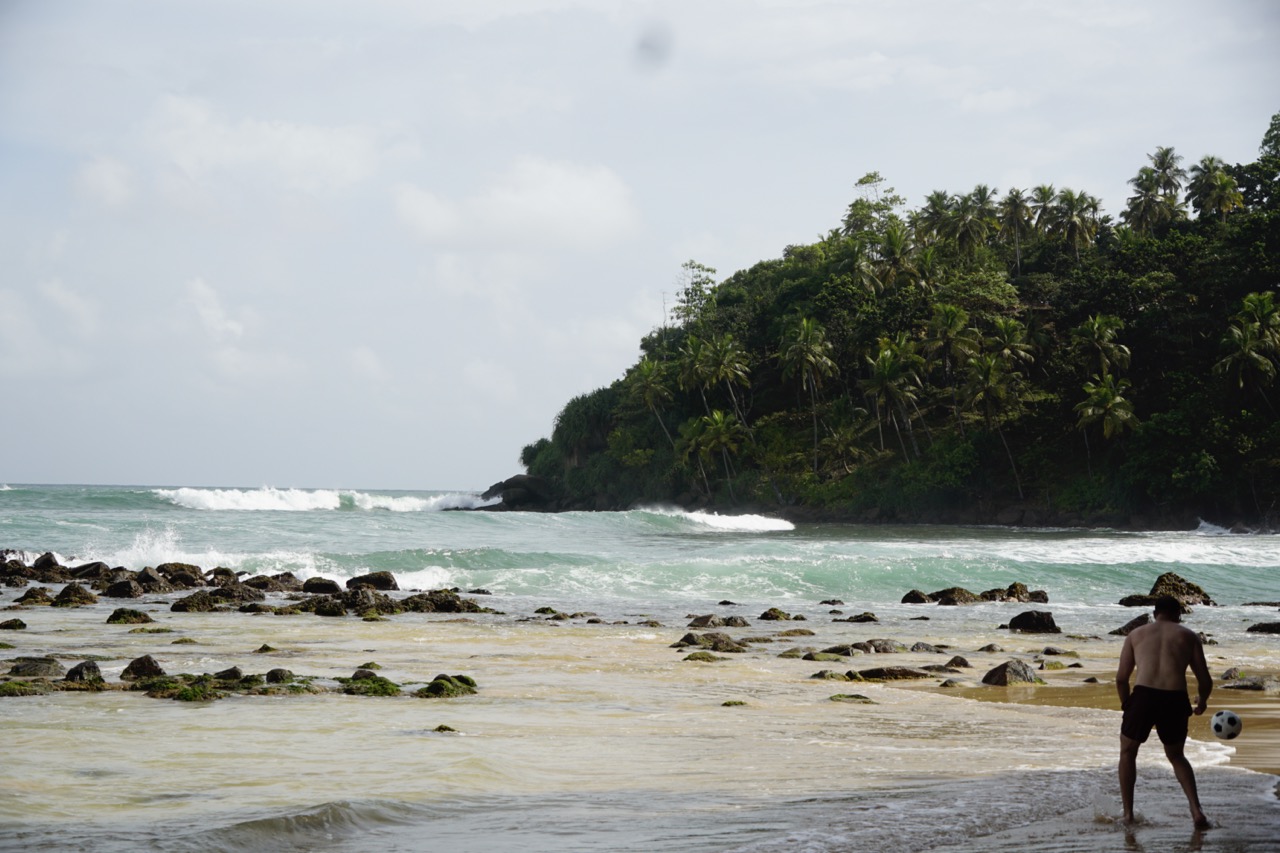 For a quieter, more secluded vibe, head to the bay's far western corner. This alcove, shadowed by rustling palm trees lining the surf break, promises tranquillity. And if the waves beckon, you're in luck in the off season. In the main season (from november) you'll have great waves here and whole of the south. Surf schools and board rentals are conveniently situated at this spot. Dive in!
Yala National Park: Where Wild Wonders Await
Having dipped our toes in the pristine beaches and caught the exhilaration of the first waves (swimming), our compass directed us towards the celebrated wilds of Yala National Park.
Our anticipation was brimming; the very idea of transitioning from sandy shores to an ecosystem teeming with wildlife was nothing short of enchanting. However, we were in for some surprises.
The break of dawn bathed the park in a golden hue, accompanied by distant murmurs of the wild.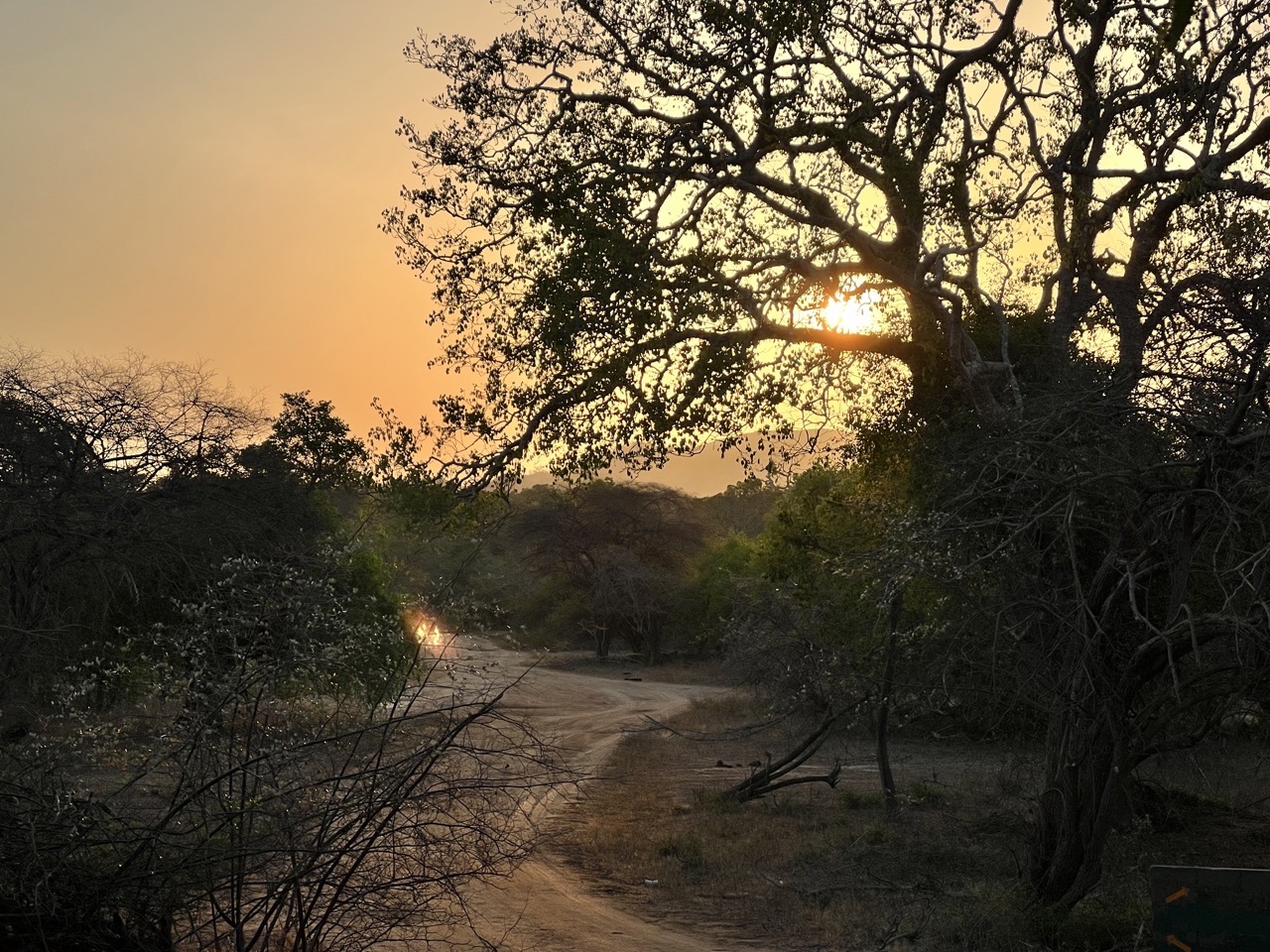 But the romance of the safari diminished rather quickly. Imagine a caravan of jeeps, almost competing to catch a glimpse of elephants, crocodiles, bears, deer, monkeys, and the ever-elusive leopard. We were aware that spotting the latter was akin to finding a needle in a haystack. As for us, the roster included every creature except for elephants and leopards. The sight of multiple jeeps jostling for a vantage point robbed us of the authentic safari feel.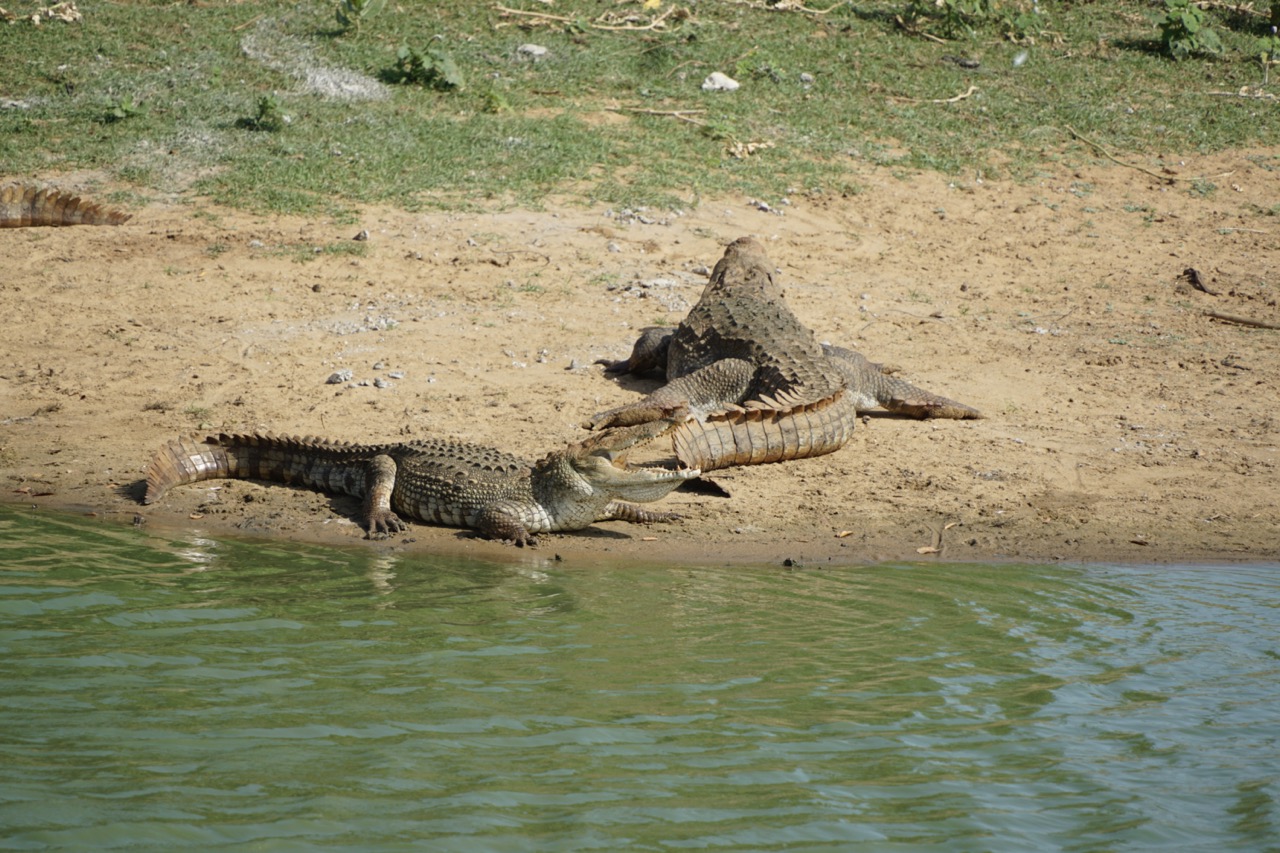 Given our later experiences in Sri Lanka, had we known, we might have opted for the likes of Kumana instead.
Our two young adventurers, aged 8 and 10, however, soaked in the excitement. Each sighting was a lesson in nature and conservation.
Accommodation near Yala: Of Lakesides and Village Walks
Our temporary abode was the rustic Bird Scenery Hotel in Thissamaharama. True to its name, it offered a panorama of avian life, especially during the twilight hours, with the lake as a serene backdrop.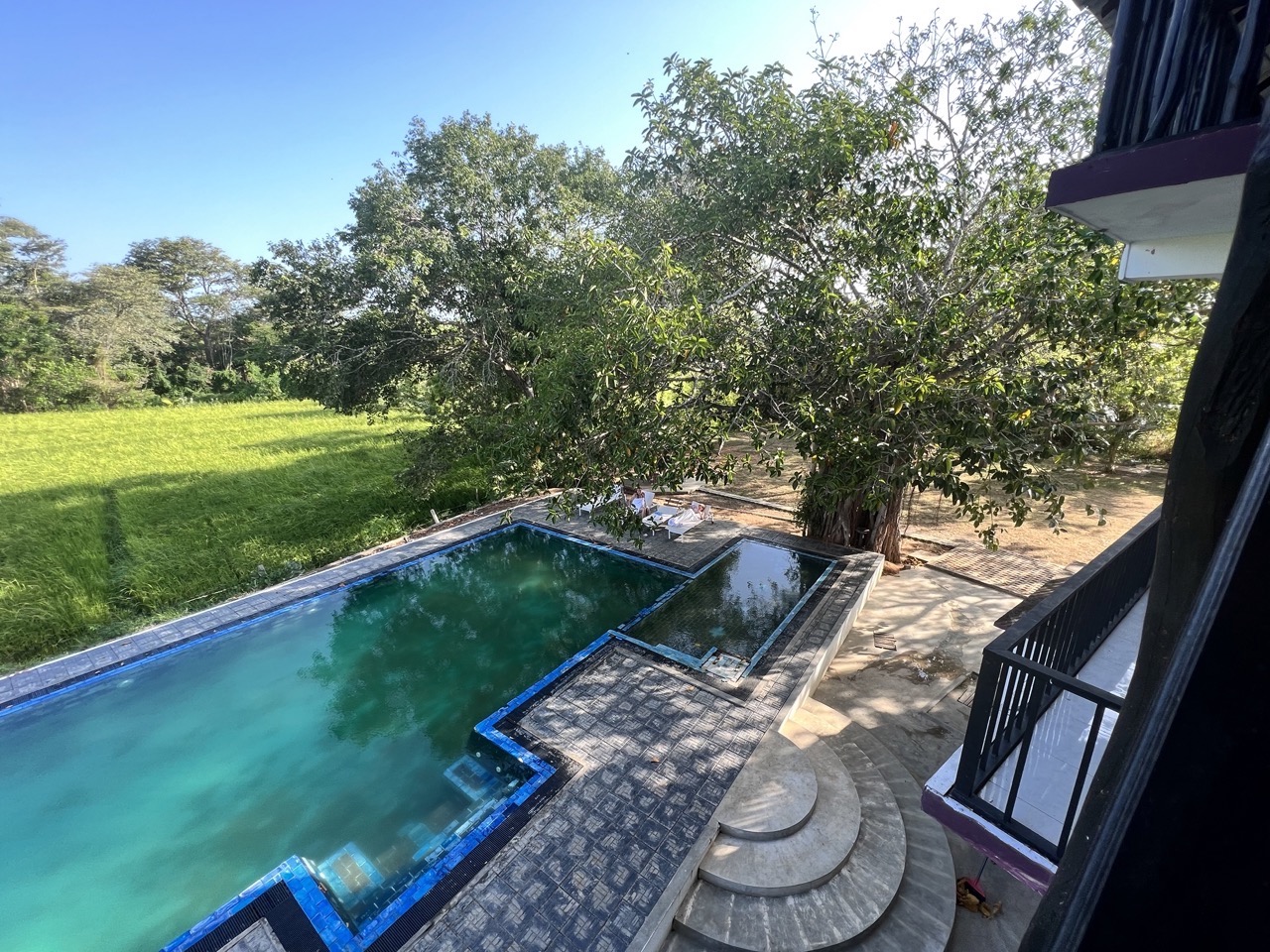 Our initial booking was another hotel through Airbnb, but reality didn't quite match the allure of online images.
A serendipitous stroll through the quaint village of Thissamaharama led us to Blue Turtle. This gem, managed by a Sri Lankan who once called Paris home, is a meld of Western comfort and local charm. If you seek a touch of the familiar in an exotic land, Blue Turtle is your best bet. And the food? What can you expect of a former Parisien? It's great!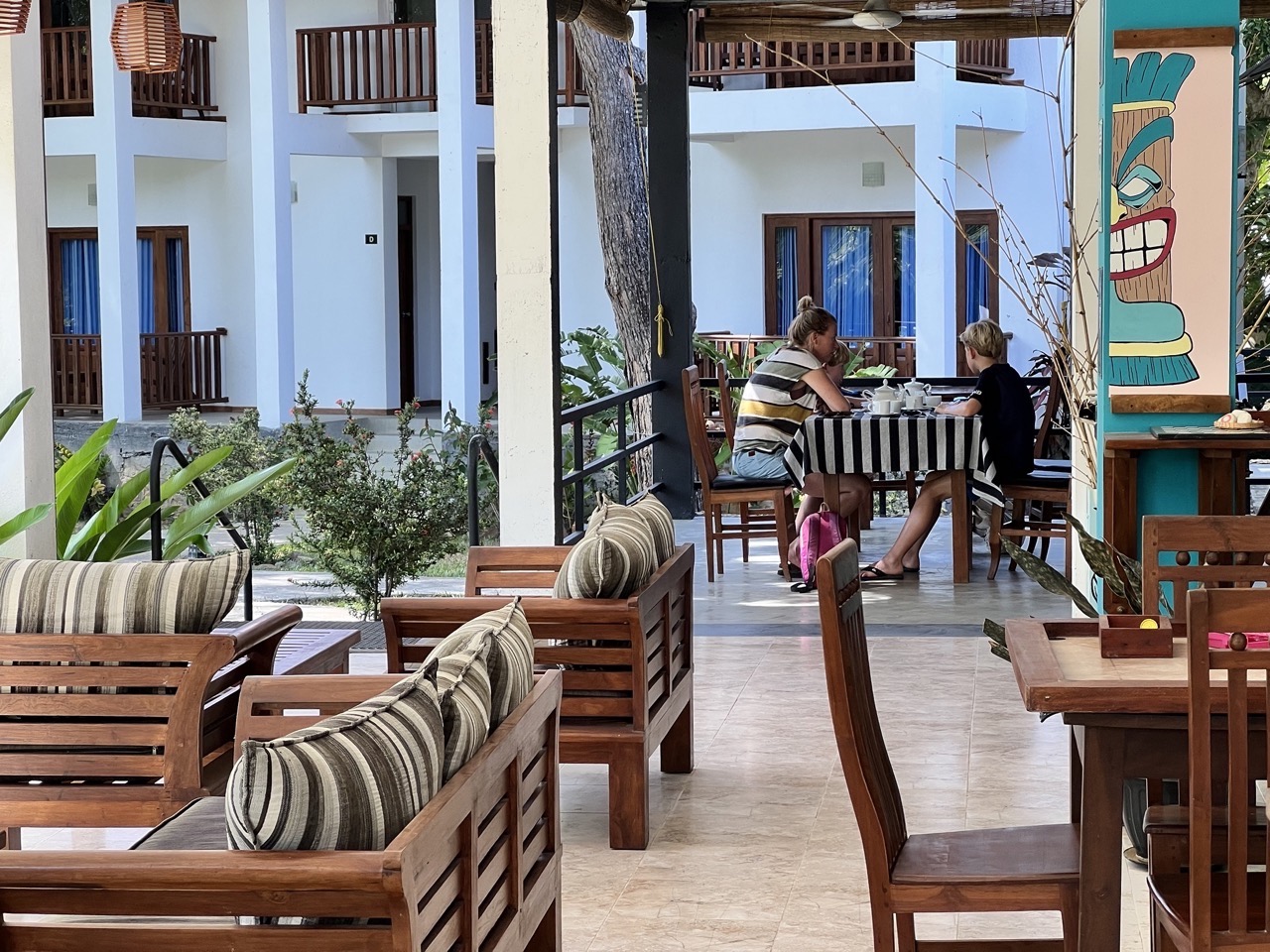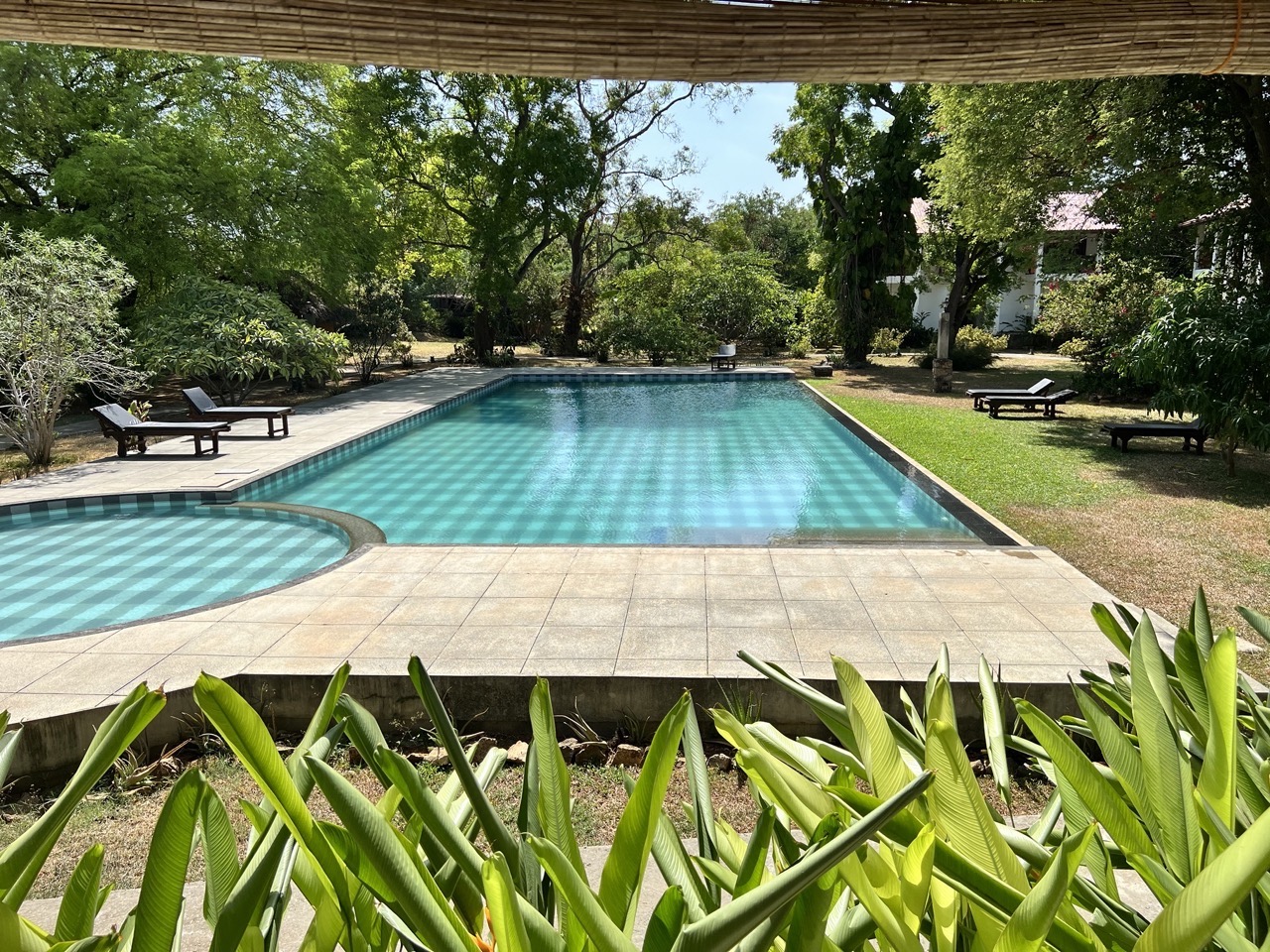 Considering a safari in Yala?
Most accommodations, including ours, can coordinate the Jeep Safari for you. Our family of four embarked on this journey for 140 euros.
For those inclined towards luxury, Cinnamon Wild beckons. Located a stone's throw from Yala's entrance, it promises morning greetings from the wild and a canopy of stars come nightfall.
Arugam Bay: Surfing's at it's best
Post our Yala adventure, we hopped onto a taxi bound for Pottuvil, which set us back by 22,000 rupees for the 3.5-hour journey. Just a 15-minute drive south of Pottuvil lies the famed Arugam Bay.
Arugam Bay is the crown jewel of Sri Lankan surfing. It emanates an unmistakably chill ambiance. Most surfers, both novice and seasoned, hit the waves at dawn or dusk, mostly to evade the scorching midday sun.
Delightful Pottuvil: A Blend of Surf and Serenity
During our stay, we were fortunate to call two exceptional places home. First, we set up camp to the north of Arugam Bay, in Pottuvil. Here, our top pick was the Babar Point. A stone's throw away from the Pottuvil Point surf spot, it boasts a formidable right-hander that beckoned us for our maiden Sri Lankan surf.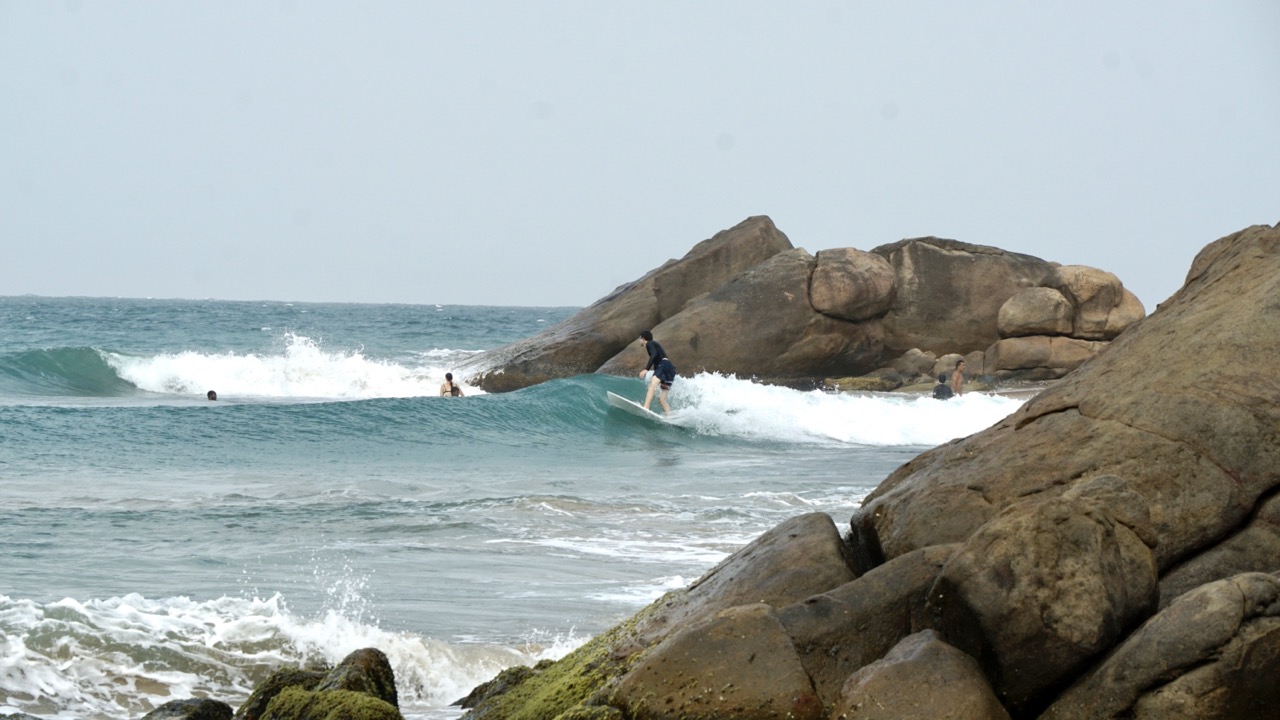 The waves here were sublime, typically rolling out smoothly for around 150 meters but sometimes extending double that. Locals often regale tourists with tales of rides stretching to an astounding 700 meters. However, be prepared for a bustling crowd, especially during surf lessons (dusk and dawn). The absence of strict surfing etiquette might be jarring for some, but with time, you find your rhythm amidst the drop-ins and snaking.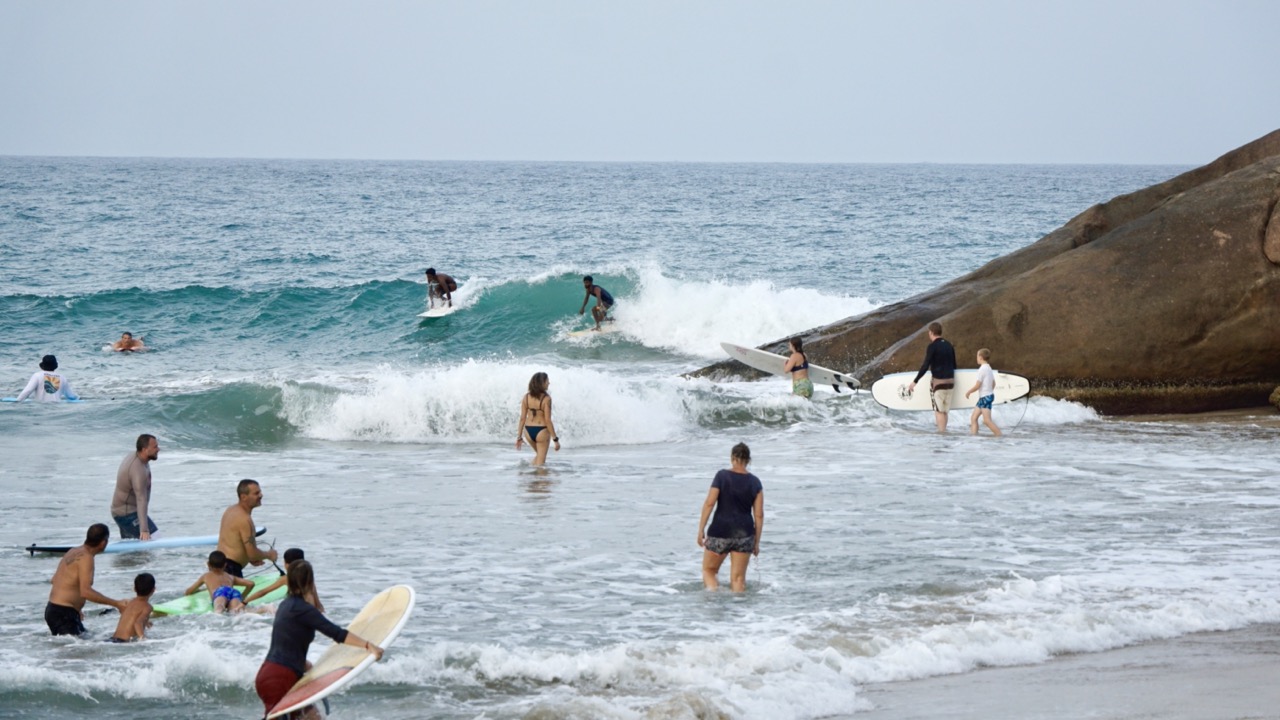 But Pottuvil is more than its waves. The quaint beach is a slice of paradise, with a serene lagoon lying in its embrace. For the more adventurous, a mangrove safari promises sightings of exotic birds and menacing crocodiles. The sprinkling of fisher boats, framed by coconut palms, paints a timeless picture of this little beach. This idyllic setting, seemingly untouched by time, might soon beckon developers. One can only hope its essence remains untarnished.
Also in Pottuvil is the famed Whiskey Point. However, word has it that this once-popular spot has lost its charm in recent times.
Surf's Up in Arugam Bay
While we reveled in the spectacular surf of Pottuvil and cherished our stay there, heading to Arugam Bay stirred a mix of emotions. We had pre-booked our stay at the charming "Stay Golden" — a name so apt for the place. Unlike Pottuvil's raw allure, Arugam Bay oozed a more tourist-centric and surfer vibe. It evoked nostalgia, reminiscent of the Kuta of Bali two decades ago.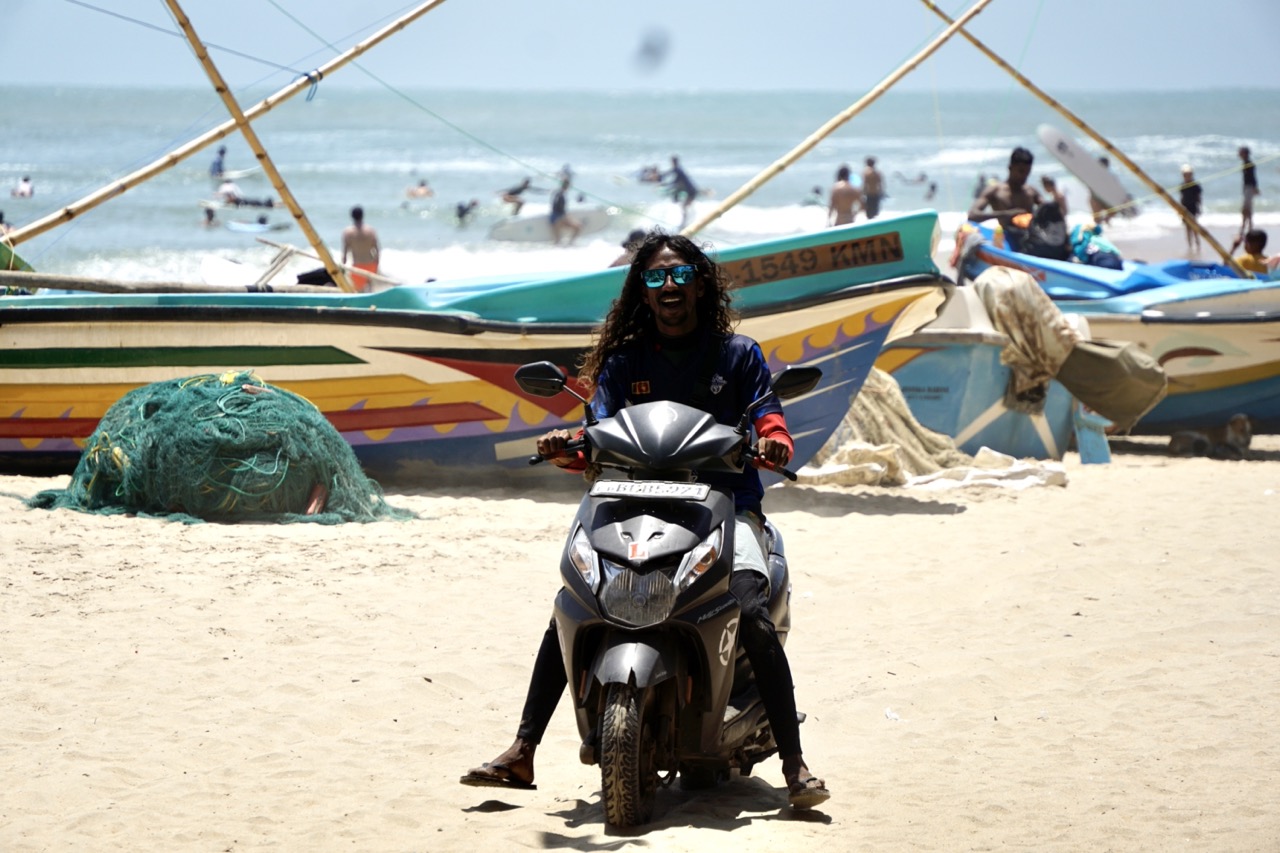 Catch the Wave: Surf Spots of Arugam Bay
Arugam Bay offers multiple surf spots. The main attractions include Main Point and Baby Point.
Baby Point is a crowd-puller, especially during morning and afternoon surf lessons. While it may seem crowded, the waves here are generous, offering both number and length.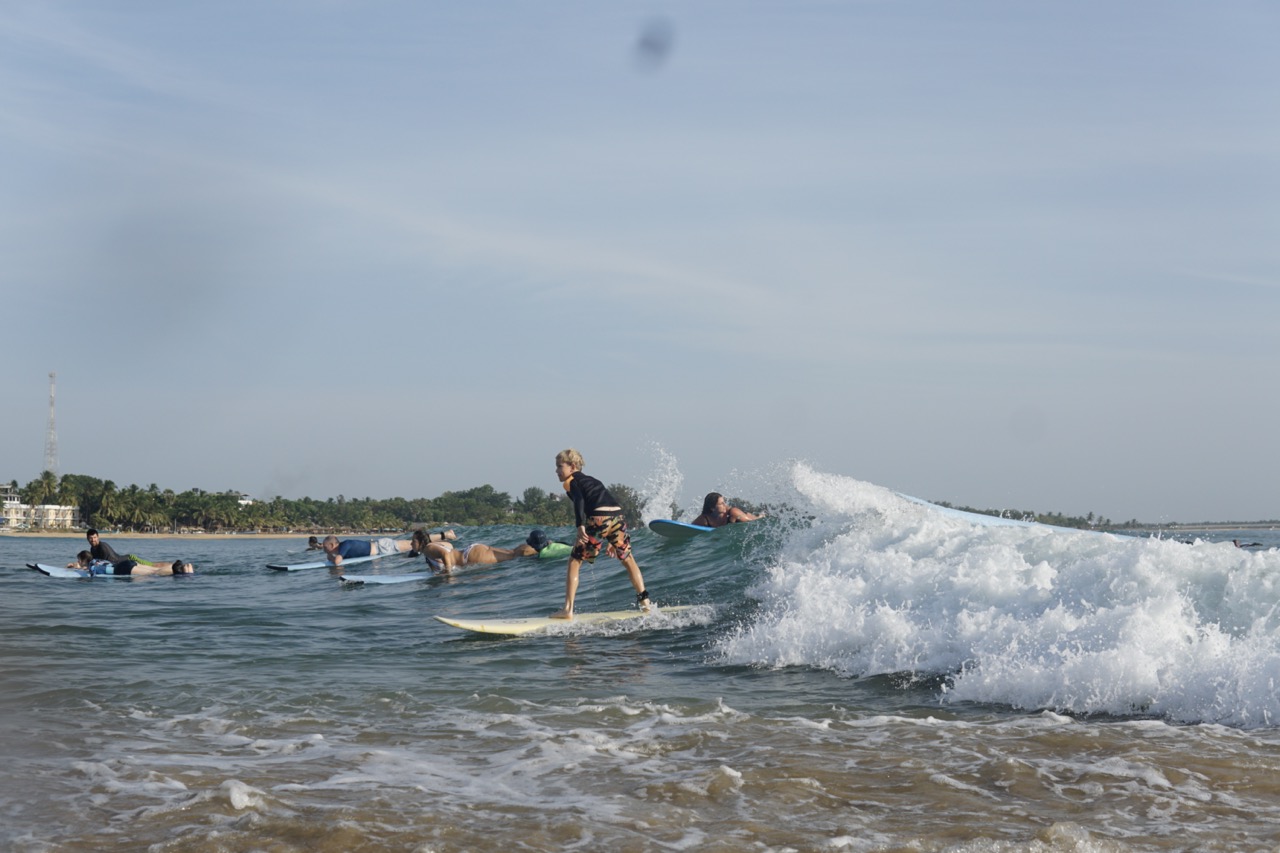 And for those yearning for a pristine right-hander, Main Point is perfect, catering especially to intermediate and advanced surfers. The take-offs are smooth, and the surfers here respect the rules a tad more, providing an enjoyable experience as you ride the waves alongside the palm-fringed coastline.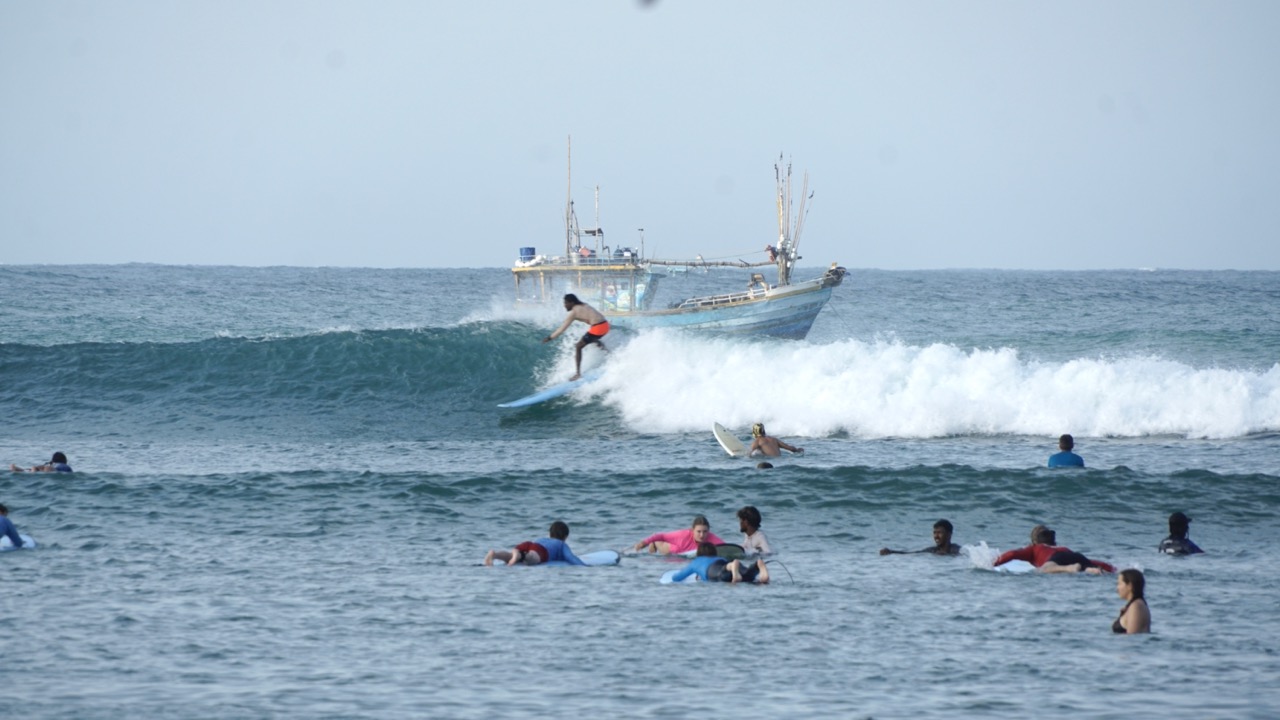 Now, while many guides and blogs tout these waves to be consistently gentle, don't be fooled. We encountered formidable 10ft waves with a staggering 20-second interval — a paradise for pros, but intimidating for many.
Off the Beaten Path: Surfing Beyond Arugam
Further south, there are lesser-known spots like Peanut Farm, Elephant Rock, and Panama.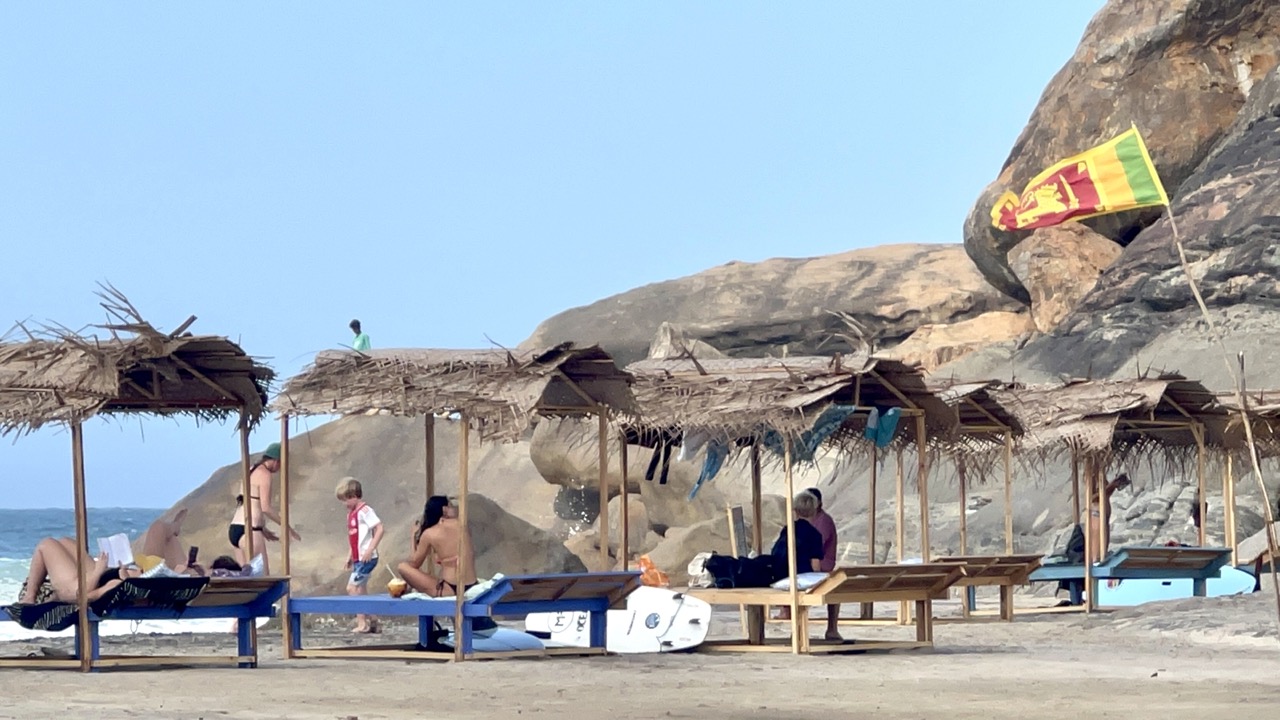 As you venture further, the crowds thin out, especially around midday, ensuring a more serene experience.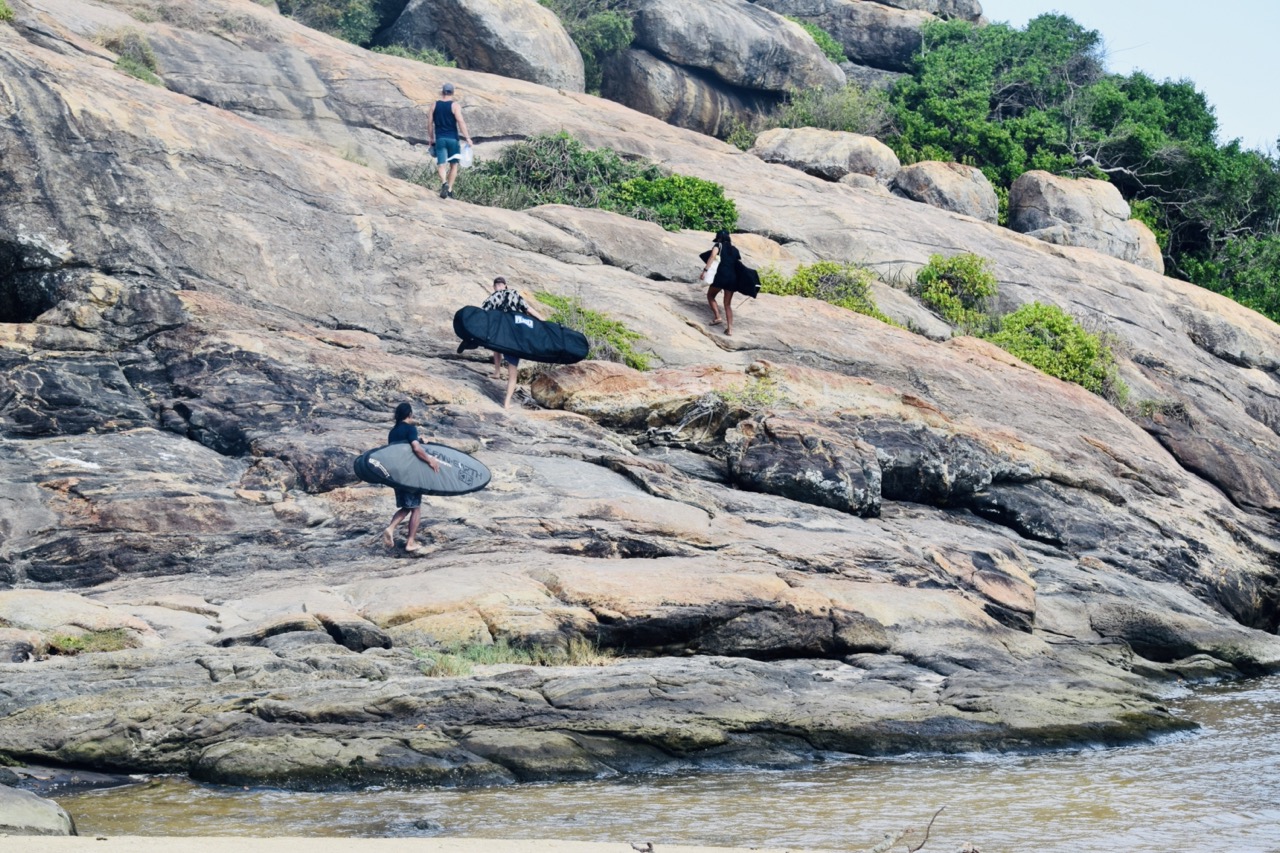 Elephant Rock, in particular, sees an influx of visitors by late afternoon — many drawn by the prospects of a stunning sunset and a potential elephant sighting from the vantage point of the rocks.
While the waves here are sublime, and the ambiance soothing, a word of caution: the nearby river, which you must cross to reach the beach, houses crocodiles. There have been tales of attacks, so remain vigilant.
The Golden Stay
"Stay Golden," managed by Angie, Rihan, and their adorable son Rami, was our oasis in Arugam Bay.
Located just a short bike ride (or a 15-minute walk) from the heart of Arugam Bay, it offers amenities like free bikes, a refreshing pool, pristine rooms, and a relaxation haven. Yoga enthusiasts can also indulge in their daily sessions.
Exploring Beyond the Waves
"Stay Golden" also curates tours for those looking to soak in the local culture and nature. We embarked on a journey to a temple perched on a rock, requiring a 1.5-hour tuk-tuk ride. The panoramic views post-climb — sprawling jungle, imposing rocks, and playful monkeys — were well worth the effort. Our descent was met with a magical sight: elephants gracefully sauntering through rice fields.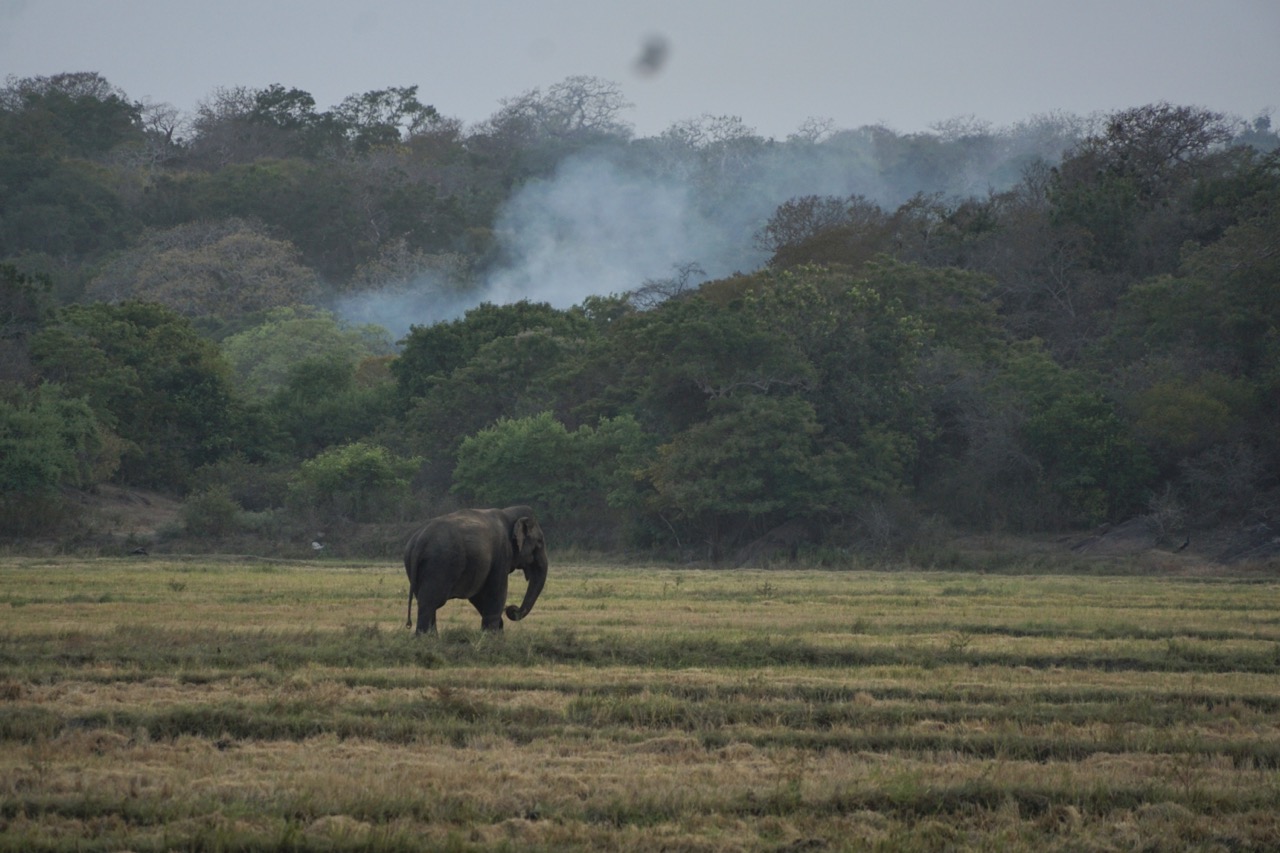 This excursion, spanning from 1:30 PM to 6:30 PM, was a richer experience than Yala and was reasonably priced at 7,000 rupees (21 euros).
After six invigorating days of surfing, we set our sights on Sri Lanka's highlands, embarking on a 3.5-hour journey to Ella.
Ella: In the Heart of the Highlands
Ella paints a picture of perfection. Imagine misty mountains, cascading waterfalls, the rhythmic chug of a train on its tracks, vibrant jungle sounds, and playful monkeys on your terrace.
Our introduction to Ella was somewhat unexpected. The town is lined with Western-style establishments, like the popular Chill Cafe — where advance reservations are a must. While this main street boasts of its charm and delectable food, a stroll down the adjacent lanes reveals a more authentic, local vibe. The choice of experience is yours.
During our 4-day stay in Ella, we delved into family adventures such as hiking to Little Adam's Peak, marveling at the Nine Arch Bridge, witnessing the majestic Diyaluma Waterfalls, and embarking on a scenic train journey to Haputale, which is renowned for its sprawling tea plantations. And ziplining at Flying Ravana.
Here's a heads-up for jungle trekkers: Beware of leeches, especially after a downpour. Many of us faced the itch and annoyance of these tiny creatures. It's advisable to wear shoes and socks, and even long trousers to keep them at bay.
For a more local experience on the train, consider booking a 3rd class ticket. It's a great way to mingle with locals. Otherwise, you might find yourself primarily among fellow tourists.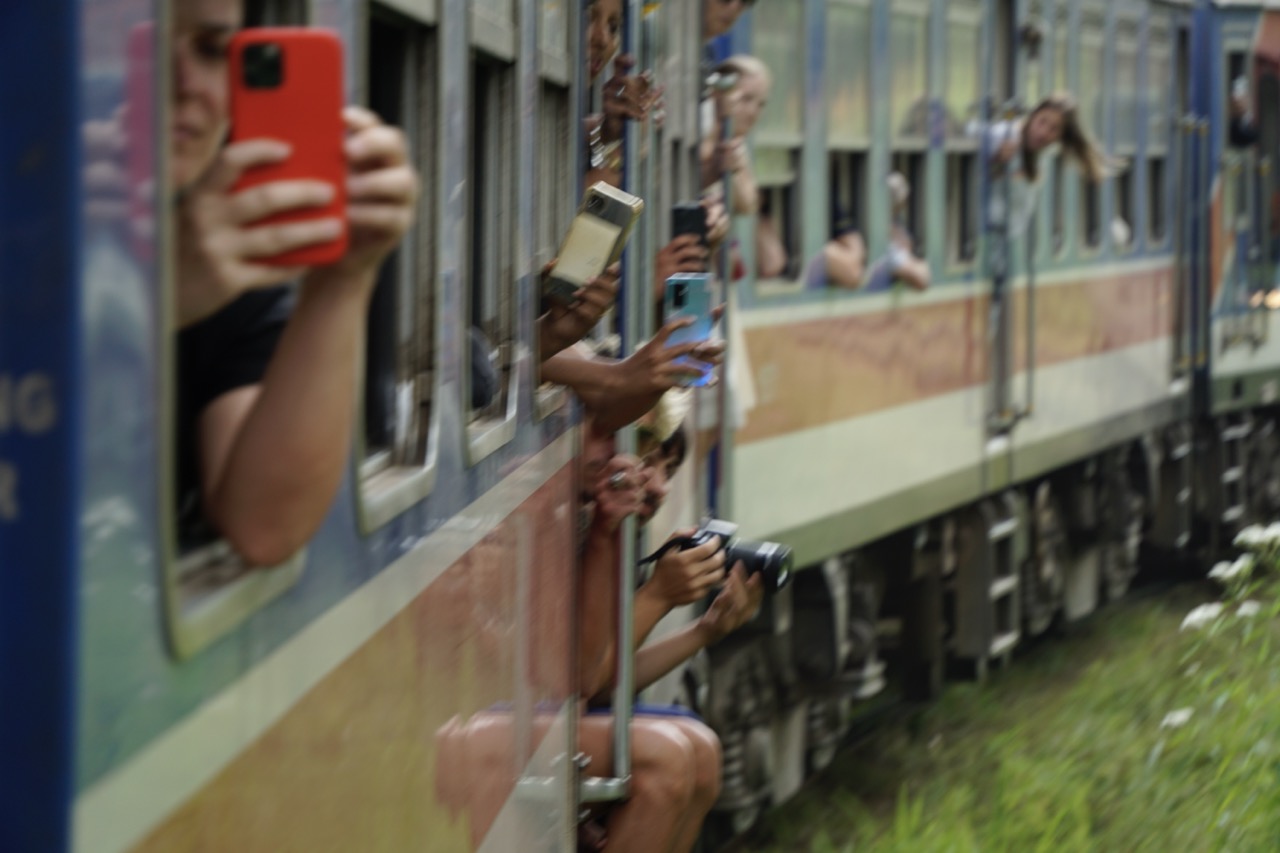 The train ride to Haputale, framed by endless tea plantations, lasts just an hour. Once in Haputale, tuk-tuks are ready to whisk you off to iconic tea plantations, including those of the renowned Lipton brand. Indeed, Thomas Lipton laid the foundations of his tea empire right here.
For those short on time, Ravana Falls is just a 5-minute drive from Ella's center. However, be prepared for crowds, especially during weekends when locals flock there for their routine baths.
Diyaluma Waterfalls remains a highlight of our trip.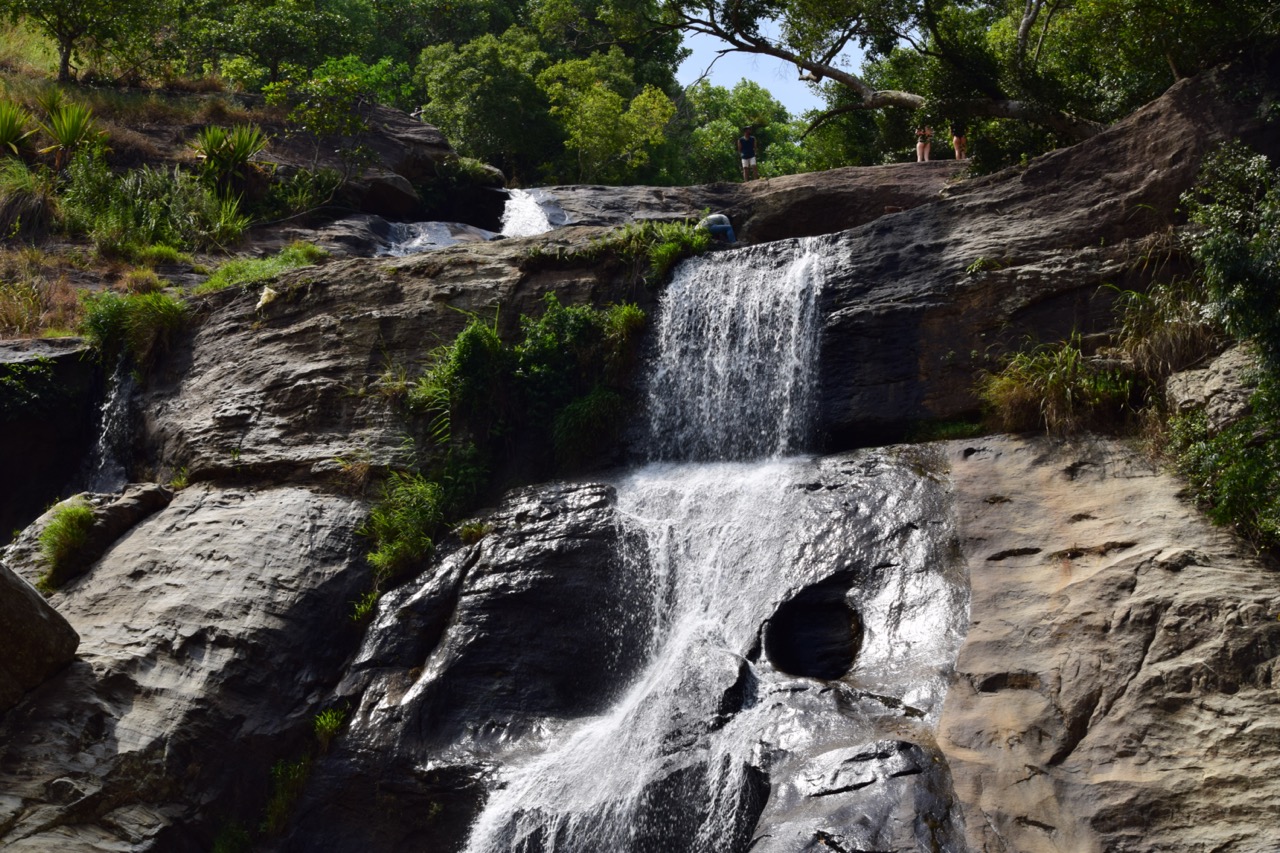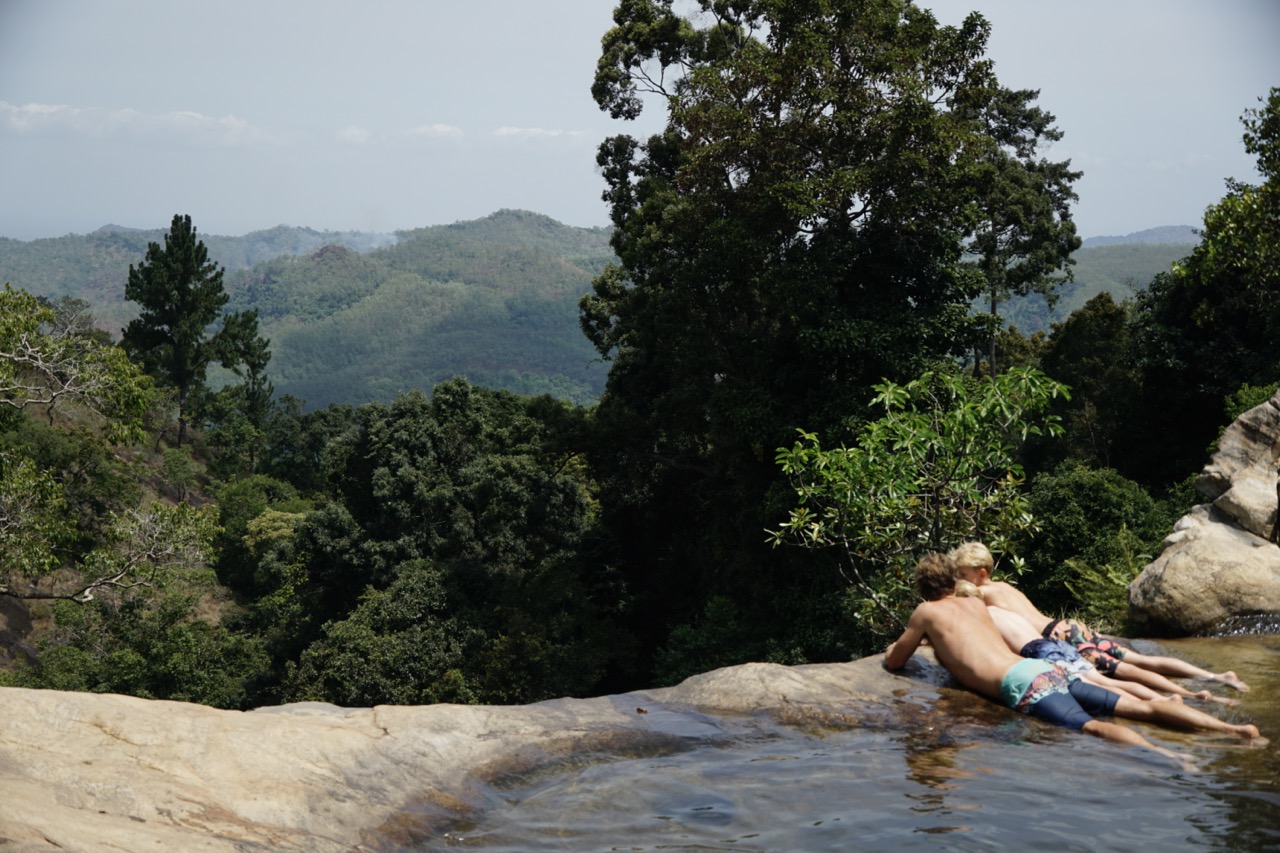 The falls have multiple tiers where visitors can indulge in natural pools, and for the daring, there are spots to jump from — 2 meters or even a daunting 7 meters (though we noticed mostly locals attempting the latter). All the while, monkeys might be your audience!
Ella's heart lies in its local culture: Participate in tea factory tours, savor the local cuisine, and immerse yourself in conversations with its affable residents.
Our Stay in Ella: Zion View
Traveling as a family with two children, we prioritized accommodations with a pool. Although Ella tends to be pricier than other locales, our stay at Zion View, albeit a splurge, was absolutely worth it. The hotel promises unparalleled views and soothing sounds, notably a mesmerizing panorama of Ella Rock.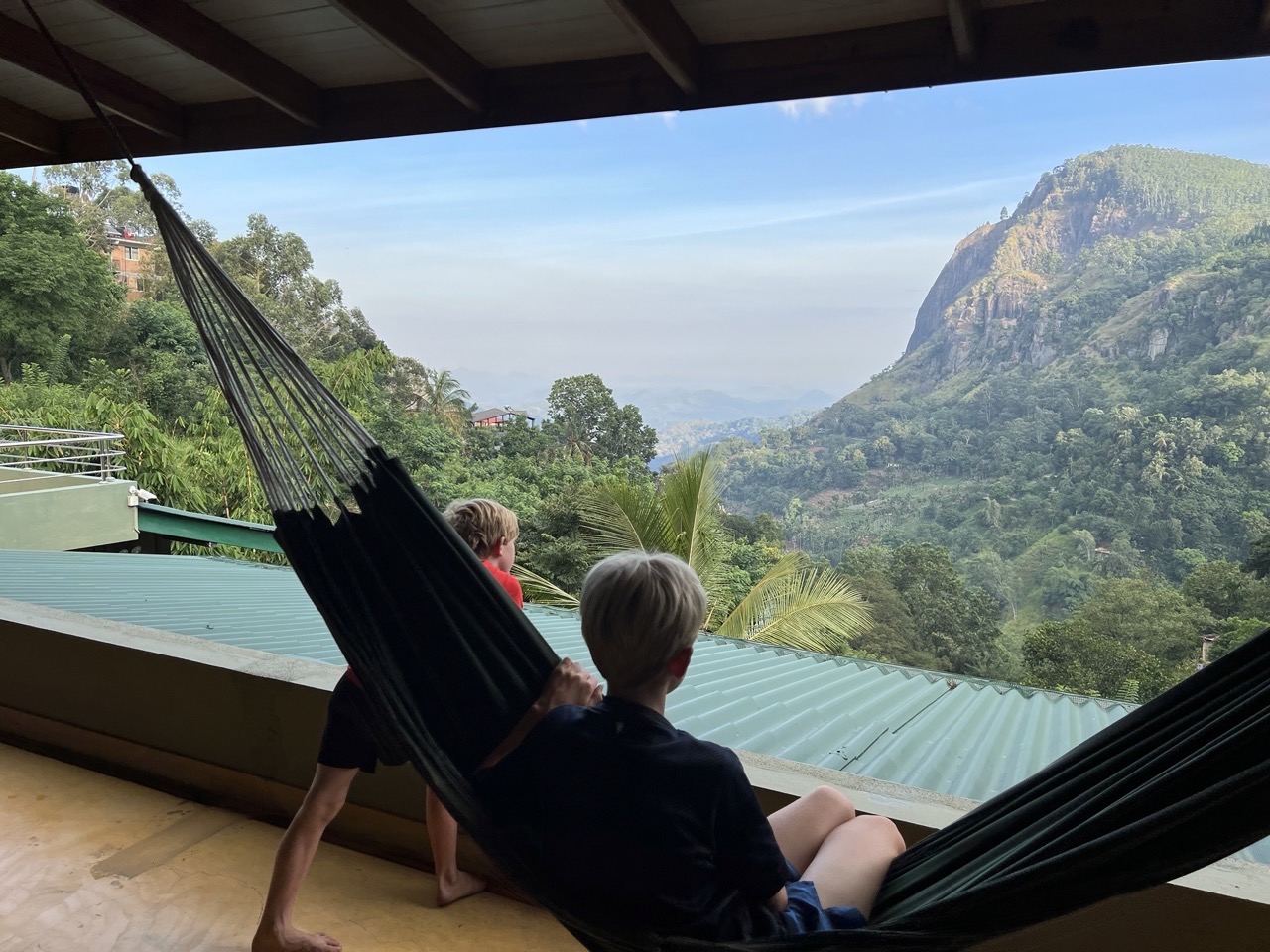 Conclusion:
Sri Lanka, with its vast surfable coasts and breathtaking mountainous terrains, has certainly found its way into our family's heart. This exceptionally hospitable nation is replete with diverse offerings. We tend to favor crafting our own itineraries over pre-packaged tours, and this approach genuinely enriched our family's travel experience. It allowed us intimate interactions with locals, immersing ourselves deeply in the natural beauty and rich culture. Sri Lanka is undeniably an island deserving of multiple visits.
For Our Next Trip:
Given our aim for a relaxed pace of travel that prioritized rich, local experiences, we missed out on certain renowned destinations like Sigiriya and Trincomalee. These are touted as must-visit places to truly encompass the essence of Sri Lanka. We're excitedly earmarking them for our return journey. And discover the South Coast for surfing in the main season.
Practical Tips & Recommendations:
Best Times to Visit:

South Coast: November to April.
East Coast: April to October.

Purchase a SIM card (recommend brands: Mobitel, Dialog). These are available directly at the airport.
Explore more tips and insights at linktr.ee/dutchiestravelling.
Familiarize yourself with a few local phrases for a richer experience:

"How are you?" – Kohomada
"Thank you" – Estutee

Keep in mind local cultural etiquettes.
Don't-Forget List:
Mosquito repellent
Universal plug adapter
Booties
Cash
Credit card
Long-sleeve shirt
Hat or cap
Surf leggings
Sunscreen
Your own surfboard, to make sure you'll have a good surfboard
Local phone subscription