Sitting in the plane back, moments of the past week flash by.
Completely empty line-ups. Crackling, but also crystal clear water. Countless bays. Shadow of the mountains. The big wave surfer on his own at Pantin. The snooze moments between sessions. The smell of eucalyptus trees. The dirtroads to remote surf spots.
A surf trip to Galicia
A disclaimer: in this article we will share surf spots in Galicia. But not the exact geo locations. So a combination of sharing is caring and respect the locals.
Galicia
Galicia is not easy to characterize. It is somewhat similar to Brittany perhaps. But because of the palm trees, the mountains, the Spanish language, it's not. Neither is Portugal. Too many mountains and bays. Nicaragua? No. Too cold water and too much rain. But just as remote surf spots. And those lovely waves.
Galicia is its own charactere. Where nature determines. And where waves in all shapes and sizes can be found.
We spent a week in this Spanish province. And every day we scored good waves.
When, where and how you can read below. But also check the surftrip video at the end of the article.
On Tuesday we took the early morning flight to Porto. At 10 o'clock in the morning we were in the rental car.
Boards on the roof of the car and on our way to Moledo. A tip from the travelbook: Surf & Stay.
Moledo is an hour driving from Porto. Before low tide you have to get in. As we noticed after we came out. Unfortunately. From low tide the bay fills with a lot of water. And that gives a lot of current. More important, than you'll miss the pointbreak, which starts running before low tide. At least, that was our experience.
So much for surfing in Portugal.
North Galicia
Then we drove on to the northwest of Galicia. Almost completely in the corner of Spain. Such a wonderful winding road we know from the advertisements along the ocean and the mountains, along Vigo and Santiago de Compostela among others.
Near the village of Covas (10 minutes from Ferrol) we stayed in a masterful cottage (via booking.com).
Garden, ocean view and plenty of space. And close to 4 surf spots which have their own characteristcs depending on the wind and the direction of the waves.
In the evening we surfed the spot closest to the cottage. We won't mention the name of the spot.
The spot lies in the shelter of swell from the west. And wind from that angle. At high tide you get thick high sliders (conditions we had: 2.2 meters, 13 seconds from WNW). And a shorebreak that can be heavy. The water is crisp and clear. The surroundings are pure. Here you are outside. And away from everything. In the ocean.
After the high-fives, being dried up and launching the heated pizzas in our hungry stomachs, our eyes closed.
Wednesday morning we drove to the beach next to the spot the night before. Here we were from midnight to low tide. At a West-Northwest swell. There was hardly any wind (less than 10 km per hour).
Especially in the first phase of the session it was great.
It is a beautiful bay. At low tide there is a lot of seaweed in which your fins can get entangled.
How can the line-ups be so empty?
There were only three of us in it. Just like the day before. We found that quite special in these kinds of ultimate conditions. During the week it turned out that an empty line-up is quite normal in this part of Galicia.
Because it was a bit chilly this morning I was able to try out my new SRFACE wetsuit. Where a 4/3 is sufficient in this period in Galicia, I was still wearing a 5/4. An excellent suit. And tightly finished. Soon more about this wetsuit in the form of a review.
Doninos surf spot
In the afternoon we drove to a bay nearby. Small waves and therefore even the doubt to go in. But still we surfed nice waves as soon as we got in. Very mellow. Easy to catch. But you had to keep your focus to keep your speed up.
But then the tide came in. And again the waves became massive.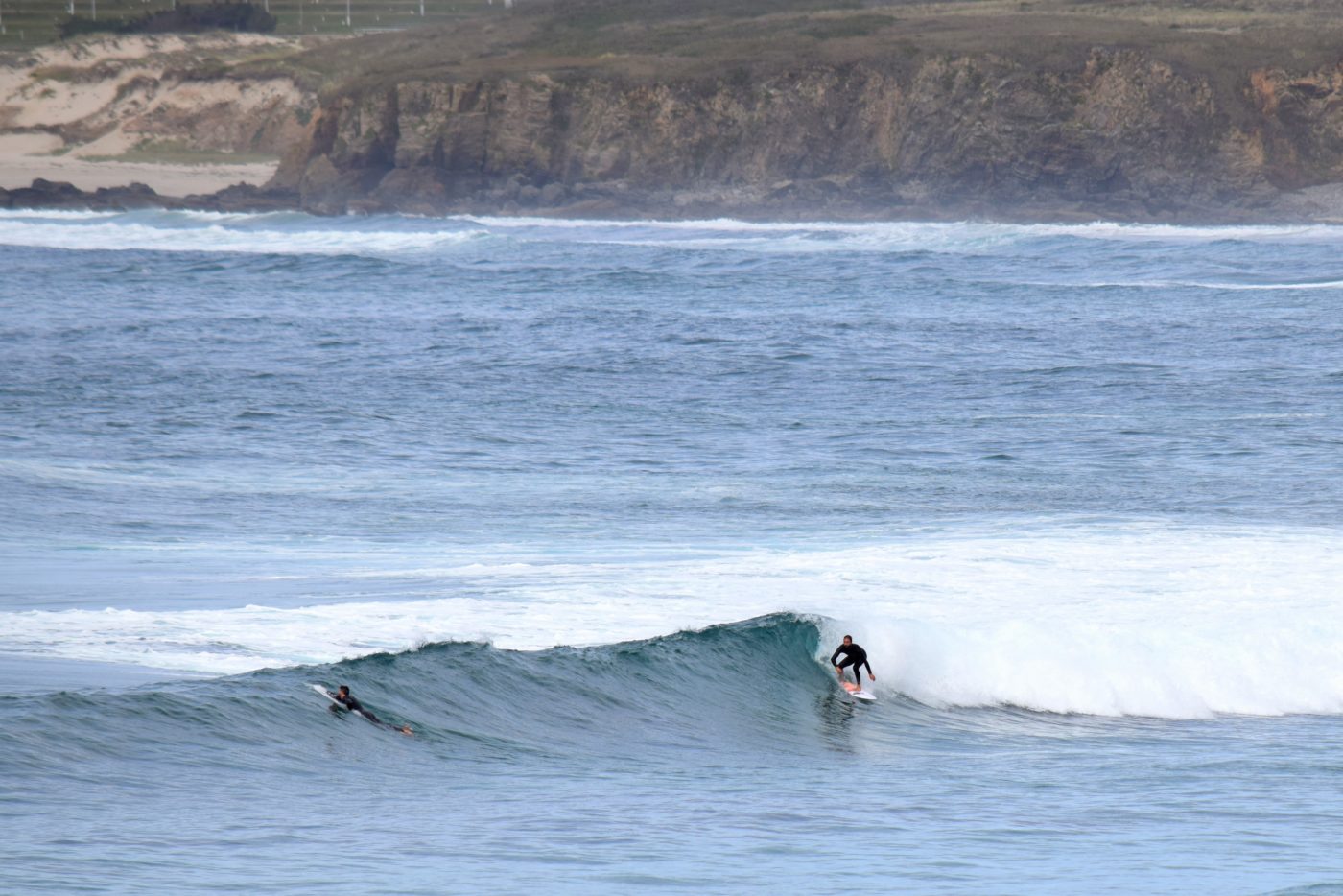 Waiting for a 23 second swell
Day 3: The day on which the big swell would come in with a considerable period of time. Remains of Hurricane Lorenzo.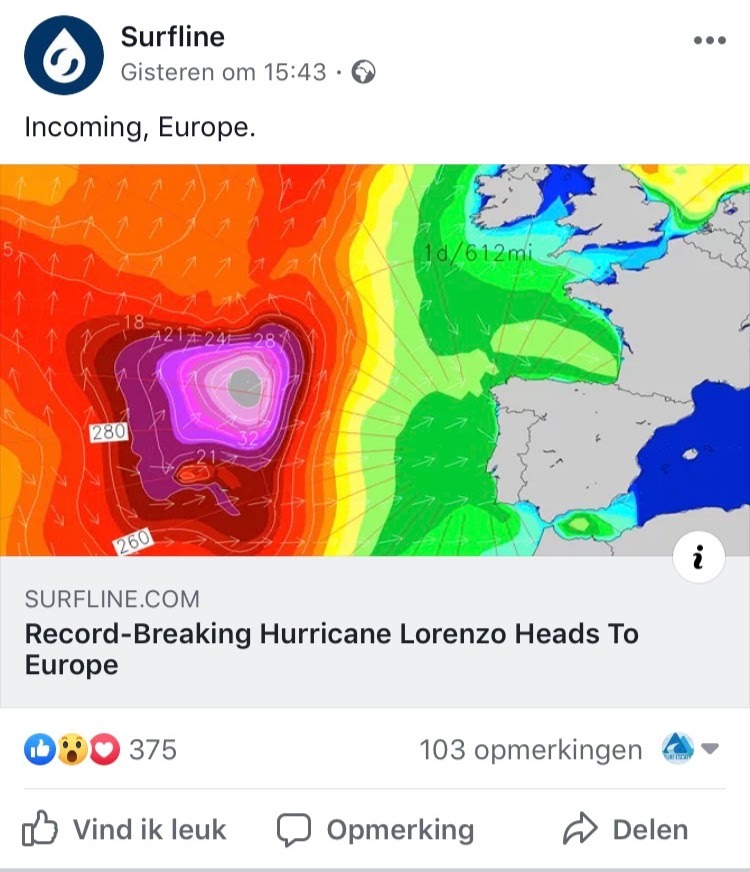 Again we surfed the spot of Tuesday evening in the morning.
After the session we also met Jop Hermans. He's an awesome surf photographer. Check these:
After that we had to wait. And wait. Because 23 seconds and 3 meters was forecasted.
Eventually we went in at Playa Esmelle. It was rainy and dark weather. But yes, there were those bins. Pfff. Ducking as if your life depends on it. And yet scoring delicious rides.
Day 4: The search
The search is on. The swell reached its maximum today with 3 meters plus and 15 seconds. We checked Pantin. A well-known surf spot. There was only one surfer between the giant waves. But he conquered them with his gun.
What a hero.
Felt like that one scene from Point Break. You know. "Vaya con dios Bodhi".
We drove to playa Eiron. With first a detour through the forest. And a fantastic view.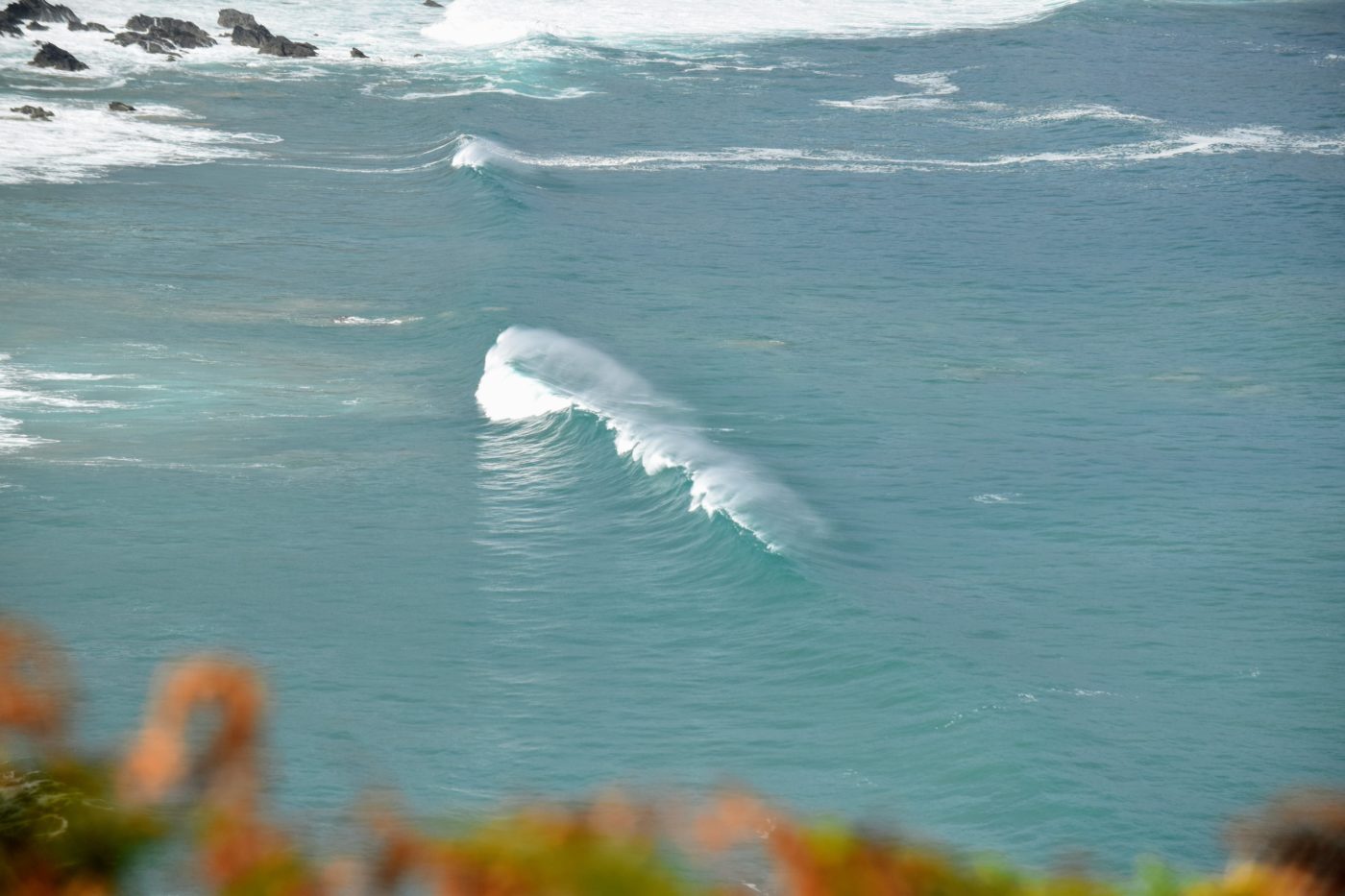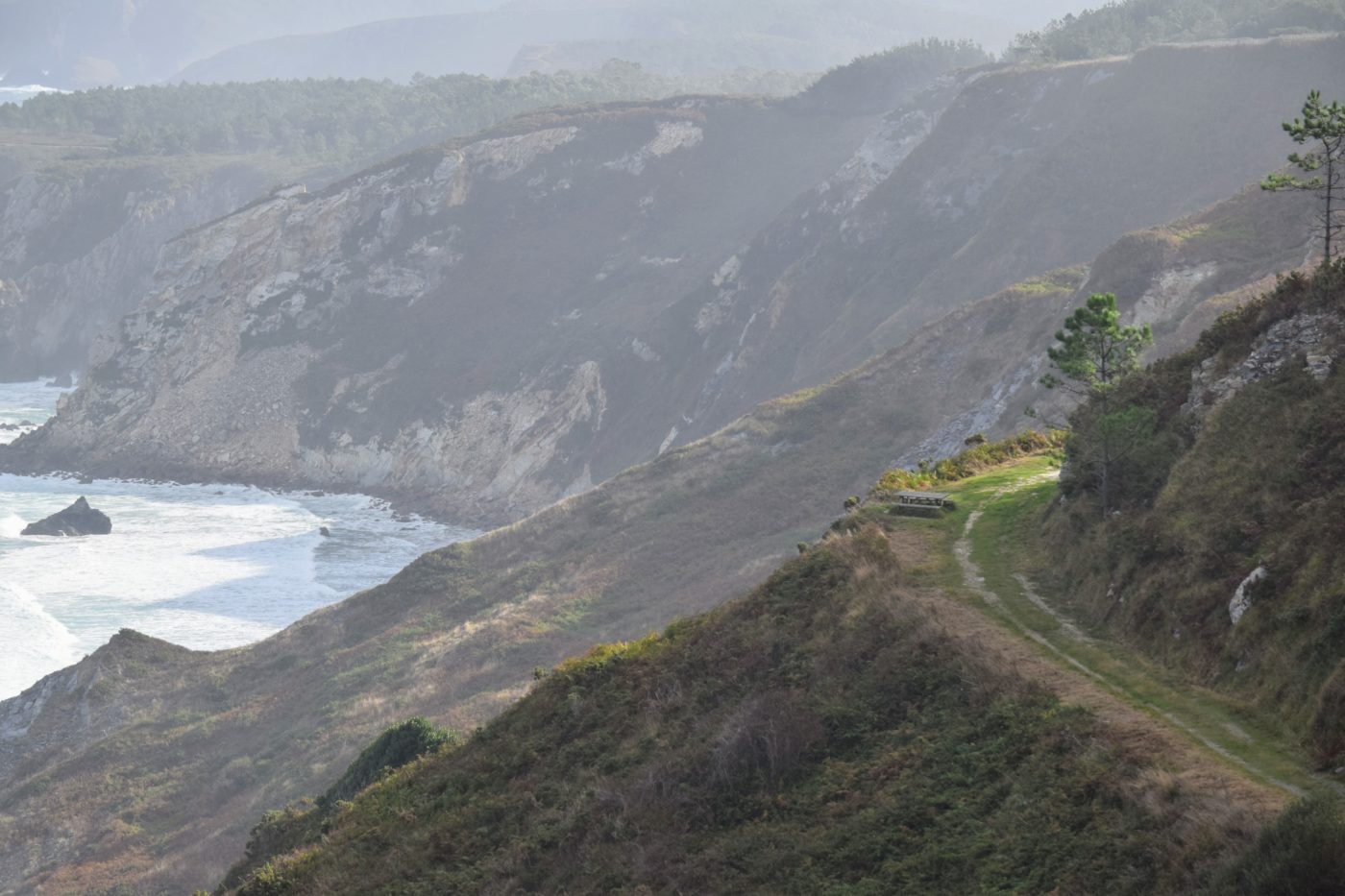 The idea was to surf another spot that we found on Google Maps. But there were no ropes down to go down from the rocks. And we didn't have a boat either.
Playa Eiron
This is a quiet bay with lots of shelter with this kind of swells. After this surfing session we had a delicious lunch.
Then we checked Minos A spot that when everything is maxed out, is going to run and even delivers a wave of more than 1km. But there was (almost) nothing. Too bad of the trip. But that is also part of it.
We went back to Doninos. What appear to ben Playa de San Xurxo (Doninos is a bay away and is west orientated, and therefore onshore this week). There were big waves but with a mellow take off.
So it's nice to notice that after a few days you start to understand a bit of the region. Provided the swell is consistent.
Day 5: How good can you start your day?
Playa Esmelle! Here we are again. Good weather. Mellow waves. How good can you start your day?
Here it was relatively busy. 20 surfers? Something like that. It is also a Saturday. The waves were delicious. In the back of the sets. Or in the front with the smaller waves.
Time for Siesta. And I took some pictures myself. When it turned out that the spot was on fire.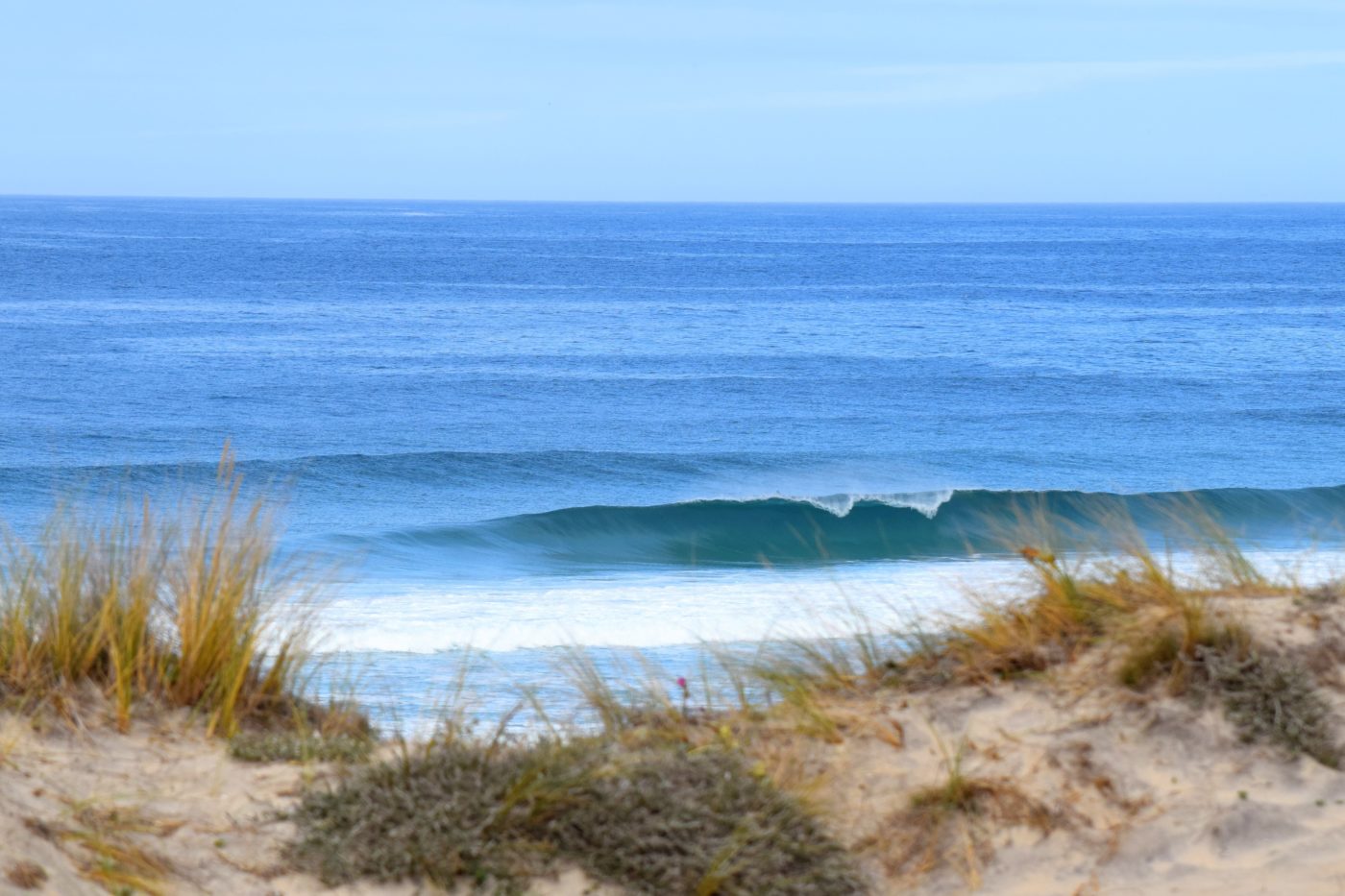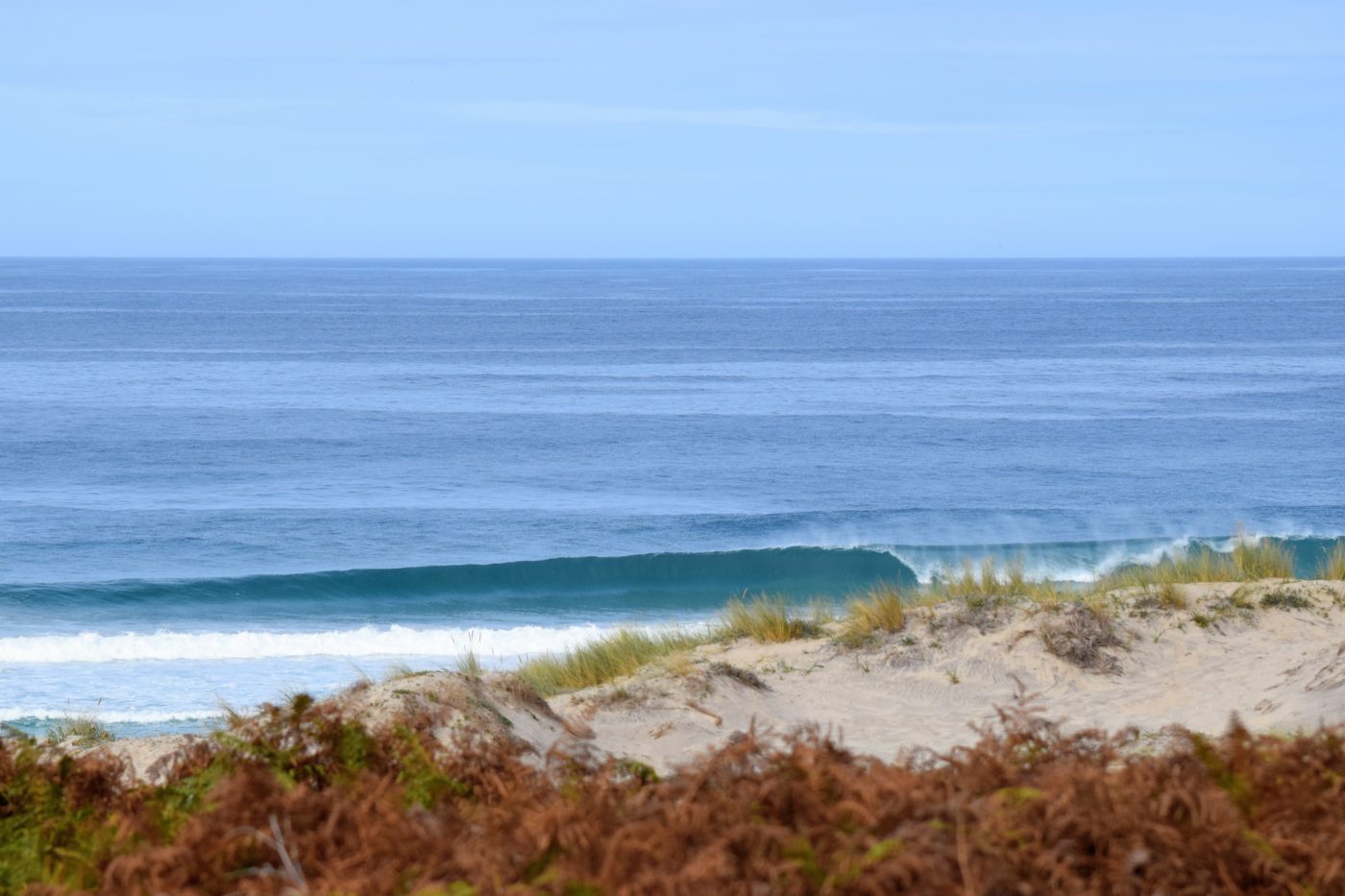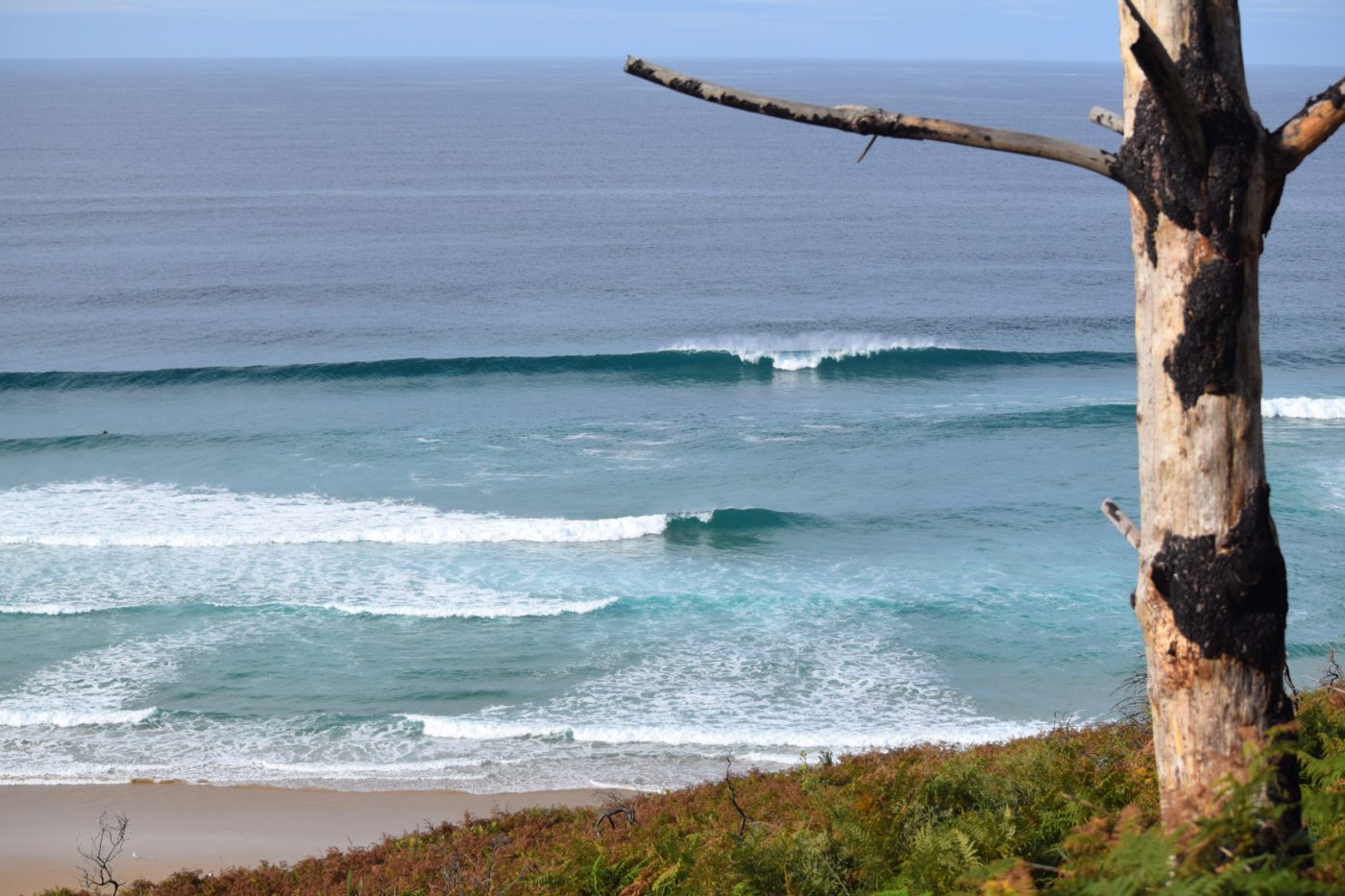 Quickly back to the house.
Wake up guys!
It won't get any cleaner than this.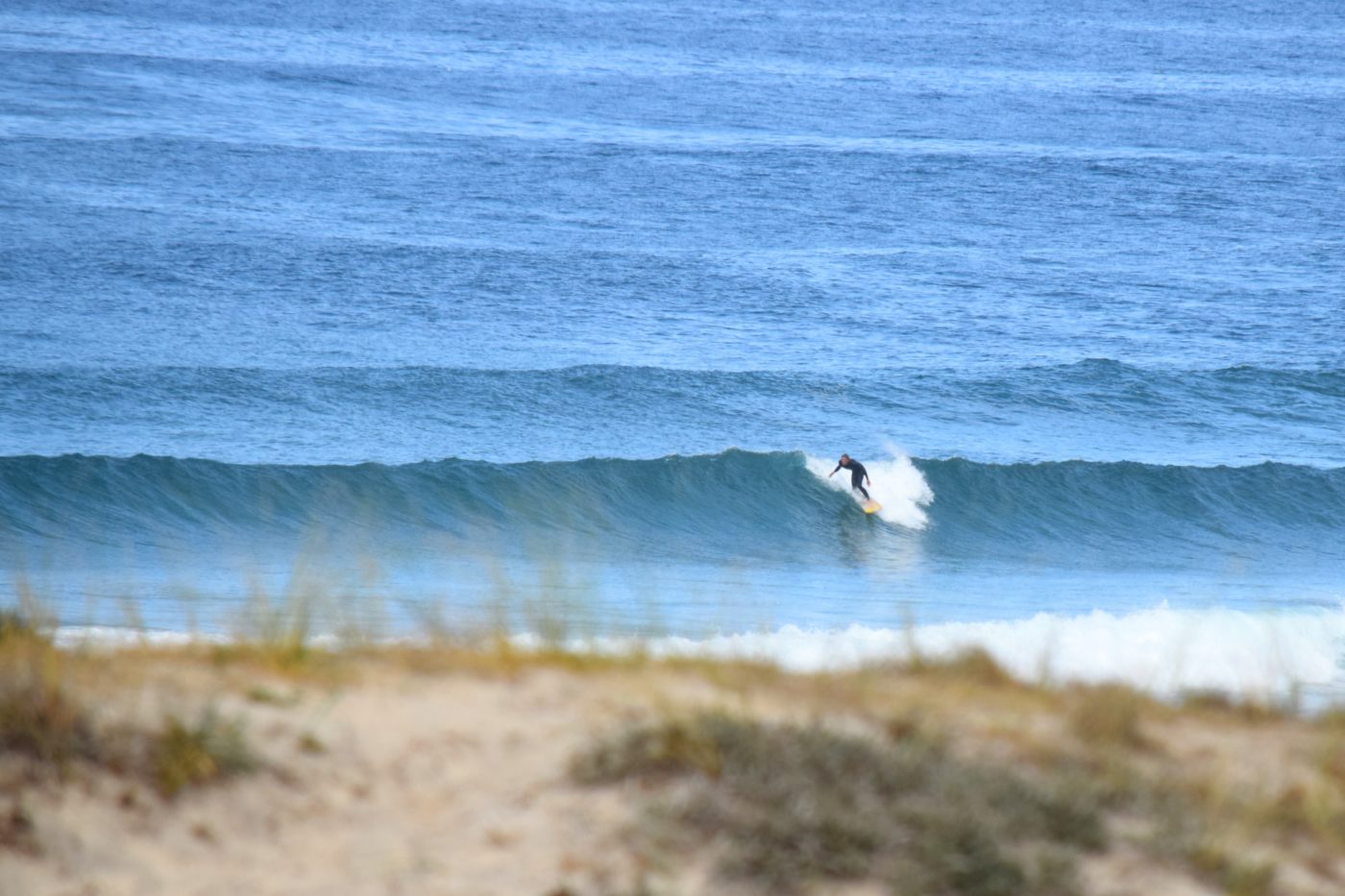 In the evening we surfed at this spot for over 2 hours. Lovely surfing until it became too dark. But you don't really want to get out. The adrenaline is steaming out of all your pores.
Another magical evening.
Day 6: Thick mellow waves at A Lanzada
We had to catch a flight today. Going home. But not without a good surfing session somewhere between Covas and Porto.
The forecast indicated that the best thing to do was to find some shelter in Galicia.
It was A Lazanda.
A place that Veerle once described nicely in Travel & Surf. After one and a half hour drive we arrived. It looked mellow. And we dived right into it.
That was not easy.
Also not for the surf lessons.
Waves of more than 2 meters came through. Luckily the sets were completely clean. After 2 hours of provoking, rinsing and surfing it was finished.
Just seeing some locals ripping and then have lunch on the other side of the bay (where good longboard lines came in). With the summer weather, the lines that came in, the delicious food this was very relaxed. Even a little Indo feeling.
After lunch we made a round of the peninsula to see if the bays on the north side of the peninsula still had waves. Not really, but we ended up in a great beautiful nature.
So we automatically came into the chill mode. We ended the day on the rocks near A Lanzada. Longboarders took most of the waves. It was beautiful. Very beautiful.
For 6 days it was on. Galicia is a beastly surfing paradise. Within a nature powerhouse. It takes some more effort to get to the surf spots. But that's where the thickest reward comes in.
Video of the trip